People don't listen enough, solo percussionist Evelyn Glennie says.
"Often the breakdowns in communication we have...are often to do with the lack of listening," she explains. "Listening does not mean engaging with or reacting to sound all the time but, instead, being present."
Performing for decades, Glennie is credited as the first full-time solo percussionist in the world. Even more remarkable: She has been deaf since childhood but uses other parts of her body to absorb the music and create.
Saturday, she opens the Sioux City Symphony Orchestra season with a program that demonstrates how she is able to mesh with orchestras and, as she says, "make music for the moment."
Born in Scotland, the two-time Grammy winner (who was named Dame Commander for her services to music) responded to 10 questions regarding her work, her technique and her hope for the future.
For good measure, we tossed in a bonus question, too.
1. The first thing people ask when they learn about you is, "How does she follow the music?" Do you have some hearing, which allows you to stay in sync with the orchestra? Or do you rely on the conductor?
"I use all my senses especially sight, feeling and touch. I learn the music from the full score as any soloist would, I make sure I see the conductor and the conductor sees me and I position myself to a more or less 90-degree angle to the audience so that I see about three-quarters of the orchestra. Putting a piece together is about teamwork so listening is the biggest tool we all have in order to create a sound meal for our audience."
2. Has it ever been a problem working with orchestras? And what don't we realize about the way you make music?
"String orchestras are very challenging to work with as the impact of their sound is challenging for me to pick up, much more so than brass and winds. If everyone has prepared the music, are mentally flexible and are willing to engage as a team, then any challenge can be dealt with. The way I make music is for the moment. I don't remember the sounds of the last performances I create so everything I play is done as though it's a new experience for me."
3. Do you travel with drums wherever you go? Or are you constantly adapting to others'?
"Up to the time of 9/11 I used all of my own instruments all over the world. I had stations of instruments based in the UK, USA and Japan. Since 9/11 travel changed for us all and I have since used instruments provided at each place I go except in the UK where I am based. I have to constantly adapt."
4. We've seen deaf performers dance and they say they feel the music in their bones. Is that the same way with you? Or do you have a degree of hearing?
"We all feel music throughout our bodies but hearing-impaired people like myself are reliant on paying attention and responding to the sounds we physically feel. Beethoven was a great example of adapting his pianos and body to feeling the vibration because it was an instinctive reaction and need. I see my body as a huge ear. I am deaf and deafness is a medical condition but listening is something we can all engage in – listening has nothing to do with how much hearing you do or do not have. I have residual hearing and can hear impacts of sound but I miss pitch and duration although in isolation I can better digest these."
You have free articles remaining.
5. Does popular music resonate – for example, are you a big fan of rap or rock because they do rely on a beat?
"Anything steady and consistent is better to digest physically but rap and rock is reliant on words as well as the beat, so I miss the words unless I read them. I'm a fan of sound more than a fan of music which means that all music is of interest to me because it comes from sound."
6. You have a mission to "teach the world to listen." What, specifically, does that mean?
"We all have the opportunity to engage in the act of listening. Often the breakdowns in communication we have in domestic or work situations, politically and socially, are often to do with the lack of listening. Listening glues us all together. Listening does not mean engaging with or reacting to sound all the time but instead being present. This is certainly highlighted when working with people navigating through dementia whereby the spoken word is often lost but the presence of two people becomes a huge lesson in listening."
7. Listening seems to be a problem with our politicians these days. They don't listen to one another. Instead, they talk AT each other. How could they be better listeners?
"Listening is about leaving time at the door and being present. When I practice, I listen to myself as the percussionist; I listen to the engine of my body and its mechanics. When I rehearse, I bring all the ingredients together in my mind such as the audience, acoustics, stage, instruments and so on which allows me to listen to the environment of the occasion. Listening is about wanting to engage even if no sound is produced. This allows our bodies to slow down, have time to digest and therefore make better responses which allows better actions with hopefully better outcomes."
8. I see you worked with Danny Boyle on the 2012 Olympic Opening Ceremonies. I've interviewed him before and found him very animated and excited. Did that make him an ideal collaborator? And how did you bounce ideas off one another? He's very cinematic in his work.
"Danny was amazing to collaborate with. He is very down to earth and very much a 'people' person. He was very clear in his vision and he trusted his inner team of creators. We simply sat down at his work area in front of a model of the stadium deciding on what type of drums would be used, the feel of the music, the look and feel of the choreography and so on. It was all done face to face. Therefore, the process was very easy and the outcome life-changing for many."
9. With all the awards you've received, what resonates most? Is it being knighted? Winning the Grammys?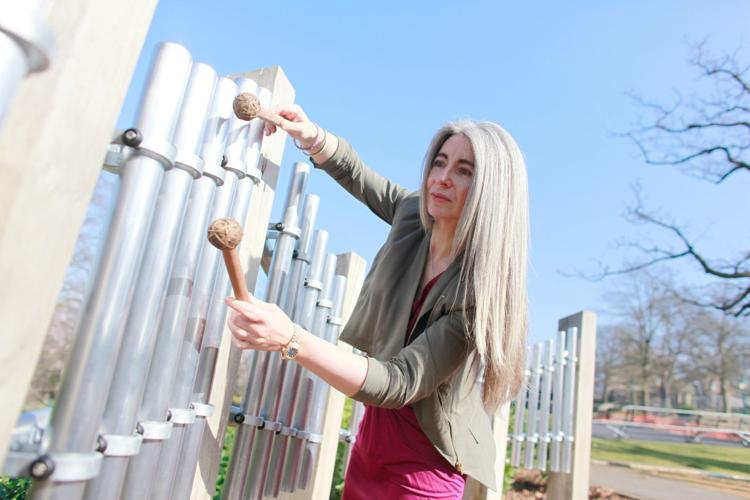 "Each award is special and, in my case, historical simply because being a solo percussionist has meant that I am the first to receive many of the awards. My career has been built on building blocks so each award is like a building block and allows me time to reflect and review, to look in all directions, to see how I can move forward with the next building block."
10. What haven't you done that you'd like to do with percussion? Is there a long list?
"Commissioning is always an important part of my work but I don't engage with this in such a ferocious way as I did for the first 20 years or so of my career but I still make sure I commission a good amount of repertoire. Working with instrument manufacturers is important – my more recent development has been the Glennie Concert Aluphone. I like advising schools on making good choices when it comes to deciding which instruments to purchase in primary schools because it can be daunting for teachers to know what to buy. I simply like bringing the curiosity of percussion to as many people as possible because it is there for all to engage with. My collection of over 2,000 instruments continues to grow and that will form a major part to my vision of a center dedicated to listening."
BONUS QUESTION: Why don't people listen? Are they too busy? Distracted? Disinterested?
"All of the above! Taking time to listening to ourselves first is key. By doing that we allow ourselves time to decide and feel our actions. To feel something needs time and often we are very reactive – only listening to the impact as opposed to the resonance."