Bill Medley says he's discovered the fountain of youth.
"Every time I get on a stage, I feel like a 25-year-old who is living out his teenage dream," he said. 
Which is amazing since Medley is 78, and has spent nearly 60 years entertaining audiences around the world.
"When I sing, the years just melt away and I realize I have the best job in the world," he said. "It's a great feeling."
One-half of the Rock and Roll Hall of Fame-inducted duo The Righteous Brothers, Medley will be bringing "blue-eyed soul" at 7 p.m. Sunday to the Orpheum Theatre, 528 Pierce St.
Joining him in a concert that will include such hits as "You've Lost That Lovin' Feelin,'" "Rock and Roll Heaven," and "Unchained Melody," will be Bucky Heard, who officially joined the act in 2016.
When longtime singing partner Bobby Hatfield died suddenly in 2003, Medley thought that meant the end of The Righteous Brothers. 
"Bobby and me? We were very different people," Medley acknowledged. "He was outgoing while I was more reserved. He hit all of the high notes while I took care of the low ones."
Without Hatfield, Medley simply couldn't imagine singing any of the Righteous Brothers' signature songs.
"Replacing Bobby would be impossible," Medley said. "Why even try?"
Performing on his own, Medley became a mainstay in Branson, Missouri, which was where he first met Heard, who worked at various venues in the Ozark Mountain town.
"Bucky has a terrific voice and great stage presence," Medley said. "He could do Journey songs, country songs, you name it."
Connecting with many of his old fans, Medley became inundated with requests of resurrecting the act.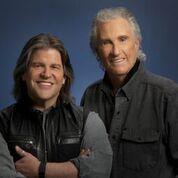 "For many years, it just seemed like it was too soon," he said. "Then, after 12 or 13 years, I started missing The Righteous Brothers as much as the fans."
Medley enlisted Heard's help.
"I told Bucky, 'you can't replace Bobby Hatfield, you're filling in for Bobby Hatfield,'" Medley said. "In other words, you don't have to sound like him to sing like him."
Since then, the new Righteous Brothers have been wowing old fans through their extended residency at Las Vegas' Harrah's Showroom, while introducing newcomers to their classic music.
"Bucky and I have the best of both worlds," he explained. "We have a regular gig in Vegas and we get to hit the road whenever we want to."
According to Medley, that keeps the duo from burning out from too much touring.
Still, he likes taking his music to fans, who have been loyal to The Righteous Brothers for decades.
"Many of the fans are in their 50s or 60s," Medley said. "But when we sing 'Unchained Melody,' it takes them back to their teenage years. When we sing our songs, our audience responds as if they're hearing it for the very first time.
"Our music touched their lives," he continued. "Our audiences have touched our lives as well."
Which means Medley's not retiring anytime soon.
"As long as I have my health and can still perform the way I want to perform, I'll be around," he said. "Also as long as there's an audience wanting to see The Righteous Brothers, we'll keep doing what we're doing."
After all, performing is what keep Medley young.
"How many 78-year-old men can say they still feel like a 25-year-old?" he asked with a laugh. "It is the music that makes me feel that way."