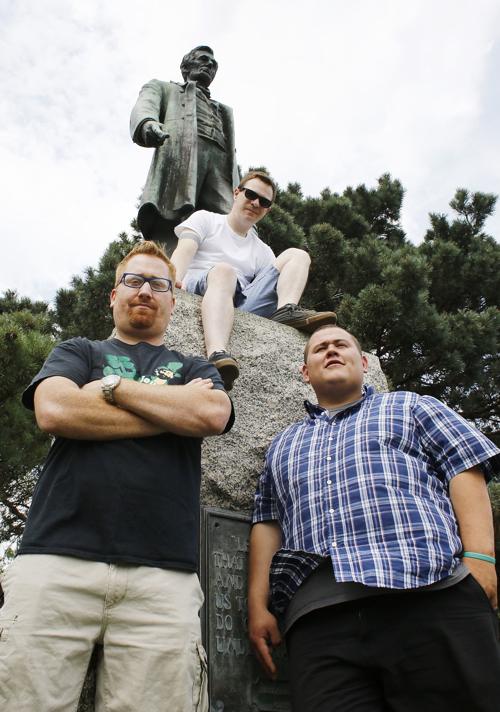 Sioux City Conservatory of Music - Noon
The Sioux City Conservatory of Music is a 501c3 non-profit music center located in Sioux City. Music inspiration in teaching guitar, voice, bass guitar, percussion, piano, violin, cello, woodwinds, horns, and band lessons. They aspire to serve Siouxland with music education and performance. Select members of the Conservatory will kick off the Abe Stage Lineup.
Originating as a solo project, Winter Wayfarer is a five-piece progressive rock outfit from Le Mars, Iowa. The band's live performances showcase their vast arsenal of rhythmic and textural abilities through songs off the  debut record, "Keep Close," as well as new, unreleased tracks. Choosing not to pigeonhole themselves in a single genre, Winter Wayfarer draws from numerous other styles of music, creating a sound all its own. With the sophomore full-length album on the horizon, Winter Wayfarer aims to establish itself as a new and refreshing force to the local and regional Midwest music scene.
Gallivant is a three-piece riff based, party-style rock band out of Omaha. Bringing you sounds from the '70s, '80s, '90s and today Gallivant has a unique style that has been compared to having hints of classic rock, '80s hair metal, stoner rock, and modern day music. The three pack their show to the brim filling every minute with dance hooks, catchy melodies, stage antics, heavy riffs and solos in every instrument. A Gallivant show is certainly not a show to miss, and in the meantime live in the words that Gallivant stands for: To go around from one place to another in the pursuit of pleasure or entertainment.
Brady Raps/Psychedelic Sidekick - 3
You have free articles remaining.
Brady Raps and Psychedelic Sidekick are doing a rap show together! Psychedelic Sidekick is a rapper, singer and songwriter based out of Sioux City. PSK began his musical journey in 2013 with Sioux City heavy-hitters and viral sensations Team Varsity. Psychedelic Sidekick is on his way to becoming a household name.
Artificial Stars is an alternative/indie rock band from Sioux City. In 2017, guitar player and vocalist Neil Strub and drummer Luke Sweeney were looking to start a band together after the demise of their previous band The Villain Works. In July of 2017 Neil recruited friend and fellow guitar player and vocalist Jeff Koithan, who suggested they ask Jesús Iñiguez if he'd like to play bass. Jesús had actually never played bass before, but as a multi-instrumentalist with a good understanding of music theory, he picked up the instrument in no time at all, and Artificial Stars was born. Their first EP, "Beware," was released in March 2018. They have won two "battle of the bands" competitions and have released a music video for their single "Bury Me." Before they take the Abe Stage at Saturday in the Park this July, they will be releasing a live music video with The White Wall Sessions.
Arson City is not just a hard rock musical project, but an all out concept and vision, with each member of the band portraying their own character within Arson City. The Mayor, The Doctor, The Con, The Dealer and The Enforcer. As the story goes, Arson City is filled with violence, greed, corruption, and is in a constant struggle within itself to maintain hope for those who have nothing, strength to those who need it, and revenge for those seeking it. Not only has Arson City's music already caught on and gained them strong local and regional backing, members of their fan base have become known as "CITIZENS." These "Citizens" come to Arson City performances, portraying their own characters, with their own stories, and have become a huge part of the vision.
Snow Tha Product - 6:30 p.m.
Snow Tha Product is a rapping Latina who performs songs in both Spanish and English. Her massive social media following is quite impressive, as is the number of views her videos get on YouTube, totaling more than 109 million views. Her show is going to be high-energy and she is sure to be a crowd pleaser over at the Abe Stage.
When Matisyahu first started touring to packed clubs more than eleven years ago, it was prior to the release of Live at Stubbs, the now Gold record, and prior to that record's single "King Without a Crown" reaching No. 1 on the alternative rock radio charts. His performances were a raw expression of his spirituality at that time and were supported by musicians who played a foundation of roots reggae augmented by the energy of a rock trio. Fans latched on quickly for a variety of reasons, but in August 2005, just months after the release of Live at Stubbs, Matisyahu found himself on stage at the Bonnaroo Music and Arts Festival with the de facto leader of improvisational rock-n-roll; Phish's front man Trey Anastasio.