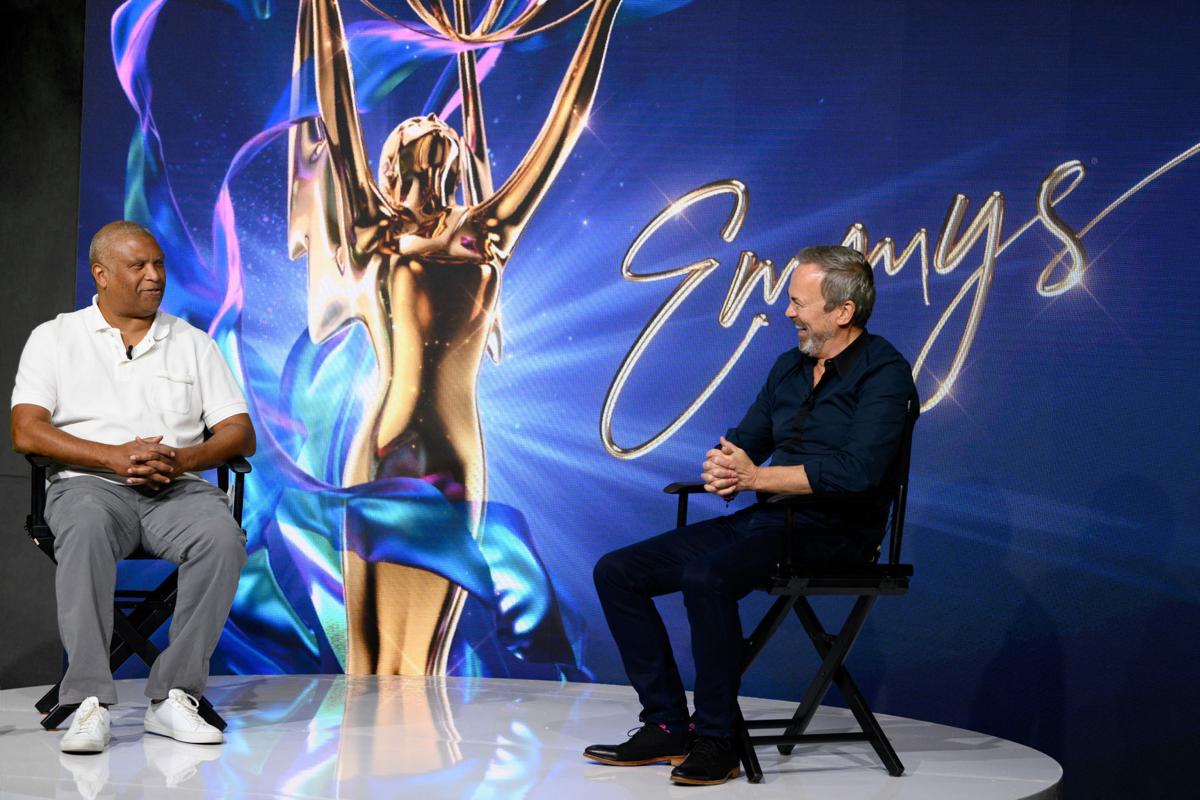 The producers of this year's Emmy broadcast are banking on the unexpected to give them a don't-miss show.
Planting 130 cameras at nominees' homes, they're expecting wardrobe surprises, in-home parties and more than one dropped connection.
"It's sort of like walking a tightrope," says Executive Producer Ian Stewart. "If you walk a tightrope and you look down, you fall off. Things are going to go wrong ... but we've got Jimmy Kimmel who loves live TV and chaos in live TV."
Broadcasting from the Staples Center (where it has enough capability to beam in feeds from 130 sites), the 72nd Emmy Awards will be a new experience for everyone, Executive Producer Reginald Hudlin says during a Zoom conference. "We have a lot of experience. We've all done some of the biggest award shows ever, but none of us have done anything on this scale before. And we've learned."
Watching other "virtual" broadcasts, "we've seen the evolution and the improvements."
Each of those 130 sites (spread across the world) has a broadcast-quality camera, ring light and boom microphone. Producers have briefed the nominees and encouraged them to be as original as possible.
"We are going to essentially be making things up as we go along," Hudlin says. "If someone has an extraordinary outfit, maybe we'll have a conversation with him. If someone's kid takes control of the mike and, suddenly, they are the star of the show, we're going to let that happen."
Those who don't win trophies also could shine, depending on what kind of entertainment value they bring to the production.
Hudlin says the casts of some shows will be watching together. "Sometimes, I guess, people will be sitting alone at home, eating a can of beans."
Adds Stewart: "For us, it's a complete sea change. We are trying to talk to every nominee and work with them to see what they are comfortable with."
Both producers say it's that unknown factor that makes the broadcast so appealing. "This has been an extraordinary time that none of us have lived through, ever before," Stewart says. "TV broadcasts have been our friend right through that whole period. It's brought us together. It's the watercooler when you can't go to the watercooler."
Presentations will vary from category to category. Speeches could be given extra time to play out.
"If people are playing along with them ... why would you want to cut it off?" Stewart says. "We're very thankful that ABC understands our problem and (the show) could go way over.
"So, who knows? I'd stay on if I was watching. And that's always the touchstone for all of us."
The 72nd Emmy Awards will air Sunday on ABC.
Stay up-to-date on what's happening
Receive the latest in local entertainment news in your inbox weekly!