It's one thing to binge a six-part half-hour series like "Fleabag."
It's quite another to drill through all 168 episodes of "The Mary Tyler Moore Show." Rather than spend the coronavirus pandemic looking for something new, I decided to revisit something from my past.
Available on Hulu, the series was a big deal in the 1970s because it was set in Minneapolis – a rarity for folks in the Midwest. It featured plenty of landmarks (who hasn't wanted to toss a hat in the Nicollet Mall?) and a sensibility few TV shows had. Even better, it boasted 16 acting Emmys. Six cast members were winners – a feat few shows have even approached.
While "The Mary Tyler Moore Show" wasn't as controversial as "All in the Family," it did touch on subjects that were sensitive for the times – divorce, addiction, homosexuality, women's liberation, Vietnam. More important, it gave us a workplace situation that has since been repeated in everything from "The Office" to "30 Rock."
Re-watching the shows, I realized there were a lot of bad fashion trends in the 1970s. Ted Baxter may have thought he was hip wearing contrasting plaids and platform shoes, but the looks don't age well. Mary Richards, on the other hand, always looked impeccable. Even in the wide collar, bell-bottom pantsuits she donned at work, she was a stunner.
Occasionally, characters talked about money. A business could be bought for $10,000 (Lou bought a bar); a new enterprise could be had for little more than $1,000 (Rhoda's plant shop). Mary worried about buying a new car and the price was around $4,000. In the opening credits, toothpaste is priced at 69 cents. Different times.
When the series was first proposed, Moore was going to be a divorced woman trying to make it on her own. Network officials objected and she became 30-year-old single coming off a relationship and starting fresh.
Still, though, producers managed to drop "divorce" into those early episodes and, like a left jab to their bosses, kept hammering away. Later, they did an episode about Lou and Edie Grant separating. The point still got made.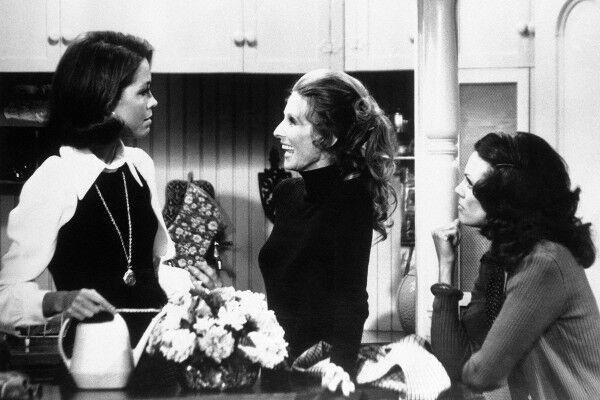 Relationships appeared to be the driving force of the early years. Mary and Rhoda (nicely played by Valerie Harper) were always looking for dates. If they couldn't find a man, they thought, life wouldn't be fulfilled. As a result, a "who's who" of TV passed through Mary's apartment, hoping to be the one. Among the suitors: Jerry Van Dyke, whose brother, Dick, just happened to be Moore's old TV husband.
When one boyfriend – in season three – said he was ready to get married, Mary defiantly said, "I'm not. I am not living my life in a constant search for a man to marry."
The die was cast. "The Mary Tyler Moore Show" no longer became a "Dating Game" for thirtysomethings, but an office comedy, one that showed how families didn't have to be biologic. They could be geographic.
Those first two years depended on the snark provided by Ed Asner and Harper as the clouds to Mary's sunshine. Cloris Leachman, as Phyllis, helped bring her down, too, but the series really hit its stride with "The Georgette Story," an episode that let meek Georgia Engel become the perfect foil for Ted Knight's Ted Baxter.
Of all the supporting actors, Engel was probably the most underrated. When you watch the shows now, you see just how crucial she was to the series' ebb and flow. She started as an assistant to Rhoda (dressing windows), then moved on to sell cosmetics. The name of the company: Golden Girl.
There were other prophetic moments as well. Isabelle Sanford played the mother of one of Mary's friends and later won an Emmy for "The Jeffersons." Craig T. Nelson, Peter Strauss, Henry Winkler and Joseph Campanella were among the men knocking at Mary's door.
"The Mary Tyler Moore Show" produced several spin-offs – "Rhoda," "Lou Grant" and "Phyllis." But it depended on the interplay of the folks in the office to really sing.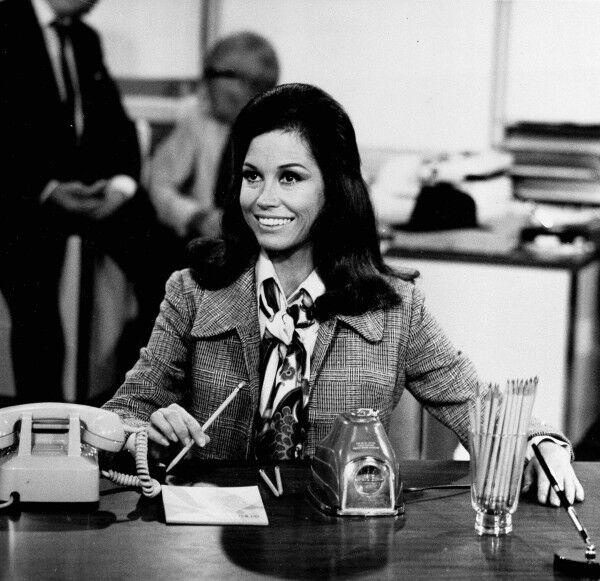 That's why Betty White's appearance (in "The Lars Affair") as the woman dating Phyllis' husband was so crucial. She helped move the focus and, in the process, created one of the most lasting characters in television. Sue Ann Nivens' passive/aggressive nature was just right for something so bent on tradition. The more outrageous she got, the more frantic Mary got.
On second viewing, you'll come to appreciate just how good Moore was. She let others shine, but she also nailed every joke she got. Even visual ones. When she won a Teddy Award (and looked terrible), she was ideal. When she went to jail for failing to reveal a source, she was able to draw on all we knew about Mary and find laughs in small gestures.
While other shows tend to peter out as the years go by, "The Mary Tyler Moore Show" continued to hit new highs, finding laughs in death ("Chuckles Bites the Dust") and perfection in goodbyes ("The Last Show").
Although there were plenty of moments that could shock a 21st century audience (sexist and racist remarks, questionable behavior), there's gold in the way Moore and company presented it.
"The Mary Tyler Moore Show" is definitely a snapshot of the times. But it's also a picture of the way we've always behaved.
Its shag carpeting may not stand the test of time. But its acting, writing and directing are for the ages.
Binge it and you'll see it's a great way to forget today's problems for at least 30 minutes.
Stay tuned in
Get the latest information on hit TV shows and more with our weekly newsletter!