LOS ANGELES – An Oscar-nominated film. A Tony-winning revival. And a best friend who was the toast of Broadway.
By any calculation, Beanie Feldstein had an outstanding 2017 -- a year to remember with "Lady Bird" and "Hello, Dolly!"
While Feldstein was making her Broadway debut in "Dolly!," her best friend, Ben Platt, was wowing audiences in "Dear Evan Hansen."
"Between shows we would lie on top of each other, drink water and not speak," Feldstein says. "It was so incredible because he has always been one step ahead of me in that journey."
Growing up in California, the two lived for theater and, yes, starred in all of their high school's musicals. "I don't want to brag, but our high school shows were amazing," Feldstein says with a smile. From "Guys and Dolls" to "Into the Woods" to "Pippin," they were front and center, dreaming of one day making it on Broadway.
When they finally got there, the two realized it was a lot like community theater. "When you're doing community theater, the stakes FEEL high. And when you're doing Broadway, the stakes ARE high. You feel almost as high when you're working your ass off doing community theater productions. But, come on. I'm on Broadway? With Bette Midler? And this is the greatest thing that ever happened to me."
One day when she and co-star Gavin Creel went to dinner between shows, she had a flashback. The last time Feldstein had been in the same restaurant was when she saw Creel in "Hair." "I was a big fan of his and I remembered standing at the stage door, just trying to meet him."
When "Dolly" and "Dear Evan Hansen" were featured on the Tony Awards, Feldstein and Platt sat across an aisle from each other.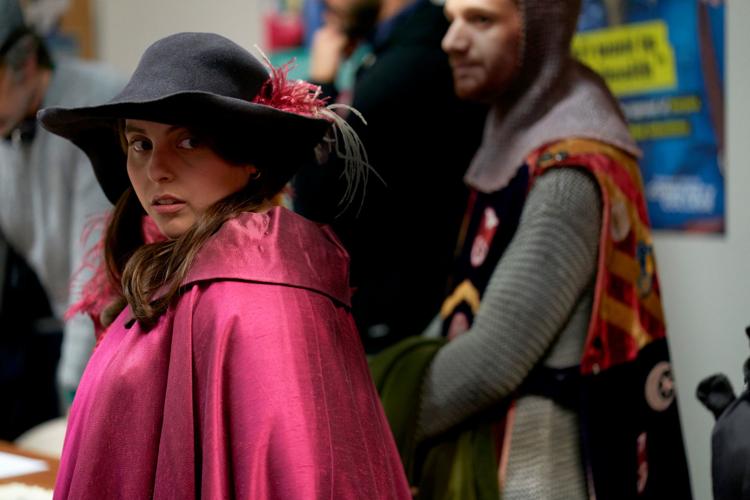 "When he won (for Best Actor in a Musical), I thought I'd be crying. But I looked around the room and thought, 'Everyone is looking at him the way I've always looked at him.'"
Now, the two are marveling at the new directions their careers have taken. While Platt promotes his first album, Feldstein has a new film coming out ("Booksmart") and a TV series, "What We Do in the Shadows."
In the latter, she plays a community college student who befriends a group of vampires. Fond of role-playing and art history, she wonders why she has a craving for human flesh. "She goes on a journey to find out who she will be as a vampire," Feldstein says. "It's all very fun. Because these vampires became vampires long ago, she's not the same. With Jenna, you get a 2019 vampire and what that's like. She's confused for a long time, which is very fun."
While the 25-year-old had guest spots on other series and roles in "Neighbors 2" and "Lady Bird," she didn't consider herself a screen actress. "Musical theater is my fandom."
Brother Jonah Hill, she says, is the cinefile.
"For me, movies and TV are a whole new journey. I feel like I'm learning a lot."
Hill, who has gotten several Oscar nominations and recently directed his first film, "Mid90s," often serves as a sounding board. "We tell each other everything and have a heart-to-heart every day," she says. "I'll ask his advice because he has such incredible taste. I'd be honored to be in something he's directing, but family first."
Slated for two more films this year, Feldstein says she doesn't take anything for granted. "I'm incredibly lucky and I like to think I work very hard. What has happened thus far has been an outrageous ride that I feel incredibly grateful for."
A return to Broadway? It'll happen, she says. "I'm desperate to play the Baker's Wife in 'Into the Woods' and, one day, Mama Rose in 'Gypsy.' But it's early yet for that."
"What We Do in the Shadows" premieres 9 p.m. Wednesday on FX.
Copyright 2019 The Sioux City Journal. All rights reserved. This material may not be published, broadcast, rewritten or redistributed.
Stay tuned in
Get the latest information on hit TV shows and more with our weekly newsletter!