LOS ANGELES -- Jason Ritter doesn't think he'd be the first person he'd prompt to save the world.
"But maybe I could be one of 2,000," he says with a smile. "One guy? No. I'd try to recruit."
The idea emerges because he's the star of "Kevin (Probably) Saves the World," a Capra-esque look at a man who's plucked by some spiritual being to make the world a little better.
The idea, Ritter says, appealed because he considers himself "fairly spiritual."
"I like affixing meaning to wherever I can find it," he says. "I like to look for connections and, whether they're just neurons firing in the back of my brain making connections where there are none or whether there really is something doesn't matter."
The thrust of "Kevin" is putting good back into the world, the 37-year-old son of actor John Ritter says. "I feel there's a sort of contagious element to the kind of energy you put out in the world. If someone screams at you in traffic or gives you the bird, you immediately feel anger. It's the same thing with kindness. If someone displays some sort of beautiful act toward you, it bolsters your day."
Personal experience confirms his theory. Ritter says he was in an accident that could have resulted in a lot of angry words. Instead, he says, "this person took care of me in this moment and immediately relinquished me of responsibility, which was so beautiful. It's those kinds of things where we grow a little bit."
When Ritter first read the script, "I couldn't concentrate on anything else until the audition was over."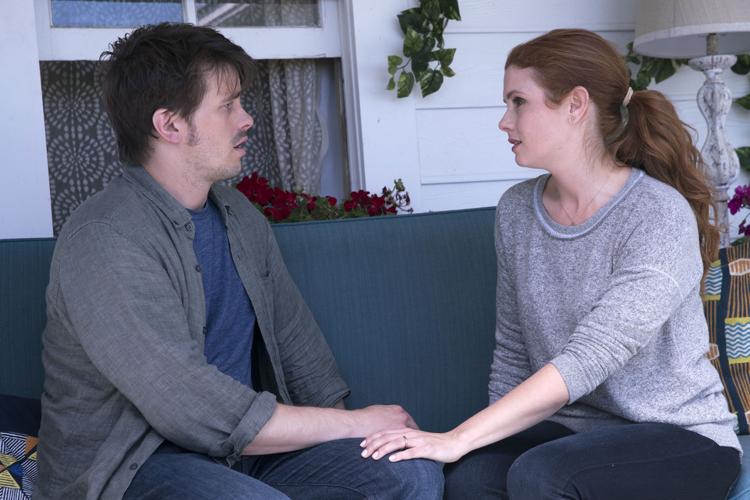 He wanted the part because it had something to say and it presented unique acting opportunities.
"Being responsible for every human on the planet is daunting," Ritter says. "There were so many interesting dynamics to play. The fact that no one else can see (the woman who comes to him) is fun – and challenging. I'm just by myself talking to the air."
Ritter's father – the late star of "Three's Company" – set a good example of what life in show business should be life. His mother, actress Nancy Morgan, also gave him "sort of a reality check" when he indicated he wanted to go into the family business.
"I didn't know it was going to be hard. But I realized how much I loved doing it.
"Because he had been around it for his whole life, my dad wasn't super-impressed by people who are impressed with themselves. He was never impressed with himself in an unhealthy way. He was always very careful of believing what people said about him, good or bad.
"My mom is just an incredibly warm and wonderful person. I feel very lucky to be her son. So, yeah, it's their fault," Ritter is the way he is.
"Kevin" co-workers call him the "unicorn" because he's one of those rare people who's a joy to be around. He laughs at the characterization.
"I've never worked so much in a day," he says of his new job. "I've always been the person who comes in for a scene or two, sees how tired the main person is, and then I go, 'Good night.' Here, I try to keep it light. I try to make jokes. I'm so grateful for this job and I'm surrounded by other actors and people who feel the same way. It's a community thing. I would not be able to be light and try to make jokes without them. If there was a real nightmare around, I'd shut down."
Although Ritter got his start at an early age, he didn't really know the pitfalls of an acting career. In those beginning years, he was open with everyone and found that probably wasn't the best approach.
Now, he says, "I've started to act in ways that I can defend and stand behind, even if it doesn't please everyone: 'Those were the choices I had and this is why I made that decision.'"
"Kevin," he says, could nudge viewers to consider their actions, too. "So much of our lives are now catalogued in our social media accounts. People are forced to be more responsible for what they say. You could put something out on social media, get on a plane, land and find out you don't have a job anymore. People are being held accountable for what they say and I think that's a good thing."