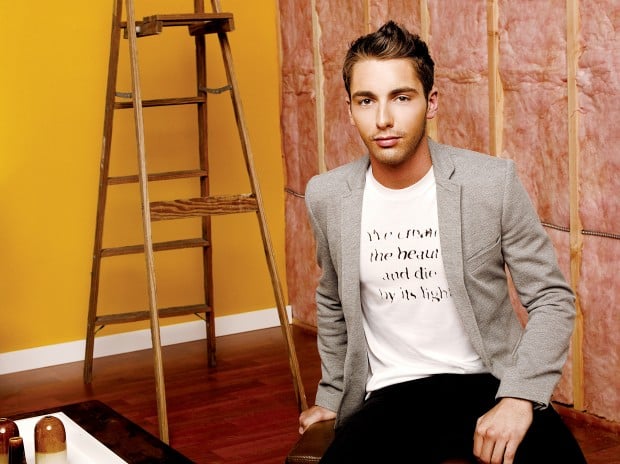 Note to college students: Write the letter.
Trace Lehnhoff did and landed a design job and television gig.
A graduate of Westbrook Walnut Grove High School in Westbrook, Minn., Lehnhoff admired Jeff Lewis' design work and decided to say as much in a letter. He inquired about internships and, to his surprise, got a call to interview.
Without much fanfare, Lehnhoff was hired -- and included in Lewis' reality series "Flipping Out."
"I was thrown to the tigers when I got in there," Lehnhoff says. "I had no idea what to expect. Jeff demands a lot and he's known to be very difficult."
Then, too, there are those cameras. "Seeing yourself on TV makes everyone a little uncomfortable, but it was OK. Sometimes you think, 'Why did I wear that? Why do I look 12 pounds heavier?' It is what it is."
After a while, he says, 12 people milling about with cameras just become part of the business' fabric. "It doesn't affect too much of what we do. Jeff wants it to be like a documentary." Instead of working with an outline -- a technique some reality shows employ -- "Flipping Out" just records the firm's day-to-day activities.
Lehnhoff says there's usually plenty to track. Lewis' design firm is extremely busy; Lewis is a walking volcano just waiting to explode.
"We take whatever he says and brush it off," Lehnhoff says. "He's a little sarcastic but I get his humor. A lot of people don't. He's never all that mean but he does know how to push your buttons."
Others -- like Lewis' housekeeper Zoila -- may push back but Lehnhoff backs down.
That could be because he sees a bit of himself in his boss. "We're really similar," Lehnhoff explains. "Even with little things -- when we go to restaurants, we often order the same things. It's a little creepy -- but not on purpose."
Both have similar taste and design sensibility. But, Lehnhoff says, he draws the line when it comes to fashion. "No, I don't want to dress like a 40-year-old. I want to look youthful but professional."
Early on, he came to work in shorts and was berated by Lewis. Now, Lehnhoff says, he saves the shorts for weekends. Those "signature things" are in the past, particularly since the twentysomething graduated from the Art Institute of California and was hired full time with Jeff Lewis Design.
"The day after I graduated, I started full time with a pay increase" and a new title -- design associate.
While Lehnhoff would eventually like his own firm and product line, he's quite happy working with Lewis. "I'm learning a lot from him -- and this doesn't feel like work."
Indeed, the small staff considers itself family and often ends the day with a martini. "Flipping Out" shows the relationships they have and their dedication to detail.
Too often, TV design shows dwell on the obvious, Lehnhoff says. "I'm not just selecting a paint color and a pillow fabric. It's a little more in-depth than that. I'm doing technical drawings and dealing with architects."
Landing the job, he says, took initiative and that Midwestern work ethic.
"I love the Midwest. I appreciate where I grew up. It helps you relate to people better and you're a little friendlier than most. But I think I was meant to be here. I love the pace of Los Angeles."
To ease the transition from Minnesota to California, Lehnhoff first moved to San Diego, then Los Angeles.
He worked hard in school, created a diverse portfolio and took the risk with Lewis.
The reason? "This is your life. You need to do what you want to do. There's no pool too big, no dream too big or too lofty. I didn't have any regrets. I just went for it."
Television? That's just a by-product of his career choice. Since Los Angeles is filled with plenty of people in film and television, it's not a big deal to be on "Flipping Out."
"If I'm at the baggage claim too long, people will recognize me," Lehnhoff says. "Everyone's sweet and nice. But here, you see celebrities at the deli."