There's more than a little misbehavin' in Danny McBride's new series, "The Righteous Gemstones."
Tracking a megachurch preacher, Eli Gemstone (John Goodman), and his mega-bad family, the new HBO comedy doesn't leave a single commandment unbroken. And, yes, it's very, very funny.
Like "Vice Principals," McBride's last comedy, "Gemstones" shows what happens when bad things happen to bad people. In this case, son Jesse Gemstone (McBride) is the target of blackmailers. They've got a less-than-holy tape of him that could bring down the kingdom. Pulling little brother Kelvin (Adam Devine) and sister Judy (Edi Patterson) into the situation, he has his hands full and they're not locked in prayer.
The joy in "Gemstones," though, isn't in watching the crime transpire, but in backtracking to understand who the Gemstones are. Obviously driven by money, they pull in millions and aren't afraid to spend it on lavish homes, cars and theme parks. They also don't watch their tongues (yes, it's profane) and treat others the way they'd like to be treated.
Like "Vice Principals," this shows the not-so-public behavior that reveals more truths than a lie detector.
Looking a bit like an Elvis impersonator, Jesse has always been on the outs. But so, too, has Judy. Dad never gives her a spotlight and, when push comes to shove, she shoves. Only Kelvin breezes through this life and he's often guilty by association.
You have free articles remaining.
"The Righteous Gemstones" clicks along for a couple of episodes, then hits high gear when Walton Goggins shows up as Baby Billy Freeman, Eli's late wife's brother. He's a preacher, too. He just doesn't have a megachurch, a multi-media career or a lifestyle that comes close to that of his relatives.
In fun flashbacks, McBride and company show how Baby Billy and his sister were on the verge of stardom with their song, "Misbehavin'." Eli interfered and the bitter brother never got over it.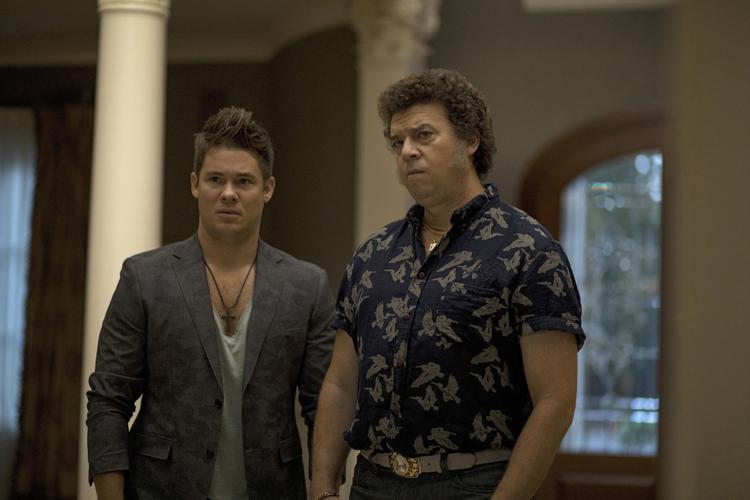 Tossing him – a propane tank of emotions – into a volatile mix like this enhances what already was a comic firestorm. Goggins and McBride play nicely off each other, but it's the former's ability to clog and sing with the best of them that really impresses.
Because there's so much to consider, "Gemstones" can't be a one-and-done kind of series. A whole look at those early years (and the fun Jennifer Nettles has as Eli's wife) could kindle memories of Jim and Tammy Faye in a heartbeat.
While the HBO offering relies on a lot of old impressions to get its laughs (this isn't the way the newbies roll), it does hit a sweet spot that makes you think twice about anyone who passes the plate. The Gemstones may not have a one-way ticket to heaven but they're certainly destined for some kind of backstage pass.
"The Righteous Gemstones" premieres Aug. 18 on HBO.