LOS ANGELES – Don't even think of starting those rumors again.
Shannen Doherty wasn't phoning in her performance in "BH90210," the reboot of "Beverly Hills 90210."
"I was on the set with everybody else," she says.
Discord among the stars of a 1990s sensation? Tabloids would love to see that. But, the stars say, they got along famously and decided a scene showing Doherty away from the gang was perfect for the show's new incarnation.
"It makes sense story-wise," adds Brian Austin Green, Doherty's co-star. "Watch the six episodes and it'll make sense."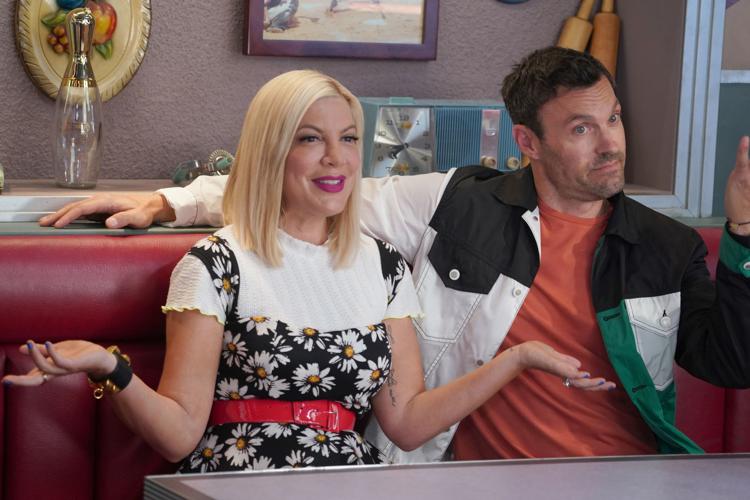 The truth is Doherty, Green and their co-stars wanted to toy with the perceptions fans had when the series first aired. Tabloids painted Doherty as the troublemaker, Tori Spelling as the innocent, and Luke Perry and Jason Priestley as the hotties.
Instead, they were more like deer in the headlights trying to figure out what all of this meant. Because they weren't versed in the ways of a phenomenon, the actors didn't think about things like merchandising. Now – as pointed out in the sort-of-reality show – they realize that could have brought them a lot of money.
A new contract – one with "BH90210" merch in it – probably isn't necessary, Green says with a laugh. "We're not going to have toothbrushes and pillow cases like they used to. Nobody is going to do that."
The series premiered last week to the best ratings for a new summer series in the past two years. If "BH90210" continues to prosper, expect it to be around for a while – even though its stars have other projects.
All billed as "executive producers," the seven actors have complete say in how they're portrayed, where the story goes and what kind of message it expects to deliver.
"All of the characters are fictionalized versions of (ourselves)," Spelling says. "We kind of wanted to leave it for the audience not to be able to decipher what's real, what's based on something real, what's totally fictionalized."
Spelling and Jennie Garth took the lead in making it come about; the late Perry was expected to return, even though he was a regular on another show, "Riverdale."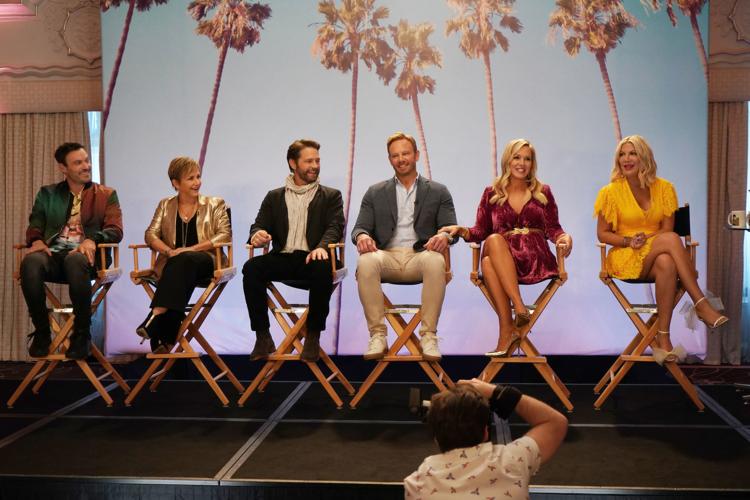 You have free articles remaining.
"He had been part of some of the conversations we actually had as a group when we were at the studios," says Gabrielle Carteris.
Doherty, yes, was a holdout.
"I definitely wasn't going to do it," she admits. "Nothing against the show. I knew that the show would get sold and do well with or without me. When Luke passed away, things drastically changed for me and I felt like it was a great opportunity to sort of honor him."
Perry, she says, wanted her to guest on "Riverdale." The two kept the lines of communication open and, as a tribute to her friend, she agreed to appear on the upcoming season of the CW series.
"I felt really proud and humbled and extremely honored that they asked me to be a part of it," she says. "I spoke to certain family members and they were behind it ... I went into it being supported by everybody who really mattered to Luke. It sort of was like this beautiful moment ... and it was cathartic in a lot of ways."
The "Riverdale" cast spoke highly of Perry, she says. "What was really beautiful was how much time Luke had spent mentoring them. That was such a Luke thing. He was such a mentor and caregiver."
Fully invested in "BH90210," Doherty says it's a great place to reflect on some of the things the original series was able to do.
"I was too young to understand the full impact that the breast cancer scare for Brenda (had)," she says. In light of her own breast cancer journey, "I'm incredibly proud of it now. (It's) a testament to the show back then and to all of us and to our writers and producers of how willing they were to address issues in a day and age when not a lot of shows were addressing such serious issues."
The original series – which ran 10 years – covered a gamut of teen issues, made stars out of its cast and inspired a host of teen-driven dramas, "Riverdale" included.
With test shows to prove she means business, Tiffany Haddish says she knows "Kids Say the Darndest Things" can work.
But the series wasn't an instant hit, Green says. "The summer run was what made us."
Realizing there was a large audience of teenagers looking for fresh content in the summer, Fox executives extended the initial order to 32 episodes and sent the cast to the beach.
"After the summer episodes, we got invited to places like England to see the prince," Doherty says.
"Until those summer episodes, nobody could remember '90210' to save their lives," Green says. "Then it exploded."
Now, the actors say, there's a possibility it could happen again – but on their terms.
"I'm not the villain in '90210,'" Doherty says. "I'm the girl who wants peace, has found her life and has things sort of figured out. You can't face something like cancer and not be a different person. Cancer allowed me to take down my walls a little bit and show people the softer side of who I am."