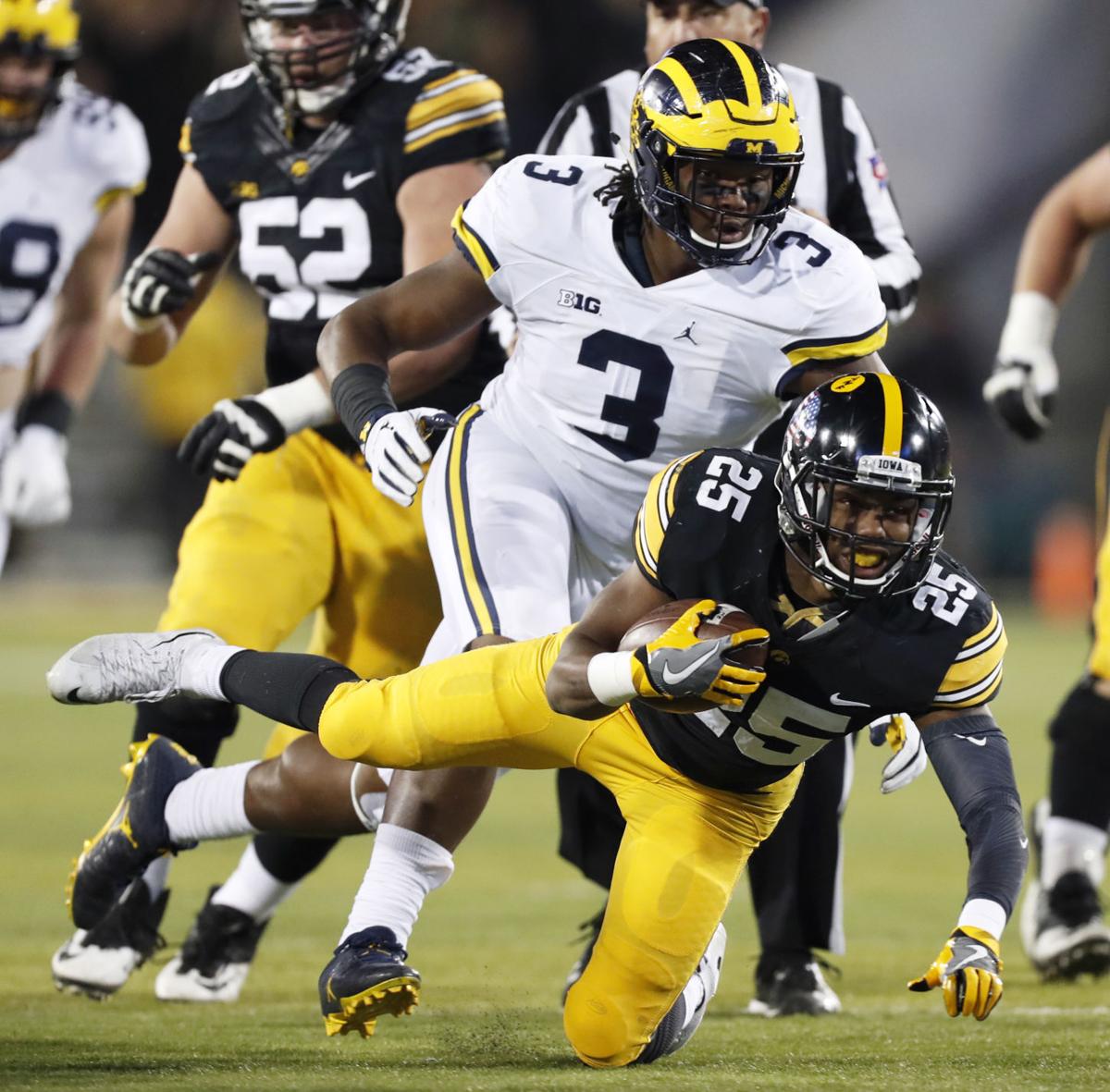 IOWA CITY – They're all the "next Hawkeye in'' and in the final weeks of the regular season, each will play a significant role for the Iowa football team.
Injuries to veteran starters have led tight end Nate Wieting, offensive lineman Keegan Render and defensive backs Manny Rugamba and Anthony Gair to expanded roles as the Hawkeyes prepare for today's 11 a.m. game at Illinois.
"If you're that next guy on the depth chart, when it's next Hawkeye in, you have to be ready to go,'' Wieting said. "The expectations are that you will go in and compete. No drop off. Go compete.''
Iowa used what coach Kirk Ferentz labeled a running back by committee approach at tight end last week against Michigan, something that will continue against the Fighting Illini as starter George Kittle continues to fight his way back from a foot injury suffered during an Oct. 15 game at Purdue.
Render moved into the lineup because of a calf area injury that has sidelined Cole Croston and while injuries to Greg Mabin and Miles Taylor provided opportunities for Rugamba and Gair.
"Injuries are a part of the game and while you feel for the guys who are out, the best thing you can do for them is make sure you hold up your end and get the job done on the field when you come in,'' Render said.
Wieting is a redshirt freshman, a walk-on from Rockford Lutheran in Illinois who entertained walk-on opportunities from the Fighting Illini and Purdue before selecting the Hawkeyes.
He joined Rugamba in making his first career start last week against the second-ranked Wolverines, teaming with Peter Pekar and Noah Fant in seeing action against Michigan.
"Once the game started, it just felt like I was playing football,'' Wieting said. "There were some nerves before the game, but I tried to block that out and just play. George is out, and our job is to compete.''
Wieting felt prepared to perform, serving primarily as a blocking tight end in the Hawkeyes' heavy run-game packages.
He's added 30 pounds to his 6-foot-4 frame, growing from 217 pounds when he arrived on campus in June, 2016 to the 247 pounds he threw at the Wolverines last week.
Help from Henry Krieger Coble and Jake Duzey a year ago and from Kittle this season has made a difference, readying Wieting for the opportunity he learned he was going to receive on Wednesday of Michigan's game week when it was determined that Kittle wouldn't play.
"If they told me to go hit a defensive lineman, I'll hit a defensive lineman,'' Wieting said. "If they told me to go hit a defensive end, I'll hit a defensive end. That's how the attitude is around here.''
Rugamba, a true freshman, has worked behind Mabin this fall. He found out on Thursday last week that he would start after the senior cornerback suffered what has since been diagnosed as a foot fracture that will sideline him for the final two regular-season games.
Gair is a fifth-year senior who has two career starts on his resume, but has primarily filled a reserve role throughout his collegiate career. He took the field three plays into the Michigan game after Taylor suffered a hit which has left him undergoing concussion protocol this week.
"Manny had 36, 48 hours to think about things, Anthony had no time at all, tale of two cities, first-year guy versus fifth-year guy. To have a good football team, you need the young guys stepping in and doing it, a fifth-year senior doing it,'' Ferentz said.
"You need those stories, guys to step in without any real warning other than knowing you're not a starter, be ready.''
That goes with the job description of being the next Hawkeye in, something Render is very familiar with given the injuries Iowa has dealt with this season on the offensive line.
The Hawkeyes have used six different line combinations through 10 games and with Ike Boettger questionable today because of an ankle injury suffered late in the Michigan, more change is possible.