NORTH SIOUX CITY – There is more to Meredith Lammers volleyball game than just a powerful swing.
The 5-foot-11 senior plays all six rotations for the second-ranked (Class A) Dakota Valley squad that has a 15-2 record after winning three matches to claim the title Saturday at the Eastern Volleyball Classic.
Lammers tallied 18 kills and 17 digs in three matches, victories over Sisseton, Elk Point-Jefferson and Tea Area for a Panthers team that bounced back following a loss to new No. 1 Sioux Falls Christian, two days earlier.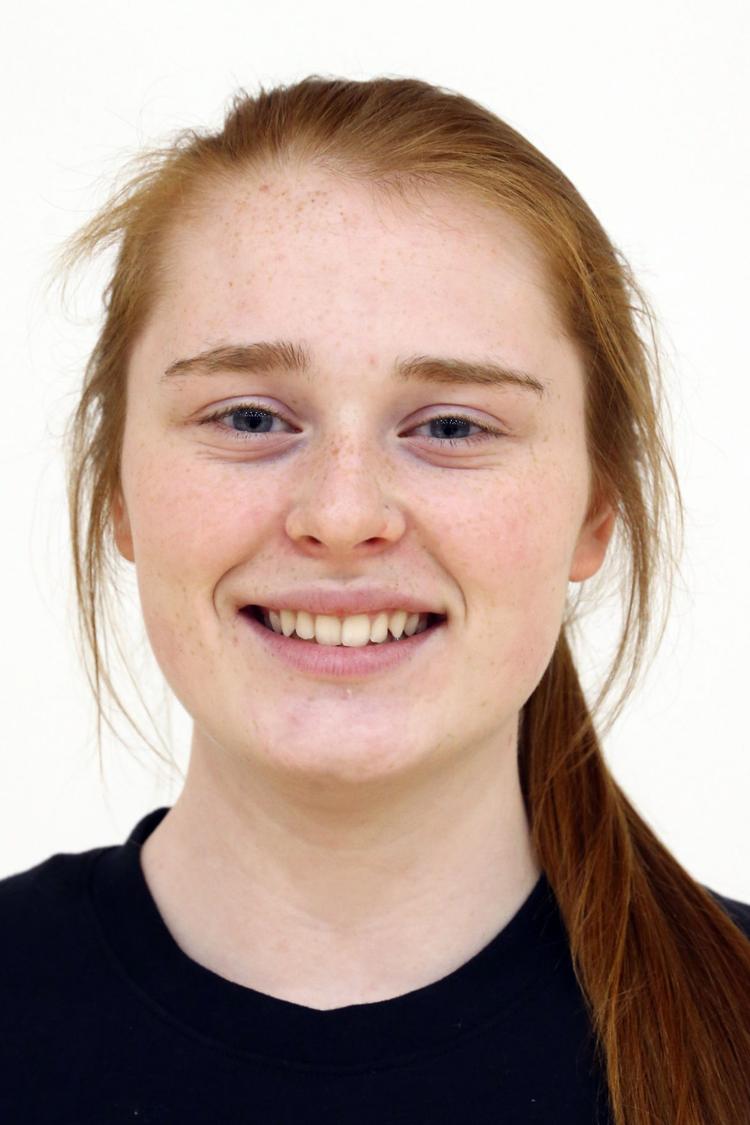 "We took what we learned from that game and applied it to our three games and brought more energy and didn't dwell on the fact that we lost," said Lammers. "We just came out strong and that's what got us through Saturday."
Lammers, the Sioux City Journal's Metro Athlete of the Week, recorded the 1,000th kill in her career during the match against Sioux Falls Christian. She's also nearing the 1,000 career dig mark for an individual who has played all six rotations for all four years in high school.
"When they announced my 1,000th kill at the home game and everyone in the crowd stood up and gave me a standing ovation it's an indescribable feeling, it was very powerful," said Lammers. "I couldn't have done it without (past setter) Lindsey Smith, Hanna Cummins and even (setter) Ally (Beresford) this year and obviously people passing the ball. I couldn't have done it without my teammates."
She has shared in her success with her twin sister Elizabeth.
Her ability to see the court from playing the back row allows her to be successful as an attacker when she rotates to the front row.
"Seeing the court on the other side," said Dakota Valley coach Amy Wiseman is Meredith's biggest attribute. "She sees the block, she sees the defense, she knows when to swing away and do real shots or tips or push the ball. She is really versatile as far as what kind of attack to run."
Wiseman is in her first season as head coach and inherited the defending state champions who have eight seniors on the roster. Despite the returning talent there was an adjustment period in the beginning, plus the addition of new lineups, including a new setter in sophomore Beresford.
"We switched setters this year so there has been a little bit of an adjustment where Meredith was running as a middle some as well," said Wiseman. "She's just very versatile as a hitter, they (her and her twin sister) can hit the ball from every position and they enjoy hitting.
"I felt that Saturday was our best day as far as really playing as a team and seeing that chemistry back that we have struggled with this season so far. We were being more aggressive on the serve side and we passed a lot better as well."
Meredith averages over three kills per set and currently has 166 through the Panthers' first 46 sets this season. Seven times this season she has enjoyed a contest with 10 or more kills, highlighted by a season-high 21 in a four-set early season win over third-ranked Madison in a rematch of last year's state title game.
"I would like to think that when our team is in need of a point that I'm the go-to hitter, that I would get the ball because I believe that I can get a kill for us most of the time," said the daughter of Gary and Lori Lammers.
Meredith also averages over three digs per set and has moved within 15 of 1,000 heading into Tuesday's Dakota XII Conference match at Bon Homme.
"Between the twins, they definitely are that consistent pass and they become a hitting option in the back row as well for us," said Wiseman.
"Being in the back row allows me to see what is open on the other side of the court," said Meredith. "Elizabeth is my opposite so when she is hitting and I'm playing back row I can see what's open, which allows me to use what is open to get more kills."
Dakota Valley has a 3-2 mark this season against ranked teams with its other loss coming to Sergeant Bluff-Luton, Iowa's eighth-ranked Class 4A club. Coach Wiseman's club also own wins over Madison, Hinton (No.9 in Class 2A) and Le Mars Gehlen (No. 3 in 1A).
"Both Sioux Falls Christian and Sergeant Bluff-Luton have really big hitters and we struggled a little bit with our blocking," said Meredith. "We really focused on that in practice. We focused on serve receive, that kind of fell apart during Sioux Falls Christian game so I think if we just clean up our defensive aspect than we will be there."
Lexi Sneller, Sergeant Bluff-Luton...Senior setter had 71 assists as eighth-ranked (4A) Warriors went 5-0 to win the Unity Christian tournament.
Saybein Clark, Bishop Heelan...Senior running back carried just six times but scored three touchdowns in the Crusaders' district victory over Le Mars.
Metro Athletes of the Week
| School year | Date | Athlete | School | Sport |
| --- | --- | --- | --- | --- |
| 1999-2000 | 9/7/1999 | Justin Sandy | East | football |
| | 9/14/1999 | Gretchen Gruber | Heelan | volleyball |
| | 9/21/1999 | Tom Flynn | South Sioux | tennis |
| | 9/28/1999 | Jared Nobbe | South Sioux | football |
| | 10/5/1999 | Kevin Kruse | East | football |
| | 10/12/1999 | Ryan Dohrmann | North | golf |
| | 10/19/1999 | Brett Moody | Heelan | football |
| | 10/26/1999 | Abby Heinz | East | swimming |
| | 11/2/1999 | Mike McManigal | North | basketball |
| | 12/7/1999 | Lindsay Davis | North | basketball |
| | 12/14/1999 | Ryan Galloway | West | basketball |
| | 12/21/1999 | Jessica Grimsley | Heelan | basketball |
| | 1/11/2000 | Pat Wilsbacher | Heelan | wrestling |
| | 1/18/2000 | Nichole Robison | West | basketball |
| | 1/25/2000 | Michael Kalin | North | basketball |
| | 2/1/2000 | Jay Gentry | East | basketball |
| | 2/8/2000 | Justin Vortherms | East | basketball |
| | 2/15/2000 | Cornelius Qualley | North | swimming |
| | 2/22/2000 | Stacia Swanson | East | basketball |
| | 2/29/2000 | Kristin Broyhill | South Sioux | swimming |
| | 4/11/2000 | Tieesha Griffin | West | track |
| | 4/18/2000 | Jake Bowers | North | track |
| | 4/25/2000 | Tim Hornbeck | South Sioux | golf |
| | 5/2/2000 | Jeff Olorundami | West | track |
| | 5/9/2000 | Kelli Howard | North | tennis |
| | 5/16/2000 | Katie Berger | Heelan | track |
| | 6/13/2000 | Cory Peck | North | baseball |
| | 6/20/2000 | Wes Kelly | West | baseball |
| | 6/27/2000 | T.J. Stahle | Heelan | baseball |
| | 7/4/2000 | Matt LaScala | East | baseball |
| | 7/11/2000 | Jordan Bottorff | North | softball |
| | | | | |
| 2000-2001 | | | | |
| | 9/5/2000 | Aaron Althaus | Heelan | football |
| | 9/12/2000 | Michelle West | Heelan | volleyball |
| | 9/19/2000 | Adam Hesse | East | football |
| | 9/26/2000 | Ben Deck | North | football |
| | 10/3/2000 | Nate VanderMolen | West | football |
| | 10/10/2000 | Mike Winklepleck | Heelan | football |
| | 10/17/2000 | Lisa Niedergeses | Heelan | cross country |
| | 10/24/2000 | Anne Shadle | South Sioux | cross country |
| | 10/31/2000 | Mark Hamilton | East | football |
| | 12/5/2000 | Scott Heinrichs | East | basketball |
| | 12/12/2000 | Adam Buthe | East | wrestling |
| | 12/19/2000 | Ryan Galloway | West | basketball |
| | 1/9/2001 | Patrick Allibone | Heelan | wrestling |
| | 1/16/2001 | Cornelius Qualley | North | swimming |
| | 1/23/2001 | Nate Funk | Heelan | basketball |
| | 1/30/2001 | Scott Treft | West | wrestling |
| | 2/6/2001 | Karen Daniels | Heelan | basketball |
| | 2/13/2001 | Megan Cloud | East | basketball |
| | 2/20/2001 | Erron Coleman | West | basketball |
| | 2/27/2001 | Jenni Flynn | South Sioux City | basketball |
| | 4/24/2001 | Jared Small | Heelan | soccer |
| | 5/1/2001 | Laura Tomes | East | track |
| | 5/8/2001 | Joe Yager | North | soccer |
| | 5/15/2001 | Paul Houfek | West | track |
| | 6/5/2001 | Jason Bos | East | baseball |
| | 6/12/2001 | Joe Bisenius | Heelan | baseball |
| | 6/19/2001 | Ricky Nearman | West | baseball |
| | 6/26/2001 | Beth Rohlena | North | softball |
| | 7/3/2001 | Scotty Colt | West | baseball |
| | 7/10/2001 | Kristi Henrichsen | North | softball |
| 2001-2002 | | | | |
| | 9/4/2001 | Mike Johnson | South Sioux City | football |
| | 9/11/2001 | Megan Hinds | Heelan | volleyball |
| | 9/18/2001 | Ryan Block | Heelan | football |
| | 9/25/2001 | Graham McGaffin | West | cross country |
| | 10/2/2001 | Chris White | South Sioux City | football |
| | 10/9/2001 | John Barker | East | football |
| | 10/16/2001 | Christi Huigens | Heelan | volleyball |
| | 10/23/2001 | Darnell Pitts | North | football |
| | 10/30/2001 | Eric Hartman | East | football |
| | 12/4/2001 | Ben Jacobson | East | basketball |
| | 12/11/2001 | Brett Stedman | Heelan | wrestling |
| | 12/18/2001 | Dusty Smith | North | basketball |
| | 1/8/2002 | Justin Johnson | West | swimming |
| | 1/15/2002 | Jane Horkey | South Sioux City | basketball |
| | 1/22/2002 | Krista Schoenfish | North | basketball |
| | 1/29/2002 | Betsy Ingenthron | East | basketball |
| | 2/5/2002 | Ben Stedman | Heelan | wrestling |
| | 2/12/2002 | Bobby Pyper | East | basketball |
| | 2/19/2002 | Eric Beaver | Heelan | wrestling |
| | 2/26/2002 | Shanna Cook | North | basketball |
| | 4/16/2002 | Justin Junck | East | tennis |
| | 4/23/2002 | Cody Jaminet | East | track |
| | 4/30/2002 | Jack Ehrich | South Sioux City | track |
| | 5/7/2002 | Scott Davis | North | soccer |
| | 5/14/2002 | Paul Yaneff | Heelan | track |
| | 6/4/2002 | Tyson Whitehill | North | baseball |
| | 6/11/2002 | Tiffany Stanton | East | softball |
| | 6/18/2002 | Dustin Jones | Heelan | baseball |
| | 6/25/2002 | Jessie Quade | North | softball |
| | 7/2/2002 | Carrie Lessman | East | softball |
| | 7/9/2002 | Jen Kernaghan | North | softball |
| | | | | |
| 2002-2003 | | | | |
| | 9/10/2002 | Graham Lundt | Heelan | football |
| | 9/17/2002 | Carter Black | Heelan | football |
| | 9/24/2002 | James Roat | North | cross country |
| | 10/1/2002 | Matt Brienzo | East | football |
| | 10/8/2002 | B.J. Rohlena | North | volleyball |
| | 10/15/2002 | Betsy Grover | North | swimming |
| | 10/22/2002 | Catie Deman | Heelan | volleyball |
| | 10/29/2002 | Greg Berger | Heelan | football |
| | 11/5/2002 | Munib Sana | North | football |
| | 12/10/2002 | Andrea Schoepf | South Sioux | basketball |
| | 12/17/2002 | Nick Conrad | South Sioux | basketball |
| | 1/14/2003 | Prairie Gordon | West | basketball |
| | 1/21/2003 | James Patterson | West | basketball |
| | 1/28/2003 | Jeff Butcher | East | wrestling |
| | 2/4/2003 | Landon Scott | East | basketball |
| | 2/11/2003 | Brooke Niles | Heelan | basketball |
| | 2/18/2003 | Sean Touney | North | wrestling |
| | 2/25/2003 | Amanda Wiltgen | South Sioux | basketball |
| | 3/4/2003 | Kevin Lohry | West | hockey |
| | 4/15/2003 | Chris Krueger | South Sioux | track |
| | 4/22/2003 | Nick Murphy | Heelan | track |
| | 4/29/2003 | Lee Holland | West | track |
| | 5/6/2003 | Chris Rager | South Sioux | golf |
| | 5/13/2003 | Quincy Christie | West | track |
| | 5/20/2003 | Marcos Jaramillo | North | soccer |
| | 6/10/2003 | Mike Washburn | East | baseball |
| | 6/17/2003 | Brittany Prevail | Heelan | softball |
| | 6/24/2003 | Carl Fenceroy | West | baseball |
| | 7/1/2003 | Dena DeStigter | North | softball |
| | 7/8/2003 | Ben Keegan | West | baseball |
| | 7/15/2003 | Nathan Wicks | North | baseball |
| | | | | |
| 2003-2004 | | | | |
| | 9/9/2003 | Jessie Pape | Heelan | cross country |
| | 9/16/2003 | Deric Manrique | North | football |
| | 9/23/2003 | Billy Mousel | Heelan | football |
| | 9/30/2003 | Megan Tuttle | East | volleyball |
| | 10/7/2003 | Ashley Vogt | Heelan | volleyball |
| | 10/14/2003 | Kyle Vanderlinden | West | cross country |
| | 10/21/2003 | Chad Moreland | Heelan | football |
| | 10/28/2003 | Abby Moes | East | swimming |
| | 11/4/2003 | Zac Brouillette | North | football |
| | 12/9/2003 | Dylan Grimsley | Heelan | basketball |
| | 12/16/2003 | Jordan Johnson | East | basketball |
| | 12/23/2003 | Andrew Anderson | East | wrestling |
| | 1/13/2004 | Adi Cizmic | Heelan | basketball |
| | 1/20/2004 | Ashley Robinette | SSC | basketball |
| | 1/27/2004 | A.J. James | North | wrestling |
| | 2/3/2004 | Jeff Miller | East | wrestling |
| | 2/10/2004 | Jamee Phipps | SSC | basketball |
| | 2/17/2004 | Greg Nelson | North | basketball |
| | 2/24/2004 | Alex Lukehart | Metros | Hockey |
| | 3/2/2004 | Andrew Anderson | East | wrestling |
| | 4/13/2004 | Shawn Olorundami | West | track |
| | 4/20/2004 | Chad Porsch | North | track |
| | 4/27/2004 | Jenny McArdle | West | soccer |
| | 5/4/2004 | James Johnikin | West | track |
| | 5/11/2004 | Megan Iverson | Heelan | track |
| | 5/18/2004 | Nabil Sorathia | North | tennis |
| | 6/8/2004 | Matt McQuillen | North | baseball |
| | 6/15/2004 | Maggie Kukuk | North | soccer |
| | 6/22/2004 | Laura Shanafelt | West | softball |
| | 6/29/2004 | Tommy Mousel | Heelan | baseball |
| | 7/6/2004 | Kyle Lafrenz | West | baseball |
| | 7/13/2004 | Grant Mastbergen | North | baseball |
| | | | | |
| 2004-2005 | | | | |
| | 9/7/2004 | Kirk Jaminet | East | football |
| | 9/14/2004 | Pat Grace | Heelan | football |
| | 9/21/2004 | Cara DeStigter | North | volleyball |
| | 9/28/2004 | Mary Bisenius | Heelan | volleyball |
| | 10/5/2004 | Brandon Morehead | East | golf |
| | 10/12/2004 | Rebecca Hindman | Heelan | volleyball |
| | 10/19/2004 | B.J. Steed | West | football |
| | 10/26/2004 | Andrew Engle | Heelan | football |
| | 11/2/2004 | Jay J. Sandy | East | football |
| | 12/7/2004 | Dan Bohall | East | basketball |
| | 12/14/2004 | Dani Gass | East | basketball |
| | 12/21/2004 | Joe Curran | Heelan | wrestling |
| | 1/11/2005 | Turhan Gates | West | wrestling |
| | 1/18/2005 | Chase Chartier | East | swimming |
| | 1/25/2005 | Roman Gentry | East | basketball |
| | 2/1/2005 | Danny Mousel | Heelan | basketball |
| | 2/8/2005 | Jenna Kalin | North | basketball |
| | 2/15/2005 | Molly Frank | SSC | basketball |
| | 2/22/2005 | Jaret Delfs | North | wrestling |
| | 3/1/2005 | Brooke Flynn | SSC | basketball |
| | 4/12/2005 | Trenton Lee | West | track |
| | 4/19/2005 | Bill Lane | West | track |
| | 4/26/2005 | Kyle Yager | North | soccer |
| | 5/3/2005 | Josh Lewis | West | track |
| | 5/10/2005 | Natalie Olorundami | West | track |
| | 5/17/2005 | Sara Gotch | South Sioux City | track |
| | 6/7/2005 | Stephen Keane | Heelan | baseball |
| | 6/14/2005 | Andrea Tritz | Heelan | soccer |
| | 6/21/2005 | Kacie Ogburn | East | softball |
| | 6/28/2005 | Karen Scaletta | North | softball |
| | 7/5/2005 | Dexter Sauer | Heelan | baseball |
| | 7/12/2005 | David Callahan | Heelan | baseball |
| | | | | |
| 2005-2006 | | | | |
| | 9/6/2005 | Bret Hoch | South Sioux | football |
| | 9/13/2005 | Mike Wilson | North | football |
| | 9/20/2005 | Sarah Nelson | North | cross country |
| | 9/27/2005 | Brianna Paulsen | East | volleyball |
| | 10/4/2005 | Kyle Bennett | Heelan | football |
| | 10/11/2005 | Ryan Lessman | East | football |
| | 10/18/2005 | Adam Vondrak | Heelan | football |
| | 10/25/2005 | Molly Lohry | North | cross country/swimming |
| | 11/1/2005 | Alex Tomes | East | football |
| | 12/6/2005 | Roman Gentry | East | basketball |
| | 12/13/2005 | Adam Palmer | North | basketball |
| | 12/20/2005 | Cat Nelson | North | basketball |
| | 1/10/2006 | Kelsey Johnikin | West | basketball |
| | 1/17/2006 | Katie Frank | SSC | basketball |
| | 1/24/2006 | Jonathan Reicks | Heelan | wrestling |
| | 1/31/2006 | Frankie Ramirez | North | wrestling |
| | 2/7/2006 | Zach Fenceroy | East | basketball |
| | 2/14/2006 | Connie Walding | North | basketball |
| | 2/21/2006 | Cory Paronto | West | wrestling |
| | 2/28/2006 | Kayla Miller | SSC | basketball |
| | 4/11/2006 | Aaron Maly | Heelan | soccer |
| | 4/18/2006 | Kelli Herman | East | soccer |
| | 4/25/2006 | Jacqui Kalin | North | soccer/track |
| | 5/2/2006 | Jay Hart | Heelan | soccer |
| | 5/9/2006 | Dan Kuehl | Heelan | tennis |
| | 5/16/2006 | Lacee Murtaugh | SSC | tennis |
| | 6/6/2006 | Joey Rozmiarek | Heelan | baseball |
| | 6/13/2006 | Trevor Talbott | East | baseball |
| | 6/20/2006 | Alisha Wheat | East | softball |
| | 6/27/2006 | Treye Hacker | Heelan | baseball |
| | 7/4/2006 | Callie Roan | West | softball |
| | 7/11/2006 | Chad Corbett | Heelan | baseball |
| | | | | |
| 2006-2007 | | | | |
| | 9/5/2006 | Josh Collins | West | football |
| | 9/12/2006 | Hillary Hanno | Heelan | volleyball |
| | 9/19/2006 | Anthony Oberle | Heelan | x-country |
| | 9/26/2006 | Kayla Fiscus | East | swimming |
| | 10/3/2006 | John Kirwan | East | football |
| | 10/10/2006 | Jordan Spirk | SSC | football |
| | 10/17/2006 | Tre-Darrius Canady | East | football |
| | 10/24/2006 | Matt Folchert | North | football |
| | 10/31/2006 | Jenna Jansen | Heelan | volleyball |
| | 12/5/2006 | Katie Vondrak | Heelan | basketball |
| | 12/12/2006 | Jehmica McDaniel | North | basketball |
| | 12/19/2006 | Cody Putzier | West | wrestling |
| | 1/9/2007 | Tanaeya Worden | North | basketball |
| | 1/16/2007 | Marshall Tuttle | East | hockey |
| | 1/23/2007 | Mike Tillo | North | basketball |
| | 1/30/2007 | Robert Kellogg | North | wrestling |
| | 2/6/2007 | Clint Sargent | Heelan | basketball |
| | 2/13/2007 | Chris Gogel | East | swimming |
| | 2/20/2007 | Micah Sheffield | North | wrestling |
| | 2/27/2007 | Lekeisha Dotson | North | basketball |
| | 4/10/2007 | Jacob Bell | South Sioux City | track |
| | 4/17/2007 | Nestor Galan | West | soccer |
| | 4/24/2007 | Andrea Uhl | North | tennis |
| | 5/1/2007 | Alejandro Guerrero | SSC | soccer |
| | 5/8/2007 | Dan Winders | North | track |
| | 5/15/2007 | Wendy Hofmeyer | East | soccer |
| | 5/22/2007 | Ashlee Andersen | West | track |
| | 6/5/2007 | Jeff Kerian | Heelan | baseball |
| | 6/12/2007 | Dana Wilson | Heelan | softball |
| | 6/19/2007 | Angela Lambrecht | West | softball |
| | 6/26/2007 | Billy Meacham | North | baseball |
| | 7/3/2007 | Allison Padomek | East | softball |
| | 7/10/2007 | Andy Compton | East | baseball |
| 2007-2008 | | | | |
| | 9/4/2007 | Chris Calvillo | Heelan | football |
| | 9/11/2007 | Nicole Benzoni | North | cross country |
| | 9/18/2007 | Anthony Tomscha | North | football |
| | 9/25/2007 | Sarah Jane Bowden | North | volleyball |
| | 10/2/2007 | Dane Larson | East | golf |
| | 10/9/2007 | Mindy Moody | Heelan | volleyball |
| | 10/16/2007 | Marcus James | North | football |
| | 10/23/2007 | Colton Newcomb | East | football |
| | 10/30/2007 | Charlie Murphy | West | football |
| | 12/4/2007 | John Daniels | Heelan | basketball |
| | 12/11/2007 | Eric Jorgensen | East | basketball |
| | 12/18/2007 | Josh Wilkins | North | wrestling |
| | 12/26/2007 | Michelle Lund | Heelan | basketball |
| | 1/8/2008 | Autumn Boyer | SSC | basketball |
| | 1/15/2008 | Stephanie Robinson | North | basketball |
| | 1/22/2008 | Kathleen Reynolds | East | basketball |
| | 1/29/2008 | Jeremy Yacevich | SSC | swimming |
| | 2/5/2008 | Aaron Satterwhite | SSC | wrestling |
| | 2/12/2008 | Blaze Gill | North | wrestling |
| | 2/19/2008 | Brian Wanner | North | basketball |
| | 4/8/2008 | Tyler Hohenstein | SSC | baseball |
| | 4/15/2008 | Nate McKewon | Heelan | track |
| | 4/22/2008 | Max Martin | North | soccer |
| | 4/29/2008 | Emily McCarthy | East | track |
| | 5/6/2008 | Chris Erickson | East | soccer |
| | 5/13/2008 | Sierra Hsieh | North | soccer |
| | 5/20/2008 | Kyle Poss | Heelan | track |
| | 6/3/2008 | Jerad Barth | East | baseball |
| | 6/10/2008 | Alexa Rudeen | North | softball |
| | 6/17/2008 | Corby McGlaflin | North | baseball |
| | 6/24/2008 | Scott Lahn | East | baseball |
| | 7/1/2008 | Alex Zeimet | North | softball |
| | 7/8/2008 | Tanner Oliver | Heelan | baseball |
| | | | | |
| 2008-2009 | | | | |
| | 9/2/2008 | Taylor Pollow | East | football |
| | 9/9/2008 | Brandon Wegher | Heelan | football |
| | 9/16/2008 | Josh Folchert | North | football |
| | 9/23/2008 | Sean Geary | Heelan | football |
| | 9/30/2008 | Kelsey Tweet | Heelan | volleyball |
| | 10/7/2008 | Nick Hessa | North | golf |
| | 10/14/2008 | Adam Bobier | SSC | football |
| | 10/21/2008 | Dex Gordon | West | football |
| | 10/28/2008 | Buckley Wright | Heelan | football |
| | 12/9/2008 | Brennan Cougill | Heelan | basketball |
| | 12/16/2008 | Kory Kistner | East | wrestling |
| | 1/13/2009 | Jalyssa Ceasar | North | basketball |
| | 1/20/2009 | Jordan Gentry | East | basketball |
| | 1/27/2009 | Emily Schroeder | SSC | basketball |
| | 2/3/2009 | Nolan Grieves | North | wrestling |
| | 2/10/2009 | McKayla Knudson | SSC | basketball |
| | 2/17/2009 | Alex Walker | North | basketball |
| | 2/24/2009 | David Stubblefield | Heelan | wrestling |
| | 4/14/2009 | Ryan Hernandez | SSC | track |
| | 4/21/2009 | Brendan Dougherty | Heelan | track |
| | 4/28/2009 | Gabriel Williams | West | track |
| | 5/5/2009 | Tyler Heitman | SSC | track |
| | 5/12/2009 | Taylor Culver | North | soccer |
| | 5/19/2009 | Austin Grundy | North | tennis |
| | 5/26/2009 | Stephen Chicoine | Heelan | soccer |
| | 6/9/2009 | Dean McArdle | North | baseball |
| | 6/16/2009 | Ashley Vanderloo | East | softball |
| | 6/23/2009 | Tanner Murphy | East | baseball |
| | 6/30/2009 | C.J. Nolen | West | baseball |
| | 7/7/2009 | Nick Tillo | North | baseball |
| | 7/14/2009 | Erica Denney | North | softball |
| | | | | |
| 2009-2010 | | | | |
| | 9/1/2009 | Ben Moes | East | football |
| | 9/8/2009 | Brandon Stolze | South Sioux City | football |
| | 9/15/2009 | George Wakeman | Heelan | football |
| | 9/22/2009 | Danny Rudeen | North | football |
| | 9/29/2009 | Preston Ives | Heelan | football |
| | 10/6/2009 | Britt Anderson | East | football |
| | 10/13/2009 | Maggie Vondrak | Heelan | volleyball |
| | 10/20/2009 | Matt Samuelson | North | cross country |
| | 10/27/2009 | Kenny Wasmund | South Sioux | football |
| | 12/8/2009 | Zach McCabe | Heelan | basketball |
| | 12/15/2009 | Patrick Kurth | North | basketball |
| | 12/22/2009 | Jeff Sponder | East | basketball |
| | 1/12/2010 | Rulin Pederson | East | wrestling |
| | 1/19/2010 | Carli Tritz | Heelan | basketball |
| | 1/26/2010 | Ryan Rozeboom | SBL | wrestling |
| | 2/2/2010 | Jordan Thomas | East | basketball |
| | 2/9/2010 | Millie Niggeling | Heelan | basketball |
| | 2/16/2010 | Dylan Stalheim | Metro | swimming |
| | 2/23/2010 | Kari Ceasar | North | basketball |
| | 4/6/2010 | Ross Chettinger | SBL | track |
| | 4/13/2010 | Ellen Dougherty | East | track |
| | 4/20/2010 | Matt Lord | Heelan | track |
| | 4/27/2010 | DeVante Clark | West | track |
| | 5/4/2010 | Austin Grundy | North | tennis |
| | 5/11/2010 | Tabitha Machar | SSC | track |
| | 5/18/2010 | Maddie Warder | West | tennis |
| | 5/25/2010 | Abby Axthlem | North | soccer |
| | 6/8/2010 | Amanda Hoffman | Heelan | soccer |
| | 6/15/2010 | Jamie Shultz | SBL | softball |
| | 6/22/2010 | Kyle Gogel | East | baseball |
| | 6/29/2010 | Damek Tomscha | North | baseball |
| | 7/6/2010 | Dylan Ohl | North | baseball |
| | 7/13/2010 | Kate Knepper | North | softball |
| | | | | |
| 2010-2011 | | | | |
| | 8/31/2010 | Quenton James | East | football |
| | 9/7/2010 | Zach Sexton | Dakota Valley | football |
| | 9/14/2010 | Leisa McClintock | Heelan | volleyball |
| | 9/21/2010 | Mike Malek | East | football |
| | 9/28/2010 | Abbabiya Simbassa | North | cross country |
| | 10/5/2010 | Pete Fitzsimmons | Heelan | football |
| | 10/12/2010 | Katelyn Walsh | Heelan | volleyball |
| | 10/19/2010 | Anthony Baker | West | football |
| | 10/26/2010 | Melissa Mounts | East | volleyball |
| | 12/7/2010 | Josee Jansen | North | basketball |
| | 12/14/2010 | Chad Ryan | North | wrestling |
| | 12/21/2010 | Matt Lupkes | Dakota Valley | basketball |
| | 1/11/2011 | Alex Malloy | Heelan | basketball |
| | 1/18/2011 | Brittni Donaldson | North | basketball |
| | 1/25/2011 | Tawni Greeley | South Sioux | basketball |
| | 2/1/2011 | Cody Solari | Sergeant Bluff-Luton | wrestling |
| | 2/8/2011 | Quinton Behlers | East | basketball |
| | 2/15/2011 | Summer Gordon | North | basketball |
| | 2/22/2011 | Paige O'Neal | Sergeant Bluff-Luton | basketball |
| | 4/12/2011 | Shelby Houlihan | East | track |
| | 4/19/2011 | Justin Baker | Heelan | track |
| | 4/26/2011 | Victor Perez | West | soccer |
| | 5/3/2011 | Tristen Sharp | South Sioux | track |
| | 5/10/2011 | Ashlie Stokes | North | soccer |
| | 5/17/2011 | Payton Pry | East | soccer |
| | 5/24/2011 | Kirsten Gobell | Heelan | soccer |
| | 6/7/2011 | Austin Stubbs | East | baseball |
| | 6/14/2011 | David Kerian | Heelan | baseball |
| | 6/21/2011 | Chloe Kambach | Heelan | softball |
| | 6/28/2011 | Micayla Weaver | East | softball |
| | 7/5/2011 | Taylor Michaelson | East | softball |
| | 7/12/2011 | Jake Wimmer | Sergeant Bluff-Luton | baseball |
| 2011-2012 | | | | |
| | 9/6/2011 | Natalie Vondrak | Heelan | volleyball |
| | 9/13/2011 | Jeremy Nelson | Heelan | football |
| | 9/20/2011 | Brock Bergmann | Dakota Valley | football |
| | 9/27/2011 | Taylor Jensen | South Sioux City | football |
| | 10/4/2011 | Paul Jacobson | Heelan | football |
| | 10/11/2011 | Alex Imming | East | football |
| | 10/18/2011 | Kristina Neumann | Heelan | volleyball |
| | 10/25/2011 | Quinn Williams | North | football |
| | 12/6/2011 | Ethan Lara | East | wrestling |
| | 12/13/2011 | Michael Gesell | South Sioux City | basketball |
| | 12/20/2011 | Derek Geddings | South Sioux City | wrestling |
| | 1/11/2012 | Cole Croston | Sergeant Bluff-Luton | basketball |
| | 1/18/2012 | Madison Yohe | Heelan | basketball |
| | 1/25/2012 | J.C. Fuller | East | basketball |
| | 2/1/2012 | Josh King | Sergeant Bluff-Luton | wrestling |
| | 2/8/2012 | Adam Woodbury | East | basketball |
| | 2/15/2012 | Cassidy Breon | Sergeant Bluff-Luton | basketball |
| | 2/22/2012 | Tyler McWilliams | East | wrestling |
| | 4/11/2012 | Darius Pearson | West | track |
| | 4/18/2012 | Juan Magana | South Sioux City | soccer |
| | 4/25/2012 | Bryce Drager | East | track |
| | 5/2/2012 | Austin Krohn | Sergeant Bluff-Luton | track |
| | 5/9/2012 | Austin Groth | South Sioux City | baseball |
| | 5/16/2012 | Carlee Oakley | North | golf |
| | 5/23/2012 | Tim Keane | Heelan | track |
| | 6/6/2012 | Kendall Hazel | Sergeant Bluff-Luton | baseball |
| | 6/13/2012 | Crystal McElhose | East | soccer |
| | 6/20/2012 | Paul Jacobson | Heelan | baseball |
| | 6/27/2012 | Betsy Thomas | Sergeant Bluff-Luton | softball |
| | 7/4/2012 | Abby Pollow | East | softball |
| | 7/12/2012 | Anna Shanafelt | West | softball |
| | | | | |
| | | | | |
| 2012-2013 | | | | |
| | 9/5/2012 | Connor Spears | Heelan | football |
| | 9/12/2012 | Nate Rogers | South Sioux City | football |
| | 9/19/2012 | Tanner Lambert | South Sioux City | football |
| | 9/26/2012 | Megan McCarthy | Heelan | volleyball |
| | 10/3/2012 | Jake McDonald | East | football |
| | 10/10/2012 | Alec DeVries | Heelan | cross country |
| | 10/17/2012 | Taylor DeLaughter | East | football |
| | 10/24/2012 | Scotty Manley | South Sioux City | football |
| | 12/5/2012 | Marcel Dunson | East | basketball |
| | 12/12/2012 | Dustin Fuller | North | wrestling |
| | 12/19/2012 | Colton McCrystal | Sergeant Bluff-Luton | wrestling |
| | 1/11/2013 | Shane Graves | Heelan | basketball |
| | 1/18/2013 | Blake Van Ginkel | Dakota Valley | basketball |
| | 1/25/2013 | Shantel Cross | West | basketball |
| | 2/1/2013 | MaKayla Augustine | Heelan | basketball |
| | 2/8/2013 | Shane Gill | North | wrestling |
| | 2/15/2013 | Morgan Hansen | South Sioux City | basketball |
| | 2/22/2013 | Kyle Heaton | Heelan | basketball |
| | 4/17/2013 | Zach Skibinski | Heelan | track |
| | 4/24/2013 | Mackenzie Geary | Heelan | track |
| | 5/1/2013 | Cassie Stanek | Heelan | tennis |
| | 5/8/2013 | Amy Grause | East | soccer |
| | 5/15/2013 | Eduardo Gamboa | South Sioux City | soccer |
| | 5/22/2013 | Anthony Dreeszen | East | track |
| | 6/5/2013 | Blake Meacham | North | baseball |
| | 6/12/2013 | Marissa Schmidt | Sergeant Bluff-Luton | softball |
| | 6/19/2013 | Dom Thompson-Williams | East | baseball |
| | 6/26/2013 | Tyler Stolen | Heelan | baseball |
| | 7/3/2013 | Taylor Moriarty | Sergeant Bluff-Luton | softball |
| | | | | |
| 2013-2014 | | | | |
| | 9/4/2013 | Trent Solsma | Heelan | football |
| | 9/11/2013 | Lindsay Joyce | Heelan | cross country |
| | 9/18/2013 | Connor Niles | Heelan | football |
| | 9/25/2013 | Chase Kern | East | football |
| | 10/2/2013 | Brandon Konz | North | football |
| | 10/9/2013 | Dylan Urquidi | West | football |
| | 10/16/2013 | Christian Brobst | Heelan | football |
| | 10/23/2013 | Jenna Bork | Heelan | volleyball |
| | 10/30/2013 | Jayde Bergmann | Dakota Valley | volleyball |
| | 12/11/2013 | Tanya Meyer | West | basketball |
| | 12/18/2013 | Carlos Elizalde | North | basketball |
| | 1/8/2014 | Wyatt Mounts | East | basketball |
| | 1/15/2014 | Steven Garcia | Sergeant Bluff-Luton | wrestling |
| | 1/22/2014 | Nate Glisar | Sergeant Bluff-Luton | basketball |
| | 1/29/2014 | Ikenna Okwarabizie | East | basketball |
| | 2/5/2014 | Jason Lupkes | Dakota Valley | basketball |
| | 2/12/2014 | Bret Tomoson | Sergeant Bluff-Luton | wrestling |
| | 2/19/2014 | Miles Ludwigs | Sergeant Bluff-Luton | basketball |
| | 2/26/2014 | Keaton Slaughter | Heelan | basketball |
| | 4/16/2014 | Ronald Nash | East | track |
| | 4/23/2014 | Tyler Cropley | Heelan | track |
| | 4/30/2014 | Carter Lilly | East | track |
| | 5/7/2014 | Sam Tymkowicz | Heelan | soccer |
| | 5/14/2014 | Austin Langston | North | track |
| | 5/21/2014 | Caitlin Foley | East | soccer |
| | 5/28/2014 | Elizabeth Bohlmann | East | track |
| | 6/11/2014 | Jake Westphal | East | baseball |
| | 6/18/2014 | Cody Selig | Sergeant Bluff-Luton | baseball |
| | 6/25/2014 | Ashtin Hazel | Sergeant Bluff-Luton | softball |
| | 7/2/2014 | Bailey Heaton | Bishop Heelan | softball |
| | 7/9/2014 | Philip Jacobson | Bishop Heelan | baseball |
| | 7/16/2014 | Hayden Godfrey | East | baseball |
| | | | | |
| 2014-2015 | | | | |
| | 9/3/2014 | Alex Stueve | East | football |
| | 9/10/2014 | Jacob Sandoz | Sergeant Bluff-Luton | football |
| | 9/17/2014 | Joe Kayl | Heelan | football |
| | 9/24/2014 | Kelsey Smith | East | volleyball |
| | 10/1/2014 | Austin Ahrendt | East | football |
| | 10/8/2014 | Alec Pavone | Heelan | cross country |
| | 10/15/2014 | Tony Tobin | Heelan | football |
| | 10/22/2014 | Lindsey Smith | Dakota Valley | volleyball |
| | 10/29/2014 | Tyler Smith | Heelan | football |
| | 12/10/2014 | Andre Harris | East | basketball |
| | 12/17/2014 | Zach Kraus | North | wrestling |
| | 12/24/2014 | Alex Borchers | South Sioux City | basketball |
| | 1/7/2015 | Daniel Tillo | North | basketball |
| | 1/14/2015 | Devin Phaly | Sergeant Bluff-Luton | wrestling |
| | 1/21/2015 | Colby Hill | West | basketball |
| | 1/28/2015 | Amber Schubert | Sergeant Bluff-Luton | basketball |
| | 2/4/2015 | Mitch Otto | East | wrestling |
| | 2/11/2015 | Taylor Beaulieu | Heelan | basketball |
| | 2/18/2015 | Johnny Stephens | East | wrestling |
| | 2/25/2015 | Sidney Hildahl | East | basketball |
| | 4/22/2015 | Xavier Scarlett | North | track |
| | 4/29/2015 | Gilbert Garcia | West | soccer |
| | 5/6/2015 | Rachel Vondrak | Heelan | soccer |
| | 5/13/2015 | Shauna Folchert | North | track |
| | 5/20/2015 | Yasmeen Rose | Heelan | track |
| | 5/27/2015 | Connor Gill | Heelan | soccer |
| | 6/10/2015 | Spencer Franko | East | baseball |
| | 6/17/2015 | Tristan Beaulieu | Heelan | soccer |
| | 6/24/2015 | Tanner Wauhob | West | baseball |
| | 7/1/2015 | Robert Neustrom | North | baseball |
| | 7/8/2015 | Jaylee Lester | Heelan | softball |
| | | | | |
| 2105-2016 | | | | |
| | 9/2/2015 | Deion Clayborne | North | football |
| | 9/9/2015 | Grace Hanno | Heelan | volleyball |
| | 9/16/2015 | Corey Matthey | Sergeant Bluff-Luton | golf |
| | 9/23/2015 | Noah McWell | West | football |
| | 9/30/2015 | Matt George | Sergeant Bluff-Luton | football |
| | 10/7/2015 | Branden Hohenstein | Heelan | football |
| | 10/14/2015 | Andrew Christensen | Sergeant Bluff-Luton | football |
| | 10/21/2015 | Dom Flemister | East | football |
| | 10/28/2015 | Brittni Olson | Sergeant Bluff-Luton | volleyball |
| | 12/9/2015 | Rachel Knutson-Kobold | West | basketball |
| | 12/16/2015 | Connor Murrell | East | basketball |
| | 12/23/2015 | Jacob Schroyer | South Sioux City | wrestling |
| | 1/13/2016 | Augusta Thramer | South Sioux City | basketball |
| | 1/20/2016 | Jacob Wiley | East | wrestling |
| | 1/27/2016 | Tyler Johnson | Dakota Valley | basketball |
| | 2/3/2016 | Haley Hoffman | Dakota Valley | basketball |
| | 2/10/2016 | DeAndre Burnside | Heelan | basketball |
| | 2/17/2016 | Amanda Gors | West | basketball |
| | 2/24/2016 | Haley Fritza | South Sioux City | basketball |
| | 4/13/2016 | John Alexa | East | track |
| | 4/20/2016 | Elyse Huber | East | soccer |
| | 4/27/2016 | Sara Bohan | Dakota Valley | track |
| | 5/4/2016 | Antonio Hernandez | West | soccer |
| | 5/11/2016 | Trina Swanson | North | tennis |
| | 5/18/2016 | Lauren Luft | Heelan | track |
| | 5/25/2016 | Hannah Rens | East | golf |
| | 6/8/2016 | Connor Prescott | Sergeant Bluff-Luton | baseball |
| | 6/15/2016 | Sarah Sponder | East | softball |
| | 6/22/2016 | Bailey McBride | Heelan | baseball |
| | 6/29/2016 | Morgan Skinner | Sergeant Bluff-Luton | softball |
| | 7/6/2016 | Allison Lester | East | softball |
| | 7/13/2016 | Ashtin Eslick | West | baseball |
| | | | | |
| 2016-2017 | | | | |
| | 8/31/2016 | Luke Schmitt | Dakota Valley | football |
| | 9/7/2016 | Chris Kroll | Sergeant Bluff-Luton | football |
| | 9/14/2016 | Lexi Lapke | East | volleyball |
| | 9/21/2016 | Merrin Van Velzen | volleyball | |
| | 9/28/2016 | Allie Cooke | Bishop Heelan | volleyball |
| | 10/5/2016 | Kyrese Peck | Bishop Heelan | football |
| | 10/12/2016 | Abdul Mohamed | South Sioux City | cross country |
| | 10/19/2016 | Carter Prescott | East | football |
| | 10/26/2016 | Mary Volz | Bishop Heelan | volleyball |
| | 12/7/2016 | Kyle Benson | Sergeant Bluff-Luton | wrestling |
| | 12/14/2016 | Carissa Powell | South Sioux City | basketball |
| | 12/21/2016 | Christian Kyles | Siouxland Christian | basketball |
| | 1/11/2017 | Joe Vondrak | Bishop Heelan | wrestling |
| | 1/18/2017 | Kori Fischer | South Sioux City | basketball |
| | 1/25/2017 | Marquise Bolden | West | basketball |
| | 2/1/2017 | Brayden Curry | Sergeant Bluff-Luton | wrestling |
| | 2/8/2017 | Jailen Billings | East | basketball |
| | 2/15/2017 | Robert Rosenquist | Dakota Valley | basketball |
| | 2/22/2017 | Ryan Parker | Dakota Valley | wrestling |
| | 04/12/2017 | Brady Wall | Sergeant Bluff-Luton | track & field |
| | 04/19/2017 | Armando Garcia | South Sioux City | soccer |
| | 04/26/2017 | Avery Lester | East | track & field |
| | 05/03/2017 | Austin Lingle | Bishop Heelan | soccer |
| | 05/10/2017 | Khenadi Jones | West | track & field |
| | 05/17/2017 | Hannah Von Hagel | East | soccer |
| | 05/24/2017 | Marisa Schulz | Dakota Valley | track & field |
| | 06/07/2017 | Joel Stroman | West | baseball |
| | 06/14/2017 | Lexi Ricke | Bishop Heelan | softball |
| | 06/21/2017 | Ryley McGregor | Sergeant Bluff-Luton | baseball |
| | 06/28/2017 | Matt Nelson | Bishop Heelan | baseball |
| | 07/05/2017 | Lexie Stolen | Bishop Heelan | softball |
| 2017-18 | | | | |
| | 08/30/2017 | Merga Gemeda | North | cross country |
| | 09/05/2017 | Dustin Saia | West | football |
| | 09/12/2017 | Kylee Christensen | Sergeant Bluff-Luton | volleyball |
| | 09/20/2017 | Samantha McCabe | Bishop Heelan | volleyball |
| | 09/29/2017 | Meredith Lammers | Dakota Valley | volleyball |
| | 10/04/2017 | Austin Carter | Dakota Valley | football |
| | 10/11/2017 | Miles Scott | Sergeant Bluff-Luton | cross country |
| | 10/18/2017 | Saybein Clark | Bishop Heelan | football |
| | 10/25/2017 | Elizabeth Lammers | Dakota Valley | volleyball |
| | 12/06/2017 | Carly Knutson-Kobold | West | basketball |
| | 12/13/2017 | Van Rees | East | basketball |
| | 12/20/2017 | Shyler Langley | Heelan | wrestling |
| | 01/10/2018 | Jeremiah Khat | Sergeant Bluff-Luton | basketball |
| | 01/17/2018 | James Page | East/Metros | Hockey |
| | 01/24/2018 | Clement Oyadare | North | wrestling |
| | 01/31/2018 | Albert Pham | North/Metro | swimming |
| | 02/07/2018 | Peyton Wingert | Dakota Valley | basketball |
| | 02/14/2018 | Elijah Hazekamp | Heelan | basketball |
| | 04/11/2018 | Ty Boekelman | SB-L | track |
| | 04/18/2018 | Lauren Van Dyke | East | track |
| | 04/25/2018 | Paola Ochoa | East | soccer |
| | 05/02/2018 | Jenna Courey | North | soccer |
| | 05/09/2018 | Brennan Sitzmann | SB-L | soccer |
| | 05/16/2018 | Kaitlyn Mulder | North | track |
| | 06/0612018 | Aaron Eybers | North | baseball |
| | 06/13/2018 | Brenden Roder | Heelan | baseball |
| | 06/20/2018 | Aubrey Wolf | Heelan | softball |
| | 06/27/2017 | D.J. Drent | East | baseball |
| | 07/04/2018 | Colin Kasperbauer | Heelan | baseball |
| | 07/11/2018 | Hunter Hope | Heelan | baseball |
| 2018-19 | | | | |
| | 08/28/2018 | Matt Hagan | North | football |
| | 09/05/2018 | Nathan Rice | Dakota Valley | footall |
| | 09/12/2018 | Nick Opsahl | North | golf |
| | 09/19/2018 | Madison Harms | SB-L | volleyball |
| | 09/26/2018 | Sam DeMoss | SB-L | football |
| | 10/03/2018 | Zekariya Abdela | SSC | cross country |
| | 10/10/2018 | Britton Delperdang | SB-L | football |
| | 10/17/2018 | Jake Beaulieu | Heelan | football |
| | 10/24/2018 | Nicole Jacobson | Heelan | |