SIOUX CITY | Nobody played a bigger role in East's 76-53 boys basketball win over Council Bluffs Abraham Lincoln Tuesday night than Sam Hildahl.
But the senior post took a modest approach to his 19-point, seven-rebound performance for the fifth-ranked Black Raiders, who won for the seventh time in eight tries this season.
"I had the easy job tonight," Hildahl said. "They were hounding on Van (Rees) and Aidan (Vanderloo) and it just opened it up for everybody else. If they're all over them it gets open shots for me, Cole (Taylor), Jack (Peterson) and other guys."
East mounted a 33-15 halftime lead and still led by 16 points three minutes into the third quarter before Abraham Lincoln (4-5) went on a 10-0 run to pull within 40-34.
The Black Raiders, though, weathered that storm to forge a 47-38 lead heading into the fourth quarter, then made 11 of 13 shots and exploded for 23 points in the final eight minutes.
"For two-and-a-half to three quarters we played very good basketball," East Coach Ras Vanderloo said. "We had a quarter there where we just didn't have a killer instinct and give AL credit, we let them get back in it. Then we fought back and did what we could do.
"They're a type of team where you give them a little crack and they're fighting through it. We have to learn to finish things off."
On a night when Aidan Vanderloo, the team's leading scorer with a 20.1 average, was limited to five points, East shot 54 percent from the field and got huge efforts from both the 6-5 Hildahl and junior Jack Peterson.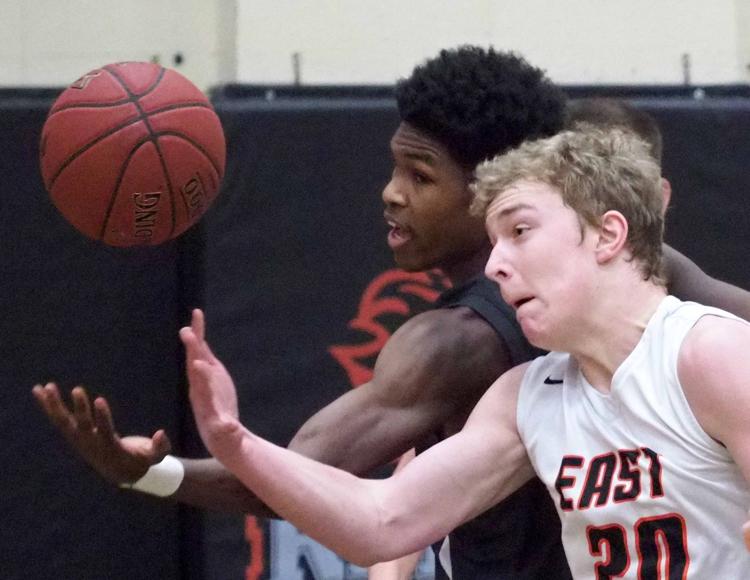 Peterson finished with 18 points while all-stater Van Rees was his usual self with 16 points and nine rebounds.
"When Sam plays like that and like he did the other night at the Tyson against Le Mars (10 points, six rebounds) we have a good team," Vanderloo said. "He's a big body there in the middle. He takes up a lot of space, he can rebound and he's good with his hands. When he plays with energy he's a very good player."
East pulled away early and it didn't help Abraham Lincoln any that its two posts players – Troy Houghton and Mason Mower – each had three fouls in the first half. Houghton, the team's leading scorer with a 14.4 average, managed only seven before fouling out early in the fourth quarter.
Preston Fant tallied 19 points and Hunter Hendrix 12, combining to nail four 3-pointers and score 15 points in the third quarter when the Lynx made their move.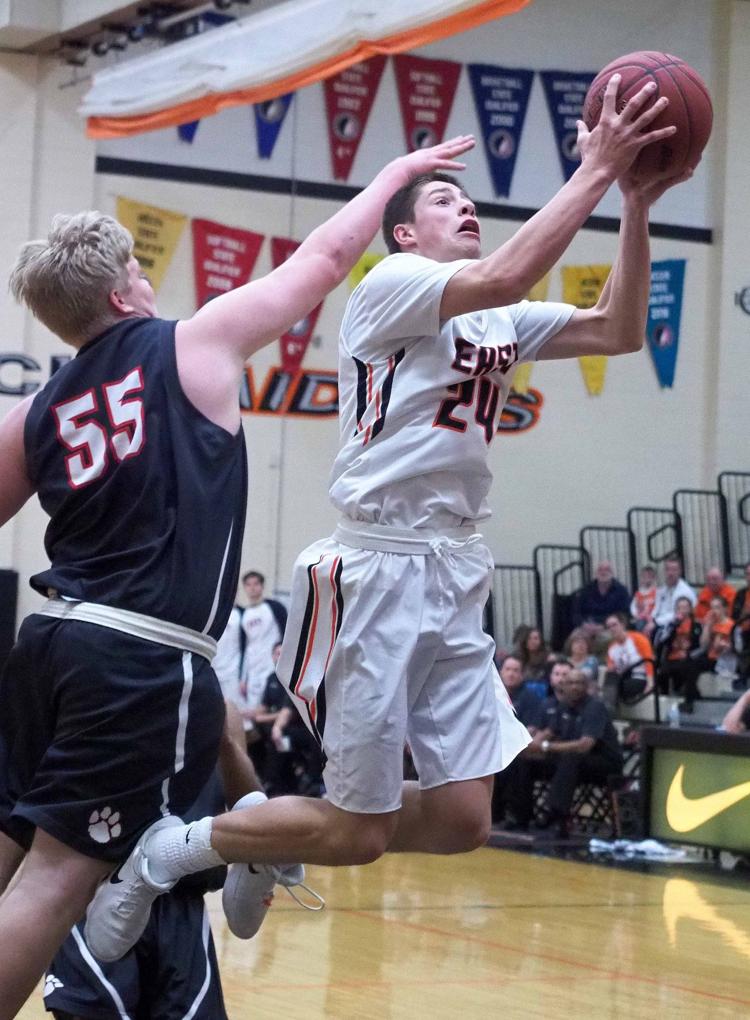 A Hendrix trey pulled Abraham Lincoln within 40-34 with 3:22 left in the third quarter, but Hidahl converted a conventional 3-point play to push it back to nine and East pulled away in the fourth quarter.
The East victory snapped a tie with Abraham Lincoln for second place in the Missouri River Conference. The Black Raiders moved to 4-1 in the league and host conference leader Bishop Heelan (5-0) next Thursday.
Before that, however, East must travel to Sioux Falls Lincoln, ranked No. 1 in South Dakota Class AA, on Thursday and play at North Friday.
East won the junior varsity game 72-38 as Javonte Keck scored 18 points and Sayvion Armstrong and Nate Zyzda 10 points each.