SIOUX CITY | Aidan Vanderloo fueled an improbable East High comeback with 12 fourth-quarter points as the Black Raiders rallied for a 58-57 boys basketball win over Bishop Heelan Thursday.
As usual when these longtime rivals meet, tension filled the East High gym, from the stands to the playing floor.
Vanderloo's layup with 18 seconds left proved to be the game-winner after Heelan's Elijah Hazekamp had a scoop shot at the buzzer hang tantalizingly on the rim before rolling off.
Heelan enjoyed a 53-43 lead with just over four minutes remaining in the game before Vanderloo went on a tear, scoring his team's next nine points. The Crusaders still led 55-48 after Jack Boever made two free throws with 1:26 remaining.
That's when things got particularly crazy.
Vanderloo converted two free throws at the 1:16 mark, then was fouled while making a layup after a steal, turning it into a three-point play. East's Cole Taylor came up with a steal on the next inbounds pass and he, too, was fouled while making a layup.
The second conventional three-point play in a matter of eight seconds gave East a 56-55 lead, sending the crowd into a frenzy.
Heelan's Hazekamp, however, hauled in a missed 3-point shot and scored with 25 seconds left, putting his team back in front.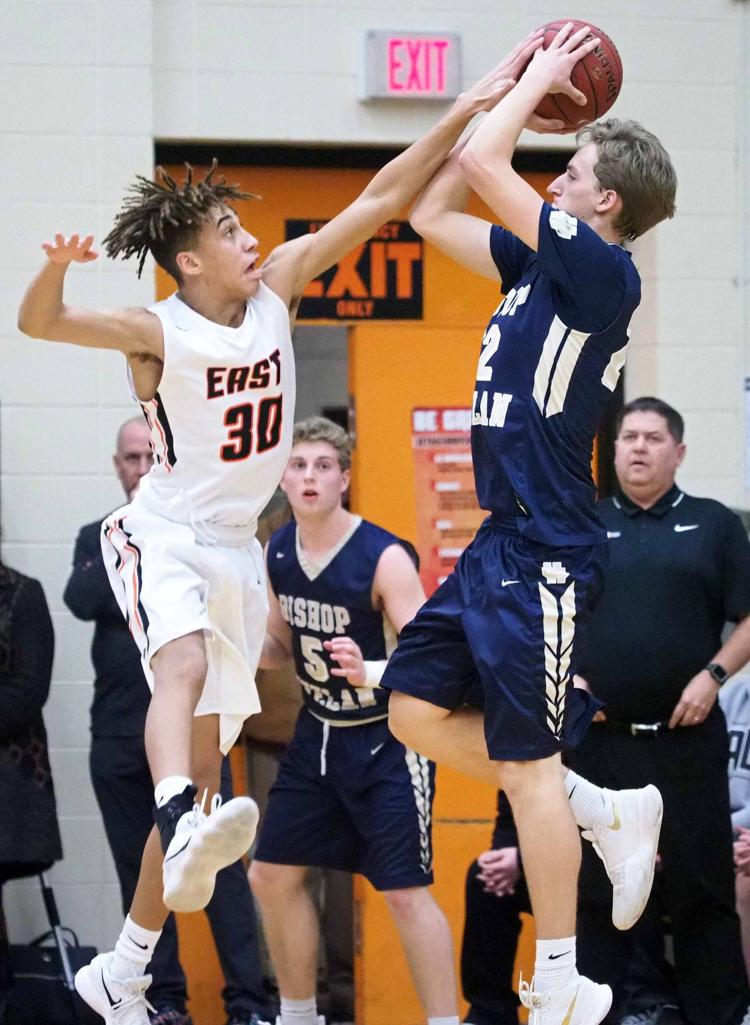 East got the ball down court quickly and Vanderloo drove the baseline for a layup with 18 ticks remaining. Heelan called time out with nine seconds left and got the ball in the hands of its star, who made a terrific move to the hoop, but his shot didn't fall.
The third-ranked (Class 4A) Black Raiders moved to 11-1 and avenged their only loss, a 70-59 setback at Heelan on Dec. 12. Heelan, No. 5 in Class 3A, slipped to 8-3 after its second consecutive loss.
Moreover, East moved into first place alone in the Missouri River Conference with a 7-1 mark. Heelan and Council Bluffs Abraham Lincoln, which downed the Crusaders last week, are each 5-2.
Aidan Vanderloo finished with a game-high 23 points, while Hazekamp had 18 points and 17 rebounds.
"Our mindset (when down by 10 points) was don't put your heads down, there's plenty of time left, four minutes in basketball is an eternity," Aidan Vanderloo said. "It was a great game, you have to give all the props to Heelan, those dudes are tough, smart and good players and have a good future ahead of them. I see them going far at state this year.
"The team was struggling a little on offense (in the fourth quarter) so I said maybe I'll have to score a couple points. I'm super proud of our guys, they chipped away and played well all night."
It was an intense contest from start to finish, although there wasn't much offense to speak of in the first half when Heelan broke with a 24-22 lead. A 3-pointer by Tommy Schiltz with 28 seconds left in the third quarter gave the Crusaders a 43-40 lead. Colin Kasperbauer scored back-to-back hoops to open the quarter before East's Sam Hildahl converted a conventional 3-point play at the seven-minute mark.
The Black Raiders wouldn't score again for nearly three minutes and in the process Heelan's lead grew to 10 points.
"Wow is my first reaction," East Coach Ras Vanderloo said. "Give Heelan credit, they're a great team, they played hard. It was an East-Heelan rivalry game and that's what sports are all about.
"We happened to be on the winning end tonight. To hang in there and still believe you can win, that's something. And then to be able to do it against a very good team in a physical game, we're very thankful to get the win."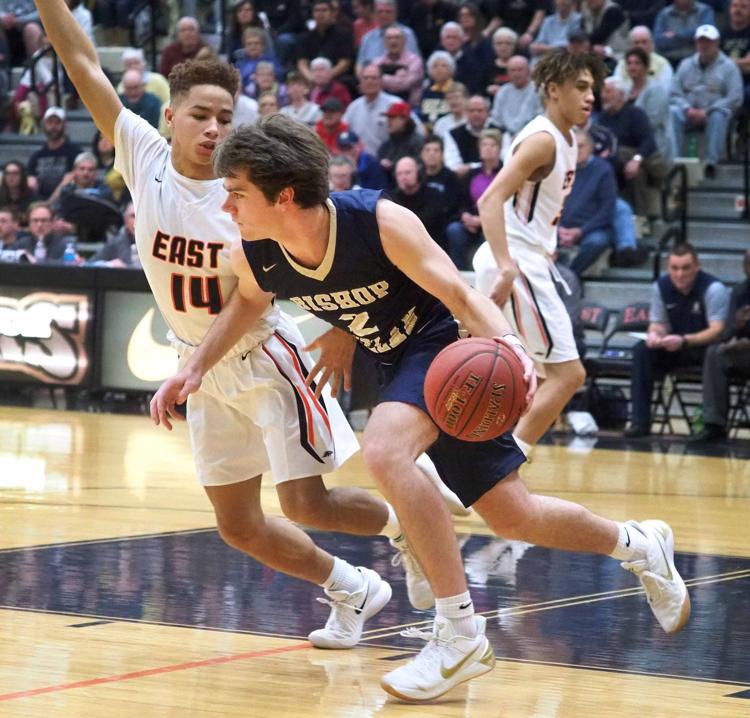 An obviously upset Heelan Coach Andy Foster had a different take.
"We got screwed is what happened," Foster said. "We got fouled twice and it was no-call, then they get and-ones that were just as physical as the no calls.
"I tip my hat to our guys, I think they played their tails off. I will give Hazekamp that look every single time. It's a shot he will make almost every time, it was a one-in-a-million miss. I'm not happy right now with the way things turned out.
"When they foul and they don't call it, now granted we missed the front end of two one-and-ones, but we should have been at the free throw line two other times after that and there was nothing. I tip my hat to my guys and I will tip my hat to their guys, they played hard. Outside of that, I'm speechless."
Van Rees added 10 points for East while Heelan's Kasperbauer scored 12 of his 16 points in the second half.