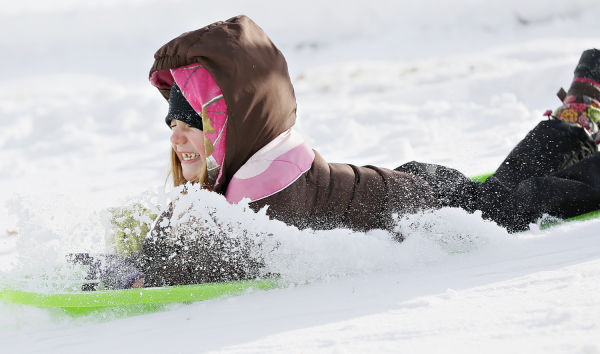 SIOUX CITY -- With significant snowfall finally blanketing Siouxland, children are likely itching to grab their snow tubes, saucer sleds and snowboards and head for the hills. But before they walk out the door, there are some steps parents should take to keep them safe.
Alan Faith, trauma program manager for UnityPoint Health -- St. Luke's, said sledding accidents can land children in the hospital's emergency department with broken bones, head injuries and intra-abdominal injuries.
This favorite winter pastime sent 229,023 children to emergency rooms from 1997 to 2007, according to data from the Center for Injury Research and Policy of the Research Institute at Nationwide Children's Hospital in Columbus, Ohio.
The American Academy of Pediatrics says 30 percent of children hospitalized for a sledding injury suffer significant head injuries, and 10 percent have a permanent disability.
"A young developing mind is very sensitive to any type of injury, especially concussions," Faith said.
He said children who are sledding, snowboarding, skiing or ice skating should wear a ski helmet. He also recommends that wrist guards be worn on the pond and the rink to provide protection and support in the event of a fall.
"You have such a high incidence of falling that you do run the risk of developing injuries, especially head injuries. If they hit their head, it's a very hard surface," he said of the ice.
When sledding, Faith said children should make sure their path down the hill is "very clear" of obstructions, such as trees and playground equipment, and that they have room at the bottom of the hill to stop to avoid sliding into traffic. He also urges solo sledding.
"I know it's fun to sled with two people on a sled, but the best practice is you should just have one person per sled," he said.
Staying warm
Before your child leaves the house, check the temperature and windchill to ensure they're dressed properly for spending time outdoors.
Faith said very young children can't communicate that they're cold, while older children may ignore pain from the cold because they're having so much fun playing.
"Frequently have them check in in the house and come in and get warmed up," he said. "Make sure to check their clothing. If it's wet, they have a much higher chance of having some type of cold injury because it dissipates heat much faster."
Shivering is the first sign of hypothermia, a potentially dangerous drop in body temperature. As hypothermia worsens, Faith said an individual's mental status changes and they become slow to respond. Eventually, he said they will develop a false sense of warmth and start removing clothing, even though they're extremely cold. Unconsciousness follows.
Faith said children slow to respond need to be seen by a physician. If their only symptom is shivering, take them inside and start warming them up.
"If they have cold hands and cold feet, if you can put them in some lukewarm water and slowly bring that temperature back up that will help," he said. "If they're shivering just make sure you get the wet clothing off of them and get them in a warm, dry area."
There's no specific temperature at which frostbite occurs, according to Faith, but the lower the temperature plummets, he said the less time a person can spend outside with exposed skin before frostbite begins to set in.
Bundle up your child with a face mask, scarf, hat, gloves and boots. If your child does develop frostbite, take them to see a doctor immediately. 
"It actually acts like a thermal burn. You get blisters and you can lose skin," Faith said.