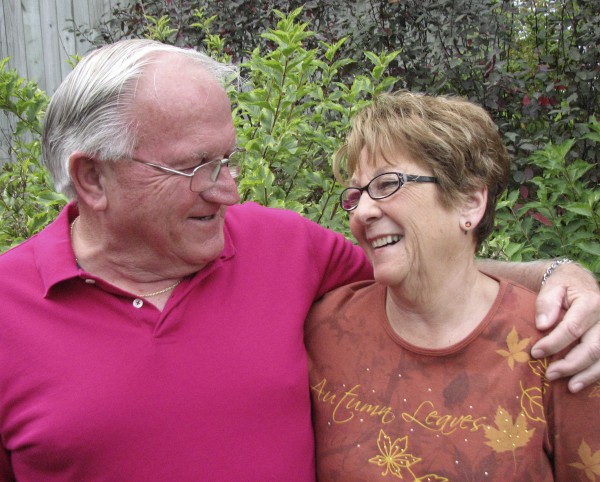 They went through elementary school together in Correctionville, Iowa, before his family moved to Sioux City. But Jim Jaacks never really noticed Jerri Ann Smith until he was 19 and working and hanging out at a Standard gas station on Gordon Drive. This was back about 1961 when gas stations, as they were then called, offered full service.
"And all his brothers and sisters, I knew then," Jerri, a year younger, said. "But it was just like I never noticed him before."
Jerri's mom would regularly drive her to the big city for shopping, and they always stopped at that station for gas.
"We got to chit-chatting," Jim said.
"And remembered each other," Jerri added.
"And it took off from there," Jim concluded.
An Elvis superfan, Jerri joked that Jim looked like The King back then, the fact being that Jim like most teens in those pre-Beatles days favored the long, greasy Elvis hair.
"Everybody had a ducktail and a black leather coat," she said.
As for Jim, well, he said he wasn't sure why he liked her so much.
"I just took a liking," he said.
She noted, however, that Jim still carries around a black-and-white photo of the cute Correctionville girl from that era in his wallet. And he pulled it out for proof.
Before long, they arranged a double date with some friends that probably took them back to Sioux City.
And Jim, in those days before he started his 43-year career with the Iowa Department of Transportation, would catch rides to Correctionville on Fridays with a trucking firm based there that did business in Sioux City, staying with an aunt and uncle who lived in town.
You have free articles remaining.
"We wrote lots of letters, and called and all," Jerri said. "We just liked the same things. We got along good and that was it."
He proposed. She accepted. And they were married on Oct. 14, 1961, at the Catholic church in Holstein, Iowa.
They celebrated their anniversary in July because that's when they could get the whole family together.
They lived in Correctionville for maybe three years, Sioux City a couple of years, then returned to Correctionville where they raised their four children, first in town, then on an acreage just west of town in the mid-1970s. "We moved the kids out there so they could have their ponies," said Jim, who had a beautiful palomino of his own.
Jerri, a confirmed town girl, stayed home to raise a family, as was the custom then. And she even learned a bit about farming. She learned how to brand and vaccinate cattle, helping their neighbor with these chores.
With the kids grown, they moved into Correctionville, Jim said, to avoid all that mowing. Then after getting their house fixed up the way they wanted it, Jim retired in 2002 and they moved to Sioux City. By then, two of their daughters were living in nearby Sergeant Bluff and Plymouth County and, maybe more important, two of their four granddaughters lived there, too. By then, they were running into Sioux City all the time for school functions and athletic events involving those grandkids.
These days, much of their lives revolve around the Southern Hills Mall, not as shoppers but as confirmed mall walkers.
"We go to the mall ever morning and walk three times around there, then have coffee with a group over there," Jim said.
"And that lasts a couple hours," Jerri noted.
"That takes you up to lunch time. Then we either come home or go someplace to have lunch," he said. "Then all you have to worry about is the afternoon."
Of course, he has his yard work and she has her housework. But they're also free to come and go when and wherever they want, like back to Correctionville to spend time with old friends. A week ago, they drove to Dubuque for a fun 86-mile twilight riverboat cruise on the Mississippi.
Self-described as regular, boring folks, depite always having something to do, the Jaackses aren't sure why their marriage has lasted 50 years.
"I guess we just liked the same things," Jerri said. "We don't argue, Well, very very seldon. We just walk away. Nothing's that important. I don't know. You just go with the flow."