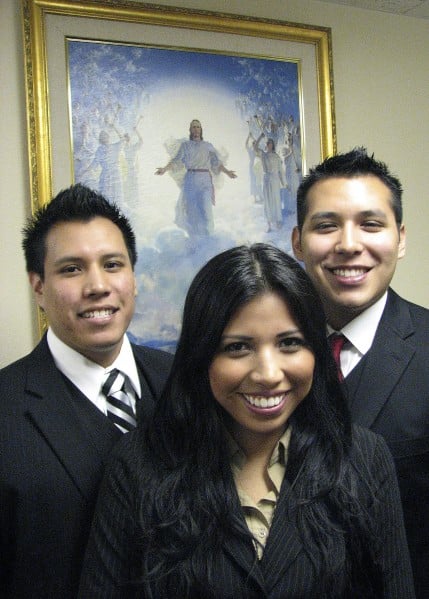 They're three on a mission, a mission from God, so to speak. But they're also doing it for their church, their family, themselves and their people.
Siblings Jarom, Sariah and Moroni Harlan, all members of the Omaha Tribe from Macy, Neb., will serve as Mormon missionaries for the Church of Jesus Christ of Latter-day Saints during the next two years.
Having three members of one family serving as missionaries at the same time is a rare occurrence.
Sariah Harlan, 21, a junior at Brigham Young University in Provo, Utah, studying anthropology and international relations, left Nov. 25 for a 1.5-year mission in Albuquerque, N.M. The first female in her family and a member of "Living Legends," BYU's international performing group, she will return to BYU to complete her schooling.
Among Sariah's 11 brothers and sisters, all the children of Alma and Joseph Harlan, are brothers Jarom and Moroni, squarely in the middle of the pack, who will leave Dec. 28 for Mormon missions in Vancouver, Wash., and Leon, Mexico, respectively.
Jarom Harlan, 25, who just beat his church's missionary cut-off age by a day when he got his Mexico assignment, attended Wayne State College in business management. He plans to go to Utah Valley University when his mission work is done, He has had a few years of Spanish but is counting on an intensive 9-week training session in Provo, Utah, to give him the skills he will need to comunicate in Mexico.
Moroni Harlan, 19, a recent graduate of Lyons-Decatur High School, who has been working hard to save money for his mission trip, will also attend BYU when his work is done. Each missionary, in fact. must raise about $10,000  to fund a 2-year mission, often relying on help from friends and family members.
So why interrupt your education and leave for parts unknown for up to 2 years?
"I just feel that this is the right thing for me to do right now. I need to find myself," Jarom said. "I had hard times in my life where I really needed and depended on the church. And knowing now from my experiences that it has really helped me out."
He said he also wants to set an example for his nieces, nephews and friends, demonstrating that he could change his old ways, and with a smile on his face.
You have free articles remaining.
They also want to do it for their Native American brothers and sisters, Sariah said, showing how three kids from poor backgrounds can find success in college, largely through their religious upbringing.
"It's hard for a lot of kids and it's hard for a lot of adults in Macy," she said, noting that there used to be hundreds of Mormons there, but that number has dwindled over the years to just a few families. "I'm hoping by my brothers doing this, we can be kind of an example for the young men there. And by looking at all the blessings and awesome things that we're receiving and that we're doing, I know that I'll be kind of an example for the young ladies there.
"There's more than just graduating. There's so much more out there. You can do so much. Just have faith in yourself, have that little hope there."
The hope is that they will bring more Native Americans to weekly services at the LDS meetinghouse in Sioux City that serves them.
"One benefit of going on the mission is the blessings we're going to receive, and I know that we've started to receive in our family," Jarom said. "And a blessing that I hope to do is for our people on the reservation. They're in hardship right now, and it's sad. It's poverty down there and it's a hard life to live. I'm hoping that as we Omaha Tribal members go out and search for the Lord, maybe we can bring back blessings for our people and help them lift themselves and start getting back on the right track."
She and her brothers grew up in poverty, Sariah noted, and if they didn't have the church and their faith, they would be in the same boat.
But as part of a big, growing family, they didn't even know they were poor. "We thought we had everything," Jarom said. "Being able to hang out with my brother every day after school and seeing my Mom there, cooking us dinners and stuff. I mean that was rich enough for us. Definitely family was something that our church was strong in."
Their parents' example was big. Sariah stressed how her mother kept her faith through tithing, giving 10 percent of their income to the church, despite the fact that they never had a lot of money. "Her giving that little bit was big," Sariah said.
And when they need some advice about what to expect in the next couple of years, they can consult their two older brothers who have already worked as missionaries.
Jarom, who recently took part in a mini-mission with the Mormons assigned to Norfolk, Neb., said he found the life to be hard, disapppointing at times when doors are routinely slammed in your face. But the successes make up for the bad times, he said.
"We went to this one guy's house and he was having a hard time, struggling, and I could relate so good to him that I kind of took over the lesson and I just bore my testimony about how I know this church is true," Jarom said. "And he broke down in tears and said he needed to hear that. He needed to hear that joy and that hope and that peace I had coming from me. It was such an amazing experience. I can't wait to do that with other people as well."