CUSHING, Iowa -- By age 15, as a student at River Valley High School, April Shever knew she wanted to be a mother.
She discussed future plans for having children with her high school sweetheart, Chris Putzier, and the couple became highly specific.
"We were going to have two kids. We had the names picked out," she said, citing the N-naming choice, with Nathaniel and Natasha.
"Not even close to what we thought, didn't even come close," April said with a smile. 
Born 15 years ago, the quads -- two girls and two boys -- are now finishing their freshman years at River Valley in Correctionville. April, 44, said the consistent strand from her teens is happiness that she could be a mother to children she devotes untold hours week after week.
"I am in this for the long haul," she said.
"Some days I am the worst mom in the world -- 'I hate you' -- and other days it is total appreciation, and that is the joy of having teenagers. You can't be their friend, you have to be a parent."
The couple's oldest son, Cameron, lives at the family's home in Cushing while attending his first year at Western Iowa Tech Community College. The quads -- Aubrey, Corbin, Carter and Ashlyn -- are all involved in numerous activities as their freshman year of high school comes to a close.  The list of extracurriculars over just the last month is a mouthful -- the spring play, band, choir, track, golf, cheerleading tryouts, baseball and softball.
April's weekdays begin by 4:45 a.m.. Her job as the city of Correctionville deputy clerk finishes at 4:30 p.m, and by 9:30 p.m., she is usually ready for bed. She is quick to credit her husband's "tag team" approach, but his work with U.S. Testing keeps him "crazy busy," so she handles a bumper list of tasks.
Daily driver to activities? Over and over, although two of the quads now have school driving permits and share a car.
"It adds a new level of stress, but in ways it is a little easier," April said.
She knows she could hand off the task of doing laundry to the kids, but holds onto it because she likes being helpful to them.
"It is crazy. Just to say the least, it is crazy. But that is OK," April said.
The quadruplets arrived on Jan. 28, 2004, each one minute apart, in order with Aubrey, Corbin, Carter and Ashlyn, from 2:45 to 2:48 p.m. April and Chris had have a naming convention, with the boys names starting with C's, the girls with A's. 
"The first two years were tough. Literally that first year, you were lucky if you survived on two hours of sleep per day. We did it, we managed," April said. "As you go on, you still go through tough times, but we got through it."
She has found lately it pays to not to look too far ahead. 
"Otherwise, I get too stressed. Wait until the next challenge comes along," April offered.
Riding with her mother back from a dental appointment on Thursday, Aubrey Putzier said the typical state for her mom is "stressed." On the worst of days for her mom, Aubrey said the aim is, "Leave her alone and not to fight with each other."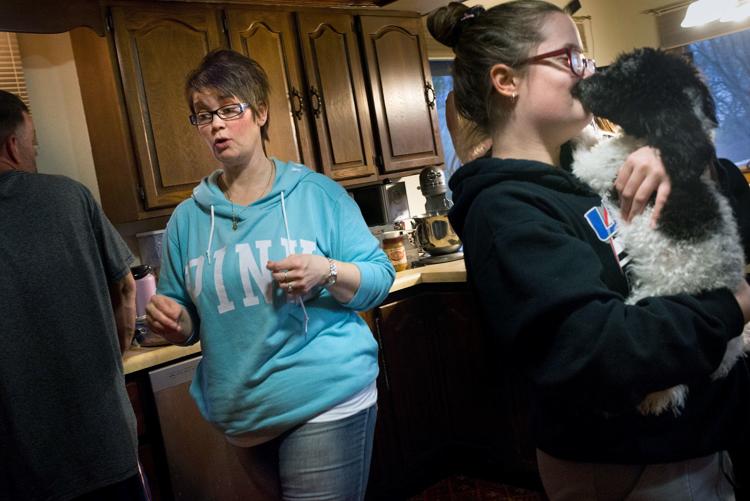 Aubrey said she appreciates the many driving trips and periodic homework help when stuck on a subject.
April said she's not getting parenting tips from the plentiful online so-called mom blogs. Her prime example for mothering is her maternal grandmother, Alice Shever, who raised her in rural Correctionville. Her mother, Jeannie Shever, was also an influence, plus some things she witnessed from the mothers of friends.
The main Shever lessons  focused on using family activities to form a deep bond, from seasonal events such as a group of relatives canning sweet corn to Sunday dinners. So, to this day, the Putziers seek to have one family night per week with all seven members of the family present, although it is getting harder to pull that off.
"Phones are down, no social media, if it is a family movie night...When we are together, we concentrate on that family time. That is so important to us," April said.
She added, "If we do yard work, it is all seven off us. We don't say, 'You boys do this, you girls do this.' It is everybody, all hands on deck."
April pondered what it means to be a good mom. She turned from broad to the personal as she talked it out.
"Whether it is good or bad, they have to support your kids through everything. It is OK to accept failures, because we have them. I am 100 percent dedicated to my kids. I show up at all their activities. And just loving them, no matter what, and spending quality time with them. I know that is an old-fashioned thing," she said.
On this Mother's Day, April's wish is for a relaxing day, free from too many errands, perhaps with a movie.
"Hoping that I get the day off from having to cook," she said with a smile.