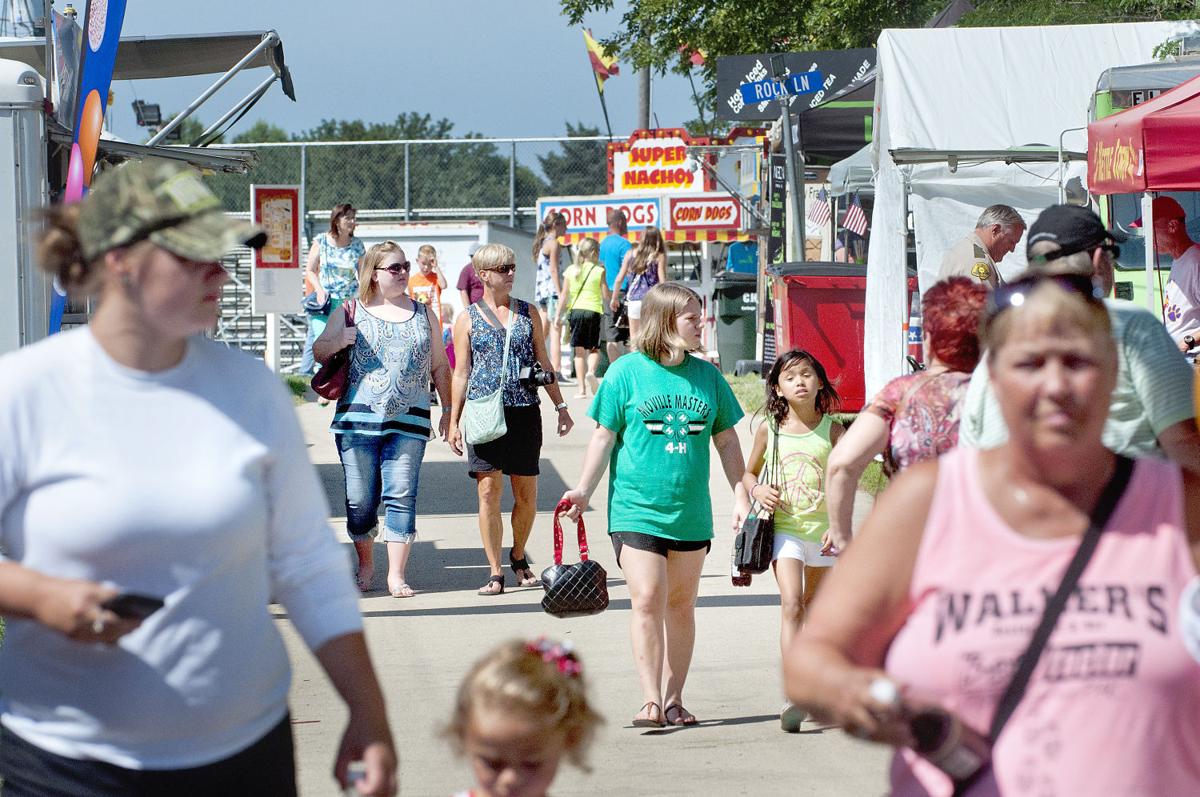 SIOUX CITY | Fans in the Woodbury County Fair grandstands could get a chance to knock back some beers this summer as they watch monster trucks rev high-horsepower engines and roll around a dirt track.
The county fair, held annually the first week of August in Moville, Iowa, is officially alcohol free. But the Woodbury County Fair Association Board of Directors is considering whether to permit limited sales of beer and wine during grandstand events.
The change would require approval from the county board of supervisors because the county control the fairgrounds land. As the board, at its weekly meeting Tuesday, approved a $25,000 donation to the fair for 2017, the supervisors discussed the alcohol issue with fair manager Randy Hayworth, of Correctionville.
Hayworth said some fair board members are interested in selling alcohol for certain events, but the talks were "purely in the infancy stage."
"There are so many people that love that fair, that love the example of what we have now, of a wholesome lifestyle. They don't consider that conducive, if they put beer in there," he said.
You have free articles remaining.
In addition to a fee to enter the fairgrounds, the Woodbury County Fair charges admission for each grandstand events, which in past years have included monster truck races, a demolition derby, a tractor pull and a rodeo.
Hayworth noted the Jones County Fair last year generated $1 million in sales of alcohol at concerts at the eastern Iowa fairgrounds, with the fair clearly about $500,000 in profits. In Northwest Iowa, county fairs in Monona and Clay counties have some alcohol sales, and the Iowa State Fair in Des Moines has a large number of stands that sell beer and wine.
Hayworth pointed out there would be costs to selling beer and wine. He said it would cost daily about $2,000 for workers to check IDs to prevent sales to minors and another $2,000 for distributors to dispense the beer.
"I think they are gonna spend more for security than they are gonna take in in alcohol sales," supervisor Keith Radig, of Sioux City, said.
Moville Mayor Jim Fisher said he would look positively on the fair having alcohol if it was set for people to only drink in a limited, specified area.
"I don't see anything wrong with it, if it is in a controlled situation," Fisher said.
The Woodbury County Fair Association board, which meets the last week of each month, is expected to settle the alcohol sales issue by spring, in time for planning the 2017 events, Aug. 2-6.