SIOUX CITY --  Although he doesn't consider himself to be overly competitive,  Horacio Ochoa would love it if Clyde's Grill & Pub's Steakhouse Burger was named Iowa's Best Burger.
"Don't get me wrong, I'm happy that our burger's been nominated," Ochoa, the kitchen manager at the 3828 Stadium Drive eatery, explained. "However, it would be awesome if we won."
According to Clyde's general manager Tracy Erlandson, this is the second year that one of the restaurant's burgers has been nominated by a diner.
"We were nominated last year but was beat out by a burger made by The Smokin' Hereford in Storm Lake, Iowa," she said. "I have a good feeling about this year though."
Indeed, people have until 5 p.m., March 12 to help select the top ten finalists vying for the title of Iowa's Best Burger, in a contest sponsored by the Iowa Beef Industry Council (IBIC) and the Iowa Cattlemen's Association (ICA).
Burger lovers can vote at www.iabeef.org  or by texting BEEF to the number 313131.
The 2018 Best Burger in Iowa will be announced on May 1, with the kick-off on May Beef Month in Iowa.
Erlandson said she's pleased with Clyde's specialty burger selection that includes the Clyde's Classic (a burger topped with lettuce, tomatoes, caramelized onions, bacon, cheddar cheese and a zesty Thousand Island dressing served on a house bun); and The Mighty Mo (a burger topped with country-fried bacon, cheddar cheese, grilled red onions, a Dijon mayonnaise and an over easy egg served between two slices of sourdough bread.
However, she has always had a soft spot for Clyde's popular Steakhouse (a 100-percent, never frozen ground chuck patty that is topped with shaved prime rib, Cabernet mushrooms, bleu cheese crumbles, lettuce, tomatoes, haystack onions and a Dijon mayonnaise on a bun).
"This is our signature specialty burger and a real crowd-pleaser," Erlandson said.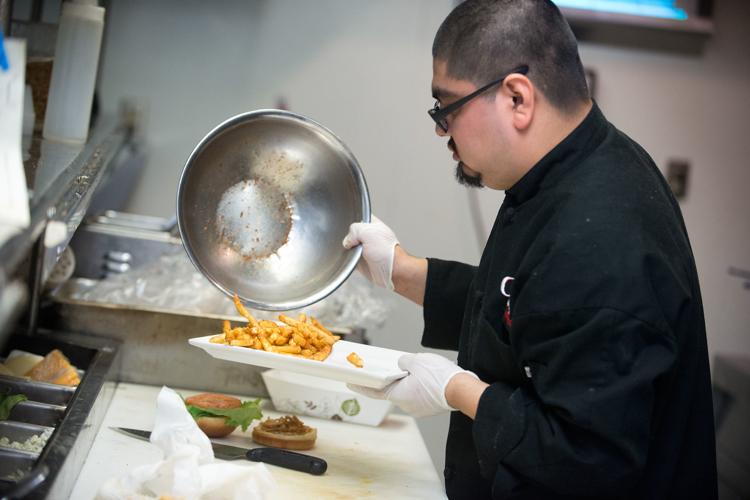 You have free articles remaining.
In its six year history, Clyde's has straddled a line between a fine dining restaurant and a sports pub.
"To be honest, we're really not either one of those types of places," Erlandson said. "Once you get down to it, Clyde's is a friendly burger joint that has a terrific menu.'
You won't get any disagreement from Ochoa, who began working at Clyde's when he was a student in Western Iowa Tech Community College's culinary arts program.
"I learned so much from the professional chefs who were my instructors," he said. "But I also learned from my own family." 
Specifically, Ochoa credited his grandmother in Mexico for culinary inspiration.
"My mom can make mole (a complex sauce made with chili peppers, cinnamon, cumin and Mexican chocolate) in one hour," he said. "When my grandmother comes to visit from Mexico, she'll make mole that takes four hours to prepare."
"My grandmother is 'old school' and makes everything using tried and true methods," Ochoa said. "You can definitely taste the difference."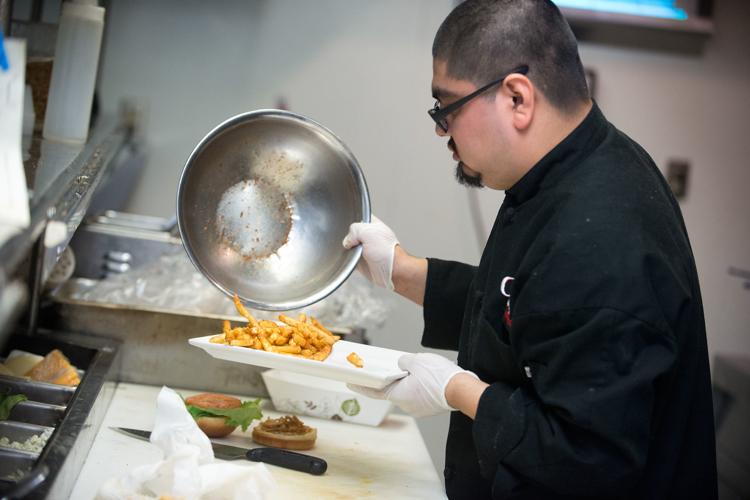 In fact, he described his own cooking style as being a mix between the old and the new.
"I don't mind new ingredients," Ochoa said "But you need to appreciate the importance of home cooking." 
Which is why he'll be pulling for Clyde's Steakhouse Burger to be named Iowa's Best Burger.
"When you hand-patty every burger you make, it is very personal," Ochoa said. "It makes it seem like you're cooking for family."