A team of University of Nebraska Medical Center researchers has shown that a smaller dose of a drug repurposed as a Parkinson's disease treatment produced fewer side effects than a larger dose while keeping disease signs and symptoms stable.
Now, the researchers are "incredibly well-positioned" to seek approval from federal regulators for a larger study, said Dr. Howard Gendelman, chairman of UNMC's pharmacology and experimental neurosciences department and one of the lead researchers.
The study builds off a 2016 trial in humans in which the researchers used the drug to shift a population of white blood cells from a destructive mode to a protective state that can help defend parts of the brain from injury.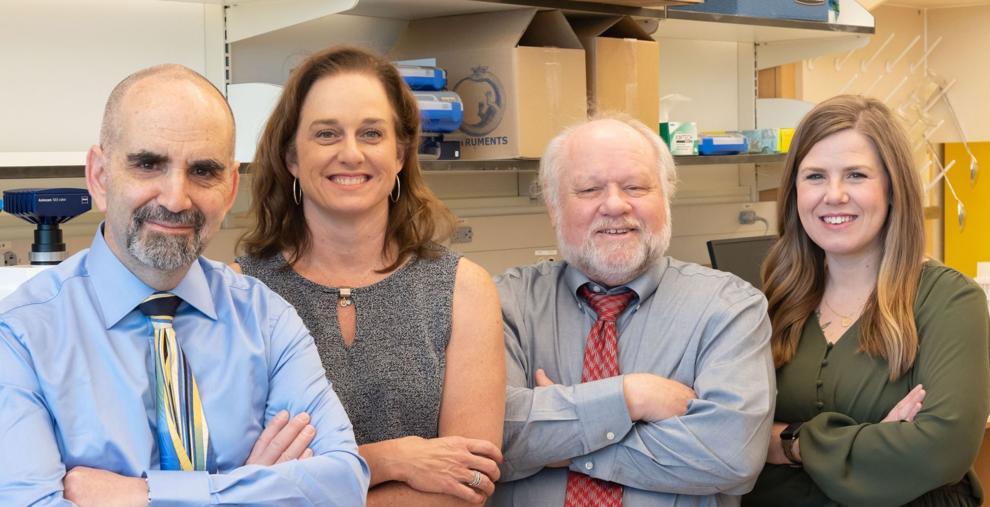 Gendelman said the researchers were ready to launch a larger trial. But the scientists, in discussion with the U.S. Food and Drug Administration, put on the brakes because participants developed side effects such as bone pain, hives and blood vessel inflammation. The agency also wanted a longer trial of the drug.
For the new trial, the researchers, working with drugmaker Partner Therapeutics of Lexington, Massachusetts, halved the original dose and followed five patients for a year. The drug, called sargramostim, or Leukine, sometimes is used in patients receiving chemotherapy.
The patients tolerated the drug and took it safely for a year. In addition, signs and symptoms of the disease, rather than progressing — as usually is the case with Parkinson's — remained stable.
The results of the study were published recently in EBioMedicine, an online Lancet journal. Because the data proved promising, the study was extended to 24 months and enrolled additional patients.
Currently, drugs and other therapies can be used to fight the symptoms of Parkinson's, but they don't treat the disease itself.
In the earlier study, patients took the larger dose for two months. They showed improvements in motor function compared to those who received a placebo.
In the new study, the improved motor function seen at the higher doses was retained. The patients improved by an average of four points on standard Parkinson's mobility tests. Patients undergoing standard Parkinson's treatment typically worsen by 2½ points over the same period.
"After a year of treatment in this study, none of our patients progressed," said Dr. Pamela Santamaria, another member of the team and a neurologist with Nebraska Medicine.
In Parkinson's disease, neurons in a specific region of the brain responsible for movement and some cognitive and behavioral functions are slowly damaged.
The research represents a new approach — modulating the immune system — to treating Parkinson's. It's a goal the researchers have been working toward for two decades.
Other lead members of the team are R. Lee Mosley, a professor of pharmacology and experimental neuroscience, and Katherine Olson, an instructor in the department.
Gendelman said the researchers also have identified, for the first time, blood tests that can be used to monitor disease improvement. Parkinson's disease is difficult to monitor, relying on measures such as movement and tremor that can be subjective.
Omahan Bob Eisenberg, one of the five original participants in the study, said he was close to needing a walker when he began taking the drug more than two years ago.
He said he now is nowhere near needing one. His movements are more fluid; he has less pain and less trouble standing up or getting out of a chair or car. His score on a measure of Parkinson's symptoms is better.
"Instead of getting worse," said Eisenberg, who was diagnosed about four years ago, "it's pretty much stayed the same or slightly better."
Dr. Stanley Appel, chairman of the Stanley Appel Department of Neurology at Houston Methodist Hospital, congratulated the researchers on paving the way toward a "meaningful therapeutic approach" for Parkinson's patients.
"Clearly, larger numbers of patients need to be studied in a double-blind, placebo-controlled trial to confirm these important results," Appel, who is familiar with the team's work, said in a statement.
In a separate study published recently in the journal Biomaterials, the researchers partnered with Moderna on an animal study that used messenger RNA to encode for the same white blood cell growth factor in the drug. With that method, however, the body essentially makes the protein.
Similarly, Moderna's COVID-19 vaccine relies on mRNA to carry instructions to human cells to produce harmless pieces of "spike" protein found on the coronavirus. That triggers an immune system response that the body remembers if the virus ever invades.
"The goal," Olson said, "is to generate a potent immune response that will change an inflammatory brain environment into something that will reverse nerve cell damage in Parkinson's disease."
17 rare and unusual health stories out of Omaha
One rare disease left an Omaha doctor eating a shakelike formula to supplement her diet. A friend said it tasted like cat food. An Omaha man woke up after his family took him off life support. And a Lincoln teen is allergic to almost everything.
Check out the stories on their unusual ailments and sometimes equally unusual treatment plans.