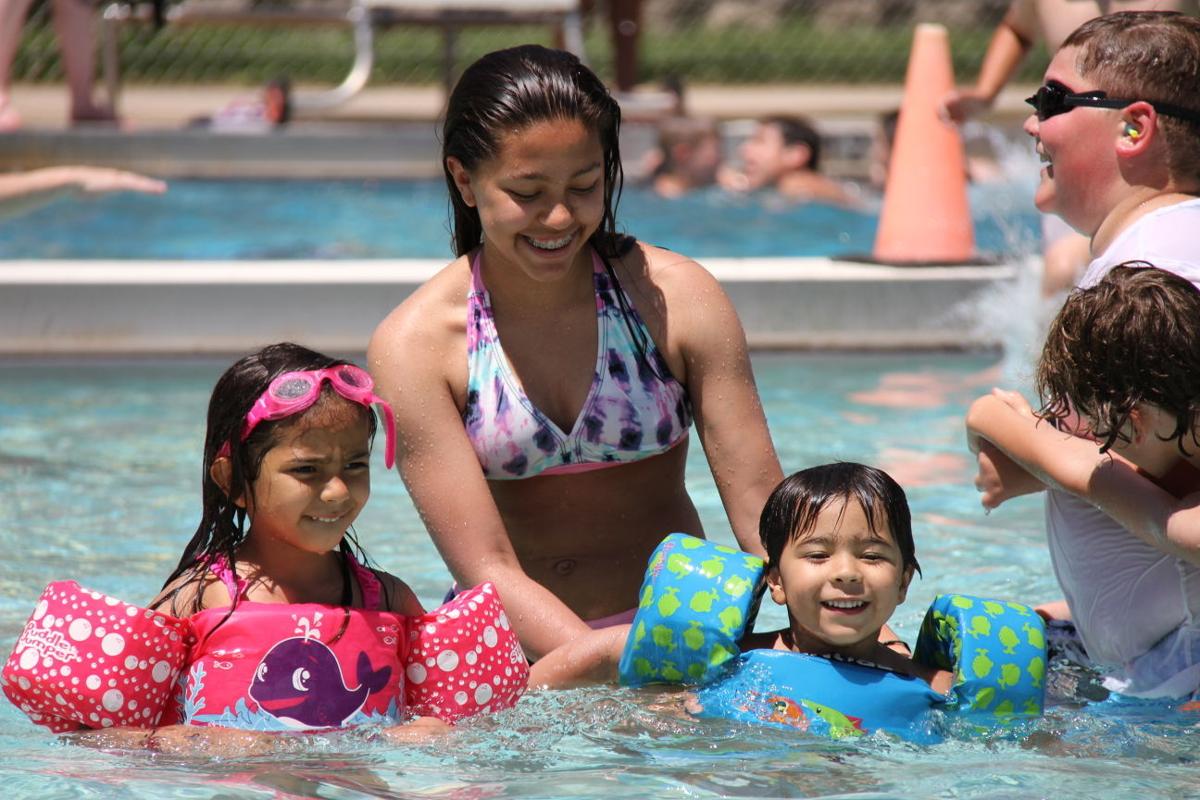 SIOUX CITY | Adults and children across Siouxland likely will try to cool off in the sweltering heat this weekend as temperatures are expected to climb into the 90s.
Whether it's a splash pad, or public or backyard pool, microscopic parasites and pathogens could be lurking in the water to make swimmers sick.
Cases of recreational water illnesses (RWIs), which affect a person's stomach and intestines, skin or respiratory system, have risen over the past 20 years, according to the U.S. Centers for Disease Control and Prevention. Reports of diarrhea-causing RWIs have increased by as much as 200 percent since 2004.
Sixty-nine of the outbreaks involved treated recreational water. Of those cases, 36 were caused by cryptosporidium, a protozoan parasite highly resistant to chlorine; and 21 were caused by escherichia coli, a rod-shaped bacterium.
Individuals infected with both pathogens experience abdominal pain, diarrhea, nausea and vomiting.
"Knock on wood, we haven't been hit by it yet," Eric Griffith, Sioux City recreation supervisor, said of cryptosporidium. "We're hoping that it doesn't happen anytime soon."
People become infected with cryptosporidium, escherichia coli, shigella -- a contagious bacterial disease -- and giardia, a germ that can survive up to 45 minutes in properly chlorinated pools, when open wounds come into contact with infected water or if they swallow or inhale the water.
"Very often the reason why this happens is because the pool is not adequately maintained," said Daniel Lamptey, an infectious disease specialist at Mercy Medical Center. "You need a certain level of chlorine in the water to kill these organisms."
He said swimming pools need a chlorine level of 2 milligrams per deciliter and a pH between 7.2 to 7.5 to stay cryptosporidium-free.
"If you don't have the chlorine level and the pH is not the way it's supposed to be, then (cryptosporidium) tends to cause problems. The main disease that it causes is gastroenteritis," Lamptey said. "For patients who are immunosuppressed it can be very, very bad."
Griffith said city staff check chlorine and pH levels in all their bodies of water every hour during operation. Water samples are sent to Siouxland District Health Department for testing each month, he said.
PRIVATE POOLS AND SPLASH PADS CAN BE CONTAMINATED
Splash pads aren't much safer than swimming pools when it comes to the spread of RWIs, according to Tyler Brock, Siouxland District Health Department deputy director.
He said a shigella outbreak in Dubuque, Iowa, a few years ago was linked to a splash pad.
Small outbreaks of shigella tied to private pools have occurred in the state over the past decade, Brock said. If they're not properly maintained, a backyard pool or even a small plastic pool can harbor dangerous pathogens.
"We have not investigated any type of an outbreak that we felt was an issue with municipal pools or more of your bigger standard pools that are treated," he said. "There have been outbreaks associated with shigella with some of these kiddie pools."
Shigella sickened more than 220 Siouxland children in the fall of 2013.
The illness is spread by eating or drinking food or water contaminated with shigella bacteria, which is found in the intestines of infected people. Patients with shigellosis may suffer from diarrhea, fever, vomiting, abdominal cramping and headache.
In fact, Brock said kiddie pools worry health officials the most because they can easily become contaminated with fecal matter from dirty diapers. Changing the water daily and keeping your children out of the water when they have diarrhea or vomiting is key in preventing RWIs, he said.
"If you're sick to your stomach and you've got diarrhea, I'd definitely avoid the pool that day," he said.
MAINTAIN YOUR POOL TO PREVENT ILLNESS
The 90 outbreaks of RWIs reported to the CDC in 2011 and 2012 sickened 1,788 people. Ninety-five were hospitalized and one person died.
Brock said it's rare for the health department to shut down a public swimming pool. A bad water sample usually can be remedied by adjusting chlorine levels.
"You don't automatically just shut a pool down immediately upon a bad test," he said. "Usually with some maintenance they can get that fixed pretty quickly."
The Iowa Department of Public Health closed seven pools, spas and water parks at hotels, a camp, an apartment complex, a fitness center and a youth center from January 2011 through August 2014.
None of the violations, which included inadequate filtration, improper chlorine and pH levels and failure to register the pool or spa with the health department, occurred in Siouxland.
All public swimming pools, whether they're owned by the city, a hotel or apartment complex, are required to be tested for bacteria on a monthly basis, Brock said.
Homeowners aren't required to have their backyard pools tested. Although, Brock said a few people bring water samples to the health department for testing.
"There's very little risk of disease in a properly maintained pool," he said.
Be the first to know
Get local news delivered to your inbox!