SIOUX CITY | When your nose is rubbed raw from blowing it, you're chilled to the bone and your head is throbbing, the last thing you want to do is stumble out of bed to push a grocery cart while scanning the aisles of the nearest store for fever reducer and canned chicken noodle soup.
Health experts say now is the time to get your flu shot and stock up the medicine cabinet and kitchen pantry with supplies in preparation for cold and flu season, which usually reaches its peak in Siouxland somewhere between January and February.
Scientists look to the Southern Hemisphere to predict the severity of the upcoming flu season in the Northern Hemisphere. Tyler Brock, Siouxland District Health Department deputy director, said Australia and New Zealand's latest influenza season has been "pretty rough."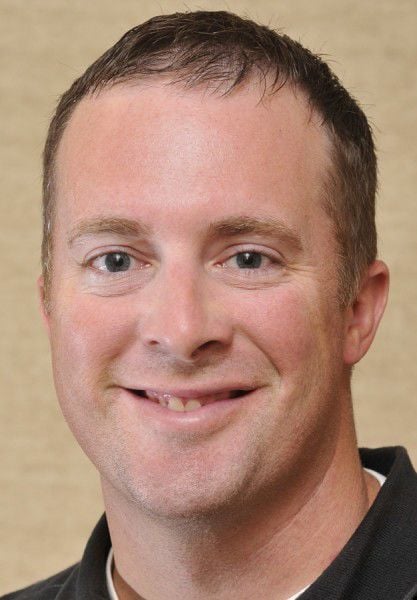 "It's not an exact science, but that is sometimes an indicator of what we're going to see," he said. 
According to the Iowa Department of Public Health (IDPH), influenza activity is currently low in Iowa, but the virus that causes runny and stuffy nose, fever, body aches, sore throat and cough is on the rise in the state.
So far this season, Iowa has tallied 55 cases of influenza A and 13 cases of influenza B. One flu-related death, that of an 81-year-old Central Iowa man, was reported in October.
While influenza A was the most frequently identified influenza virus reported by Iowa public health laboratories during the week ending Nov. 11, non-flu viruses, which produce symptoms that mimic the flu, such as respiratory syntactical virus, adenovirus, parainfluenza virus and rhinovirus, are also circulating in the state at this time, according to the IDPH.
Brock, Abby Banks, a pharmacist at Drilling Pharmacy in Morningside, and Kelly Morrow, a registered dietitian with UnityPoint Health-St. Luke's, offered some tips to help you prepare for -- and survive -- cold and flu season.
Vaccination recommended 
Brock said vaccination is the best way to prevent getting influenza, which typically lasts two to seven days.
Strains of the influenza virus change a little each year, but so far, he said this year's vaccine seems like a good match.
"We've done quite a few flu shots," said Banks, who said Drilling Pharmacy offers the quadrivalent flu vaccine, which protects against four strains of influenza, in a high-dose version, for those 65 and older, and a regular version, for those six months and older.
The Centers for Disease Control and Prevention (CDC) recommends that everyone six months of age and older receive a seasonal flu vaccine, which has been available since September. People who have asthma, emphysema, chronic obstructive pulmonary disease, heart failure and diabetes are at greater risk of hospitalization because of the flu.
"Influenza can be serious. We will have people die from influenza," Brock said. "It's more than just an inconvenience whether it be for your kids or for yourself. Getting the vaccine is the best way to prevent some of those serious consequences that do happen with influenza."
The CDC says studies show that the vaccine reduces the risk of flu illness by 50 to 60 percent among the overall population. After vaccination, it takes up to two weeks for the body to achieve full benefit against the flu virus.
"You've got plenty of time to protect yourself," Brock said. "There's influenza circulating well into the spring, so it's never too late to get that."
Covering coughs, practicing good handwashing and staying home when you're sick are other things you can do to prevent the spread of influenza and other viruses.
Immune boosting foods 
Going into the cold and flu season well-nourished will help your body fight off viruses, according to Morrow, who said protein is a "huge" part of the body's defense mechanism.
She recommends getting protein from a variety of sources, including seafood, poultry, eggs, beans, peas, nuts and seeds, and consuming foods rich in vitamin A, such as sweet potatoes, carrots, kale and spinach. 
"Obviously vitamin A helps regulate the immune system and protects it from infections, keeping the skin and tissues in the mouth, stomach, intestines and respiratory system healthy," she said.
Vitamin C is another important player in maintaining a strong immune system. Morrow said you can give your immune system a boost with orange juice, oranges and grapefruit.
When the inevitable cold or flu does strike, Morrow said which foods you should eat will depend on your symptoms. The old adage, "Feed a fever and starve a cold," or vice versa, dates back to the 1500s. Should you follow it?
"For some people it works, but it's not necessarily proven. ... If you have an upset stomach, stick with saltine crackers, oatmeal or something that is going to settle your stomach," said Morrow, who prefers bland foods, such as toast or white rice. 
While she said drinking an adequate amount of fluid is important to stave off dehydration, she said sports drinks, which contain sugar as well as electrolytes, should be consumed in moderation.
"Try to get calories in as much as you can, but the fluids are going to be huge," she said. 
After an illness, Morrow said you'll want to build up your immune system again with the same foods rich in vitamin A and C and protein that you ate in hopes of staying healthy.
"Consume a well-balanced diet, including those fruits and vegetables. Get a protein source and some sort of dairy -- just day to day what everyone should be eating," she said.
Soothing symptoms  
Over-the-counter medications usually have a shelf life of a couple years.
Although taking expired medications won't necessarily be harmful, Banks said the medications won't work as well, so she recommends replacing expired boxes and bottles of pain and fever reducers, cough syrups and nasal sprays.
"It's always good to make sure that we've got meds that are not expired so they work more efficiently," she said.
Banks likes to keep ibuprofen and Tylenol, which can be alternated to reduce fevers and aches, on hand along with Robitussin DM, which thins mucus and suppresses cough. Nasal sprays, she said, will help loosen up congested nasal passages, while pseudoephedrine will "dry things up."
Banks said combination medications that treat cold and flu symptoms are popular, but she said it's important to check out the ingredients and read the dosing instructions. Since some of these medications already contain ibuprofen or Tylenol, she said you don't want to take additional doses of ibuprofen or Tylenol on top of them.
Other must-haves for getting through cold and flu season, Banks said are thermometers, tissues, multivitamins, cough drops, bottled water and Pedialyte or another drink containing electrolytes.
"If you have a fever that's not going away after a couple of days, it's recommended that you see the doctor," she said. "If you're having severe vomiting and diarrhea or you think you're dehydrated, that would be a situation where you'd want to see your doctor."
Banks said your doctor might prescribe Tamiflu if you come in as soon as possible at the first onset of flu symptoms. This antiviral drug can shorten the duration of the virus.
"On average, it's usually only by 24 hours," she said. "Especially in the elderly and the very young, I think Tamiflu is a good option."