SIOUX CITY -- Receiving his medical degree from the University of Nebraska Medical Center College of Medicine earlier this month was a "surreal" experience for John-Emmett Mahon, who has wanted to be a doctor since he was in elementary school.
Among Mahon's family members in the crowd at the May 4 commencement ceremony was his 92-year-old grandfather, Emmett McGhee, a World War II veteran and his grandson's biggest fan.
"It was an emotional day in a good way," Mahon said by phone. "He just really wanted to see me graduate from medical school so bad. It's something that he's been looking forward to for a long time."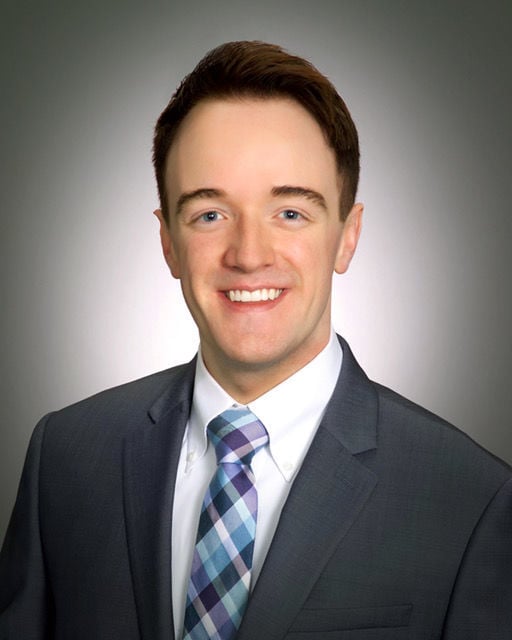 McGhee's wife and Mahon's grandmother, Virginia, died from gallbladder cancer when Mahon was just 6 years old. Mahon, who described his grandmother as kind, gentle and selfless, said that experience influenced his decision to pursue a career in medicine in the areas of pediatric hematology, oncology and palliative care. 
"That experience, I think, molded me in a lot of ways -- to see that life really does keep going after somebody dies and that it does get better. There is hope after something like that," he said. "That experience gave me more empathy for families who are losing a loved one."
Growing up in South Sioux City, Mahon said he enjoyed school and liked learning, especially about science and the human body. He also discovered that he had a knack for acting. Mahon participated in a number of productions at LAMB Arts Regional Theatre and Sioux City Community Theatre.
"I love acting. I love singing. I love dancing. I think all of that is just amazing," he said. "I really believe that my training as an actor helped me become a better doctor, because acting really is being and it's living truthfully in imaginary circumstances. I believe that's helped me live more truthfully in real-life circumstances." 
Although he relished his time on the stage, Mahon never wavered in his desire to become a doctor throughout high school at Siouxland Community Christian School or college at the University of Nebraska-Lincoln. He said his parents, Vince and Darlakae Mahon, always supported him.
"When I would say to them that I wanted to be a doctor, they were always like, 'Of course. You're going to be a doctor. That's awesome!'" he said. "The way they talked to me about it, they were just always super supportive. They always made it a reality."
When Mahon got to medical school, he faced a steep learning curve, challenging situations and new environments. He said every week seemed like "finals week," but he kept his nose to the grindstone, determined to achieve his dream.
"I don't think anything can prepare you for the amount of information that's thrust at you in one day, in one week or in one month," he said. "Once I entered into my clinical years -- my third and fourth year -- then you're thrust into the hospital setting. The best advice I got from a physician was, 'You have to get comfortable being uncomfortable, because you're going to be uncomfortable for the rest of your career. It's just part of the job.'"
On March 16, Match Day, the day the class of 2018 received their residency assignments, Emmett McGhee was there. In fact, Mahon said his grandfather accompanied him to the podium to announce where he will spend his residency training. Mahon said a room full of 600 people gave McGhee a standing ovation. 
"He's just been someone who's been on this journey with me all my life," said Mahon, who will begin his residency at the University of Louisville School of Medicine, in Louisville, Kentucky, on June 25.
Mahon said he traveled to Louisville, which was one of his top residency choices, for the first time for his interview. During his residency, he said he will primarily be working at Norton Children's Hospital with pediatric patients ranging in age from infants to older teenagers. After he completes his residency, Mahon will enter sub-specialty training. Eventually, he said he hopes to be practicing at a children's hospital.
"I've been working toward this for so many years," he said. "It's been a long journey, but it's been an amazing journey. I feel very honored to be able to be in a profession where I get to learn the rest of my life and then I get to use that knowledge to better help people."