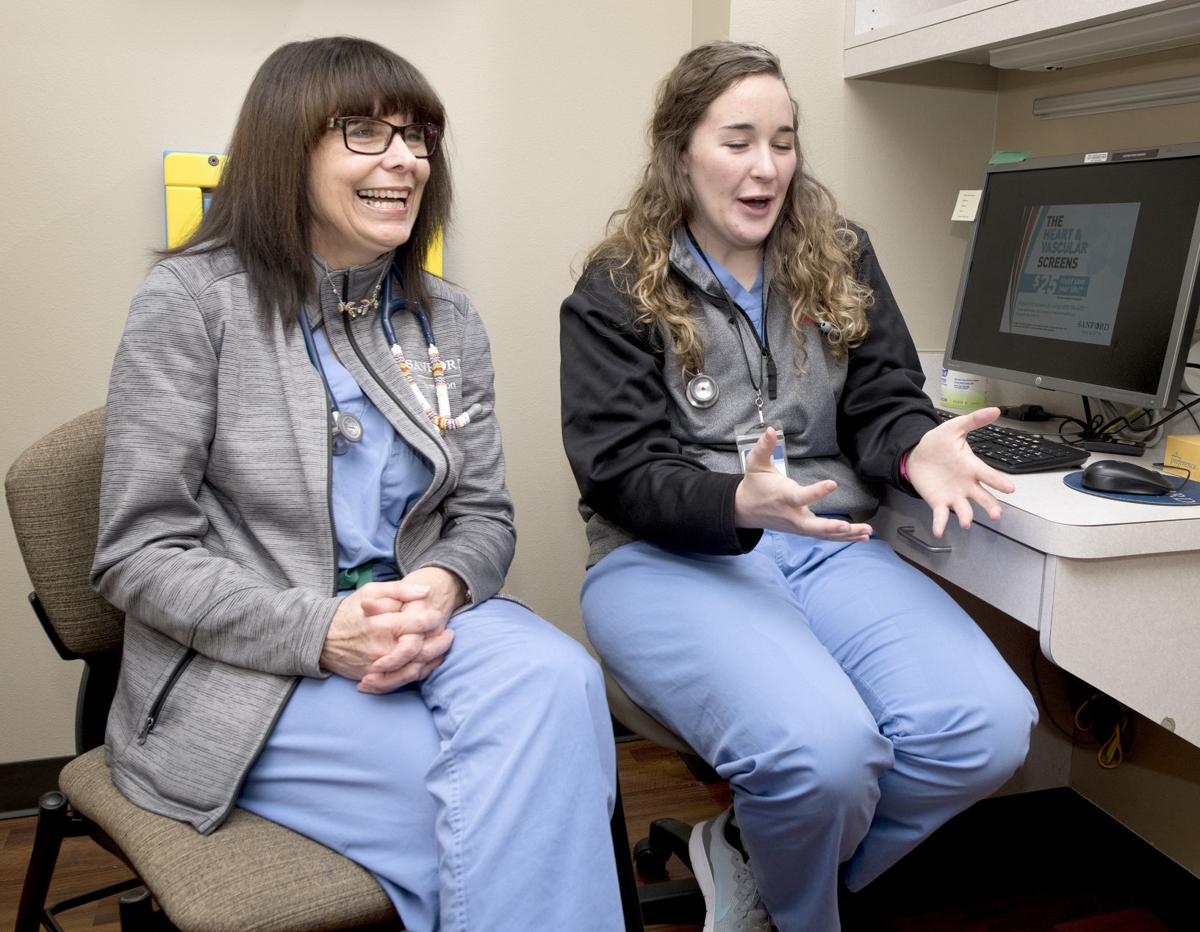 VERMILLION, S.D. -- Emily Endres couldn't help but fight back tears as she ushered new life into the world for the first time in the delivery room at Sanford Vermillion Medical Center.
Hours after "catching" her first baby, the third-year medical student, who hadn't slept much the night before, was running on adrenaline and almost giddy with excitement. Dressed in light blue scrubs with her stethoscope draped around her neck, Endres beamed while recalling how slippery the baby felt in her hands.
"It was amazing. It was so exciting!" she said of the experience while seated at a workstation in a beach-themed exam room at Sanford Health Vermillion Clinic.
Endres is receiving nine months of intense, hands-on clinical training in Vermillion through the University of South Dakota Sanford School of Medicine's Frontier and Rural Medicine (FARM) program. Annually, up to 10 students, one to two per site, are selected to participate in the program, which takes place at hospitals in seven communities in South Dakota. 
Dr. Susan Anderson, FARM program director, said the goal of the program, which has grown in students and sites since launching in the fall of 2014, is to increase the number of primary care physicians practicing in rural South Dakota.
According to South Dakota Department of Health data, 57 percent of the state's counties are considered medically underserved, meaning there are geographic areas and populations within those counties that lack access to primary care services.
While it's too early in the FARM program's existence to say whether it has increased the number of doctors practicing in rural communities in the state, Anderson is encouraged by the fact that four out of five students in the first FARM cohort matched into family medicine residencies.
"What we're trying to do through this program is have the students gain an understanding of the rewards and benefits of a rural lifestyle and also practicing in a smaller community," Anderson said. "We certainly encourage primary care, however, we know that if students go through the FARM program and go into another specialty, they will have an appreciation for the quality of care that's provided in rural communities. Hopefully they will also consider, if not practicing in a rural community, at least providing outreach or facilitating care to that type of a community."
Growing up in Watertown, South Dakota, Endres was inspired by the medical care her mother, Ann, received for rheumatoid arthritis. She said medicine is the only career she has ever really considered.
"(My mom) had her knees replaced and it was kind of life-transforming for her. It was really inspiring for me to want to do something like that and be able to help other people in that way," said Endres, who graduated from South Dakota State University with degrees in biology and food & nutritional sciences before applying to the University of South Dakota Sanford School of Medicine.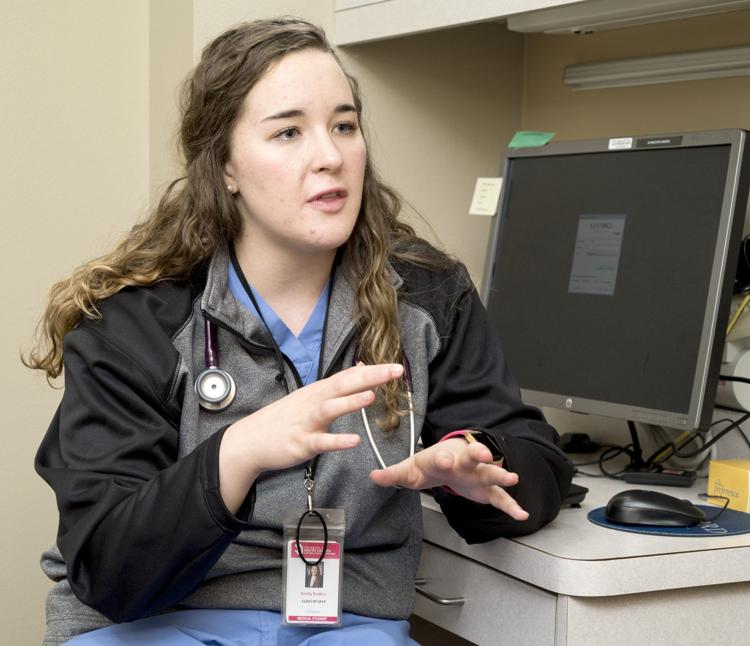 Whenever Endres told people that she wanted to become a doctor, she said she was often reminded that medical school is "tough" to get into and asked, "Do you have a backup plan?" If medical school didn't pan out, she'd become a dietitian. Fortunately, Endres' hard work paid off. She cried tears of joy the day she found out she was accepted to medical school.
You have free articles remaining.
"It was kind of vindicating, because that was always the fuel to my fire -- I need to prove all these people wrong and show them that I can do it," said Endres, who sees herself practicing family medicine and obstetrics or pediatrics in a smaller town.
Endres' first two years of medical school were filled with studying and more studying. She attended classes for eight hours only to return home and hit the books until it was time to hit the pillow. After hearing great things about the FARM program from friends, she decided to apply. She interviewed with members of the FARM program selection committee and, wanting to be in a small city closer to home, ranked Milbank, South Dakota, as her preferred site. 
Students may apply to the FARM program in the fall of their first academic year. Anderson said students find out whether they've been selected a year before they go to their assigned site so they can familiarize themselves with the location and develop a project that benefits the community.
"The communities have really embraced the students and welcomed them and made them to feel at home like they were a member of the community," she said.
Although Endres was surprised that the selection committee placed her in Vermillion, she said it turned out to be the perfect fit for her.
Dr. Mary Jo Olson has had medical students by her side while rounding in the hospital or seeing patients in the clinic before, but those rotations only lasted a few weeks, not several months. Endres, who arrived at Sanford Health Vermillion Clinic in September and will train there through May, is the first FARM student Olson has supervised.
"I let her go in first and meet the patients and interview the patients. Then, she comes out and gives me their story -- what's going on with them, what's bothering them," Olson explained. "Then, she tells me what the differential would be -- maybe it's this and we should do these tests."
Endres begins her days at 7:15 a.m. by accompanying Olson, who has been practicing medicine since 2000, on hospital rounds. Next, it's over to the clinic to see patients until 4:30 p.m. Then, Endres helps with medical notes before returning to the hospital for more rounds. Endres, who usually heads home at 6 p.m. to study, has sutured and started IVs. Unlike other medical students, she's not standing in the back of the operating room straining to see over a crowd. She's running the camera during a gallbladder removal or acting as the first assist during a C-section.
At home, Endres keeps her cellphone's volume turned up. When it rings, the Fitbit on her wrist buzzes. She could be called to the hospital at any time during the night to witness and maybe even assist with the delivery of a baby. She also staffs the emergency department, working two 12-hour weeknight shifts and one 24-hour weekend call shift per month. Endres isn't a coffee drinker, so she stays awake by keeping her body moving and talking with staff. She's always asking questions to keep her mind sharp.
"Honestly, once I'm here, I'm so busy that I don't really have a chance to be tired," she said. "Three half-days a week, I'm supposed to have a block (of time) where I can be home studying or sleeping. There definitely is balance, where I don't feel like I'm overworked or overstressed."
During her first five months in the FARM program, Endres said she has encountered patients with a variety of chronic medical conditions, some of which were "really interesting." She encourages other medical students to give the FARM program and rural medicine a chance.
"A lot of people think that you'll get the best clinical experience in Sioux Falls and that's definitely not the case. I feel like I'm getting just as good of an experience or better because I can be so hands-on," she said. "The size of the community doesn't equate to the experience that you'll have."
Video
Visit siouxcityjournal.com to see a video of medical student Emily Endres talking about her community project.
FARM program communities
Be the first to know
Get local news delivered to your inbox!