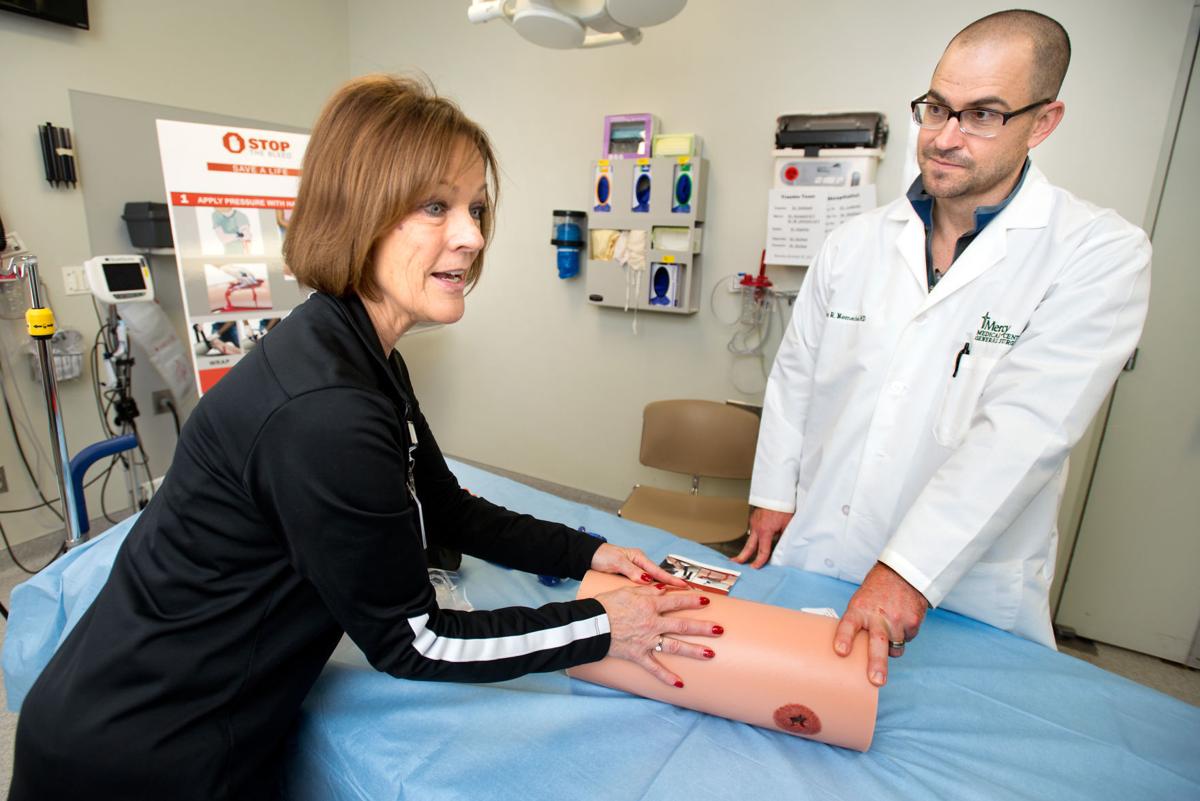 SIOUX CITY | Automatic external defibrillators, which can deliver a life-saving shock to a person's heart, are commonly found in shopping malls, airports, industrial parks, churches and schools.
Craig Nemechek, a trauma surgeon at Mercy Medical Center who chairs the hospital's trauma committee, said organizers of a national awareness campaign to "Stop the Bleed" hope to make bleeding control kits equipped with tourniquets, gauze and other medical supplies just as prevalent in public places.
Barb Eveleth, Mercy's trauma program manager, and Nemechek recently began training local business employees, school students and faculty and emergency medical services responders, who bring well over 1,000 trauma patients to the Sioux City hospital each year, to control bleeding.
"It's not just mass casualty incidents. It could be things like farm accidents, car accidents. It could be injuries that occur at the workplace, as well," Nemecheck said.
After the Sandy Hook Elementary School shooting, which claimed the lives of 20 students and six teachers in Newtown, Connecticut, on Dec. 14, 2012, the American College of Surgeons Committee on Trauma has led the charge to save lives by teaching the public to respond to and stop uncontrolled bleeding in emergency situations. Mercy Medical Center is a Level II Trauma Center certified by the American College of Surgeons.
"We really feel that it's something that's very, very important," Eveleth said. "Certainly we want faculty to be aware of this, because they're going to be the first line of defense, so to speak. Junior high and high school kids can be taught wound packing and use of tourniquets."
Before the "Stop the Bleed" campaign got underway in 2015, Nemechek said the public had the capacity to do "very little" to control severe bleeding before emergency services personnel arrived on the scene.
"The majority of people that were around during these events had little or no medical knowledge or training. Maybe someone would put on a loose dressing. Maybe someone would apply some pressure," he said.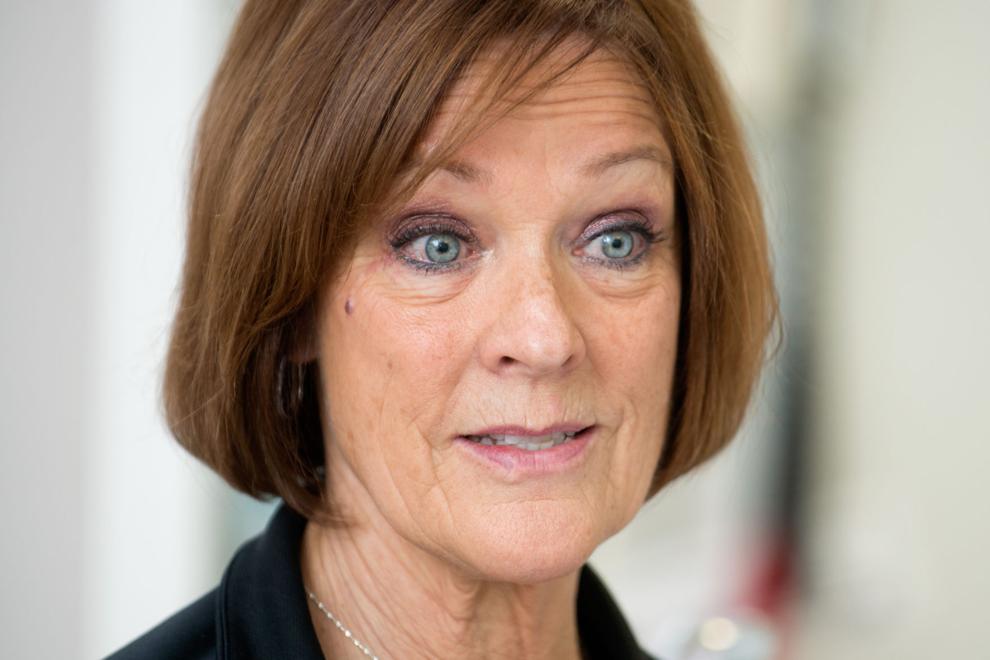 Through the "Stop the Bleed" campaign, Eveleth teaches bystanders the ABCs of bleeding:
A -- Alert -- If you see someone bleeding, call 911.
B -- Bleeding -- Find the bleeding injury.
C -- Compression -- Apply pressure to stop the bleeding.
Eveleth contends that it's not easy for most people to tear open a stranger's clothing and place their hands on a laceration, gunshot wound or puncture wound that's oozing blood. She helps "Stop the Bleed" participants get acquainted with the process by allowing them to pack wounds and apply tourniquets to a limb-like model, complete with skin and bone that feels real to the touch.
Eveleth instructs participants to stuff gauze, if they have it, or clothing into the wound until it's filled up and then apply pressure with their hands, not letting go until instructed by EMS personnel. 
"At some of the classes that we've been to, people are worried about using something dirty -- a T-shirt or whatever they have. That's OK," she said. "Once the patient gets here, they're going to receive IV antibiotics almost immediately. You're saving their life and that's all that matters."
While the tourniquets that Mercy provides during training sessions are equipped with a windlass to help compress the artery, Eveleth said you could also use a belt to try to halt bleeding.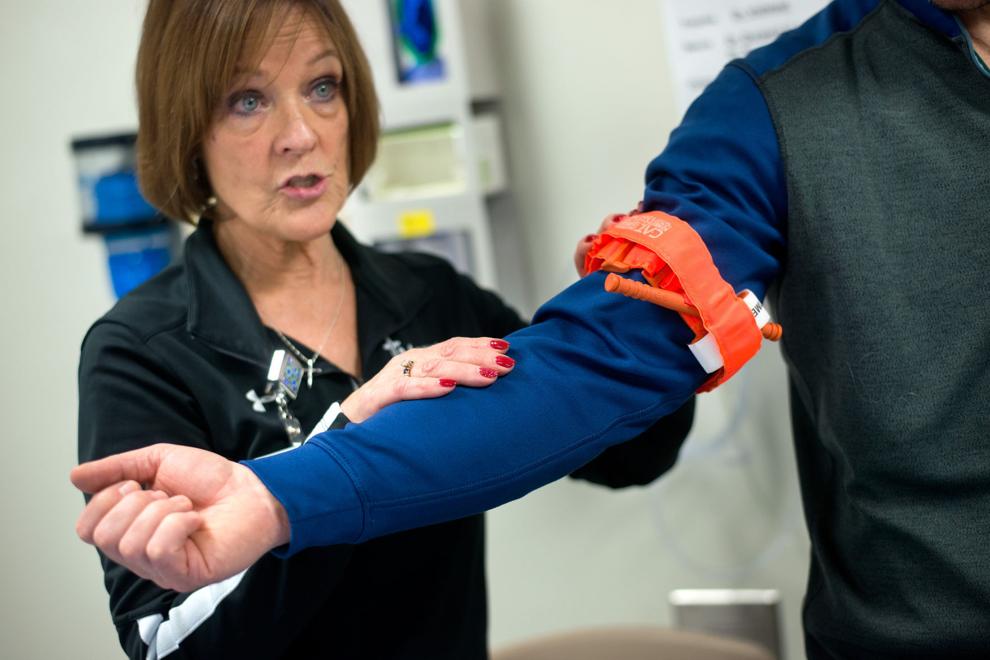 "I would pull back as hard I can. They equate it to pulling on a bow string," she explained while standing behind Nemechek in a trauma room at Mercy and tightly pulling the tourniquet wrapped around his arm. "Once I have it very tight, I should see the bleeding stop and really not feel a pulse. This tourniquet does not come off no matter how much the patient is requesting you to take it off."
Nemechek said applying a tourniquet in a controlled setting, such as "Stop the Bleed" training offers, will help bystanders respond quickly and efficiently when applying a tourniquet in an emergency situation.
"You're not going to hurt somebody. You're not going to make anything worse. You're actually going to save their life," he said.