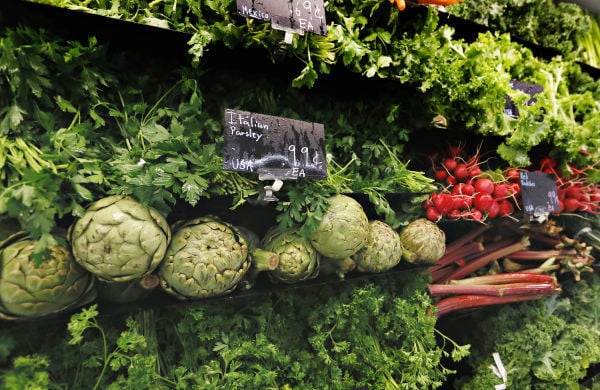 SIOUX CITY | Stained cutting boards with deep grooves.
Mouse droppings in the food prep area.
Prosciutto and salmon thawing at room temperature.
Employees not washing their hands at any time during the inspection.
These are just some of the 2,368 violations health inspectors recorded during inspections of Sioux City restaurants, grocery and convenience stores from Dec. 2, 2014 to Dec. 2, 2015, that could have put customers at risk for contracting foodborne illnesses that cause fever, abdominal pain and diarrhea.
"Food can be a vehicle for a lot of these infections, but it's not always the food itself that's the cause," said Tyler Brock, Siouxland District Health Department deputy director.
According to publicly available reports from the Iowa Department of Inspections & Appeals, 440 regular inspections and eight pre-opening inspections were conducted at Sioux City establishments during that time period. Five restaurants tallied 18 violations each -- the most issued.
Inspections are a "snapshot" of the day and time of the inspection. The frequency at which inspections are conducted varies, depending on the type of food, food preparation and handling and compliance history of the establishment. The state requires businesses to post a copy of their most recent inspection report near their front entrance.
Common violations occurring at Sioux City restaurants included cooks not washing hands prior to putting on gloves, no certified food protection manager on site and failure to post hand-washing signs or institute a sick policy.
Violations are broken into two categories: foodborne illness risk factors and good retail practices.
Foodborne illness risk factors can make someone ill and must be corrected within 10 days, although these violations are often corrected before the inspector leaves the establishment. Good retail practices are violations that are important for protecting public health but have less potential to cause significant foodborne illness. These violations must be corrected within 90 days.
The Centers for Disease Control and Prevention (CDC) estimates that 48 million cases of foodborne illness occur in the United States every year. At least 128,000 Americans are hospitalized and 3,000 die from eating contaminated food.
According to the CDC's Food Safety Progress Report for 2013, cases of campylobacter and vibrio vulnificus -- a bacterial infection caused by the consumption of raw or under-cooked seafood -- are on the rise in the United States.
Cases of campylobacter, often linked to dairy products and chicken, increased 13 percent since 2006-2008. For every case reported, the CDC says there are 30 cases that go undiagnosed.
While cases of E. coli O157, listeria and salmonella remained steady, vibrio vulnificus infections jumped 75 percent since 2006-2008. For every case of vibrio vulnificus reported in the United States, the CDC says 123 are not diagnosed.
Cattle naturally contain bacteria such as E. coli, salmonella and shigella in their intestines. During slaughter, the contents of the intestines can contaminate the meat if proper hygiene practices aren't followed, said Daniel Lamptey, an infectious disease specialist at Mercy Medical Center.
You have free articles remaining.
"That's one of the main ways that food gets contaminated," he said.
Lamptey said crops become contaminated with bacteria when they are irrigated with water containing sewage and manure. He said this can occur at both small farms and large industrial farms.
"When they are harvested, some of these fruits and vegetables have some of these bacteria on them," he said. "If you don't wash them very, very well, you're gonna get an infection."
Is the food contaminated or is a food handling practice to blame for an illness?
Brock said these are questions health department investigators seek answers to when they receive reports of illnesses caused by foodborne pathogens.
An outbreak of shigellosis that began in November 2013 hit hard at Sioux City day care facilities and schools. More than 200 people were infected in Woodbury County.
Shigella can be spread through contaminated food and water or by contact with an infected person. People with shigellosis shed the bacteria in their feces. The best way to prevent shigellosis is good hand washing with soap and warm water and avoiding preparing food for others when you have diarrhea.
Brock said finding the agent of a foodborne illness is very important. When sick patients show up at their doctor's office with gastrointestinal symptoms, laboratory testing can reveal the presence of a virus or bacterium.
The clinic or hospital then contacts the health department, whose investigators collect a thorough food and travel history from the patient. The incubation period for a foodborne illness is between 16 and 48 hours.
"We ask about restaurants. We ask about other people in the family who might be sick. We've got a whole laundry list of things that we do," Brock said. "Maybe we get another report of the same thing, and then we start seeing connections."
A 1993 outbreak of E. coli involving 73 Jack in the Box restaurants in California, Nevada, Idaho and Washington sickened more than 700 people and killed four children. It was traced to undercooked hamburger patties.
Tainted lettuce was the source of a 2006 E. coli outbreak that sickened 71 people at Taco Bell restaurants in New Jersey, New York, Pennsylvania and Delaware. Fifty-three people were hospitalized and eight developed kidney failure.
In early December, 120 people who ate at Chipotle Mexican Grill in Boston were sickened with norovirus, the leading cause of illness and outbreak from contaminated food in the United States, according to the CDC. Norovirus, which causes nausea, vomiting and diarrhea, is most often spread when infected food workers touch ready-to-eat foods.
The outbreak in Boston came on the heels of an unrelated outbreak of E. coli O26 at Chipotle restaurants in nine states which has sickened more than 50 people since October. The exact source of that outbreak remains unknown.
The nonprofit food safety watchdog group examined outbreaks over a 10-year period and found that 1,610 outbreaks in restaurants sickened more than 28,000 people, while 893 outbreaks traced to private homes caused nearly 13,000 cases of foodborne illness.
Lamptey, who has practiced medicine in Sioux City since 2006, said he has yet to see an outbreak of foodborne illness in Sioux City. When dining out, in his opinion, family restaurants are safer than fast-food restaurants. Preparing food at home, he said, is the safest option.
"As long as you make sure that the food that you bring home to cook is not contaminated and that you make sure that the utensils that you use in the kitchen are not contaminated," he said.
Be the first to know
Get local news delivered to your inbox!