SIOUX CITY | Haley Nolen had heard of congenital diaphragmatic hernia, a birth defect of the diaphragm, but the Sioux City woman hadn't actually come across a case of it until she was looking at images of her daughter growing inside her belly on a screen at 20 weeks.
"Everything so far had been normal and exciting and fun," Nolen, who works as an ultrasound technician at Floyd Valley Hospital in Le Mars, said of her pregnancy. "Our world was kind of turned upside down that day."
Haley and Tyler Nolen were excited about giving their 2-year-old daughter, Hope, a brother or sister. Although the couple had some names picked out, they were planning to wait to find out whether they were having a boy or a girl. That all changed when they learned more about the condition of their daughter, whom they would later name Faith.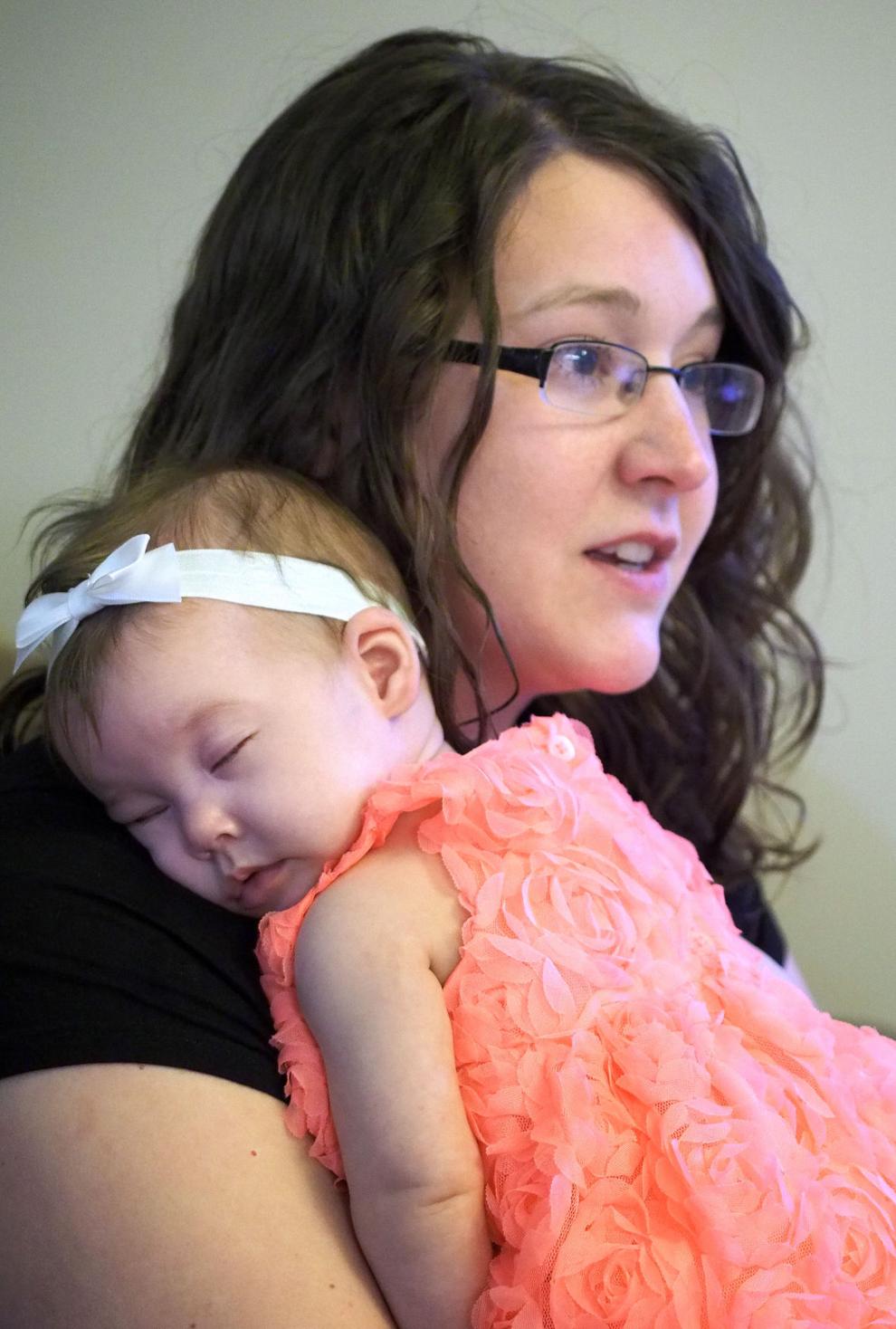 Congenital diaphragmatic hernia (CDH) is a rare condition that occurs when the diaphragm fails to close correctly during gestation, allowing abdominal contents to spill into the baby's chest cavity and compromise lung development. The estimated incidence of CDH is about 1 in 2,000-3,000 newborns.
"I can see on the screen her stomach's up in her chest next to her heart -- that's a sign that something is not right," Haley Nolen recalled of the ultrasound, which was conducted by one of her co-workers.
A Sioux City specialist initially referred the Nolens to Omaha, but doctors there wanted to wait to intervene until after Faith was born. Haley Nolen's sister-in-law, a pediatrics resident who was set to begin a neonatology fellowship at Mayo Clinic in Rochester, Minnesota, contacted her fellowship director to see what additional treatment options might be available for Faith.
At Mayo Clinic's Fetal Care Center, the Nolens learned that Faith's condition was more severe than initially thought.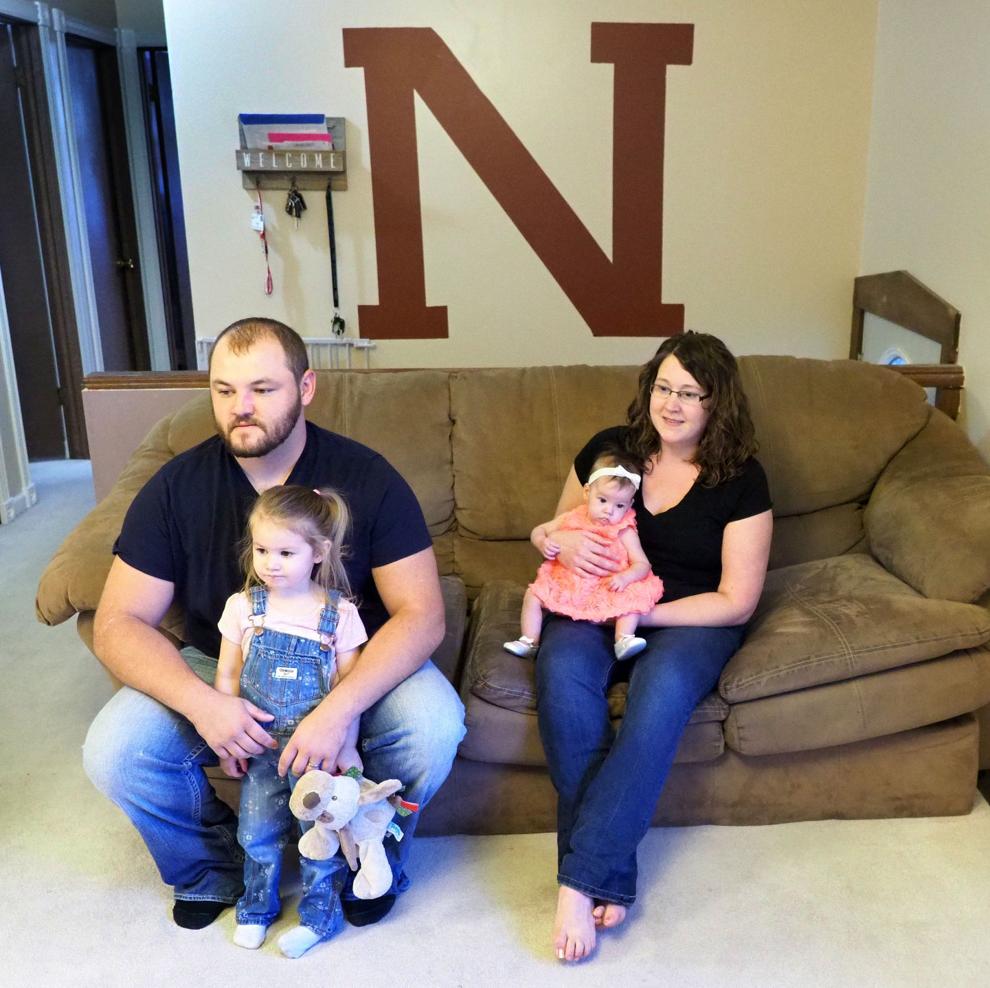 Rodrigo Ruano, a fetal surgeon, could perform fetal endoscopic tracheal occlusion (FETO), a very delicate procedure that involves placing a balloon into Faith's airway in utero to help her lungs develop. Ruano, who is originally from Brazil, has been performing FETO since 2004. He came to Mayo Clinic in 2016 after practicing in Texas.
Mayo Clinic's Fetal Care Center is one of just eight centers in the United States, and the only one in the Midwest, with FDA approval for the procedure. 
"They may die before they get the surgery postnatally, so that's why we offer (FETO) to those babies who have a more severe form of CDH," Ruano said.
According to Ruano, the survival rate for babies like Faith without the procedure is 20-30 percent. Having the procedure, he said, increases that rate to more than 70 percent.
After visiting with Ruano, the Nolens decided that FETO gave their daughter the best chance at life. In fact, Faith would be the first baby to undergo the procedure at Mayo Clinic's Fetal Care Center.
"We really enjoyed working with the people up at Mayo. They just really seemed to care about us and our situation. They truly seemed interested in the best outcome for our daughter," Haley Nolen said.
On April 13, using ultrasound guidance, Ruano inserted a fetoscope, a tiny scope, into Haley Nolen's uterus through a hole in her skin and then advanced the scope into Faith's mouth to her trachea, where he deployed and inflated a latex balloon. There was a chance Faith would be born that day at 28 weeks.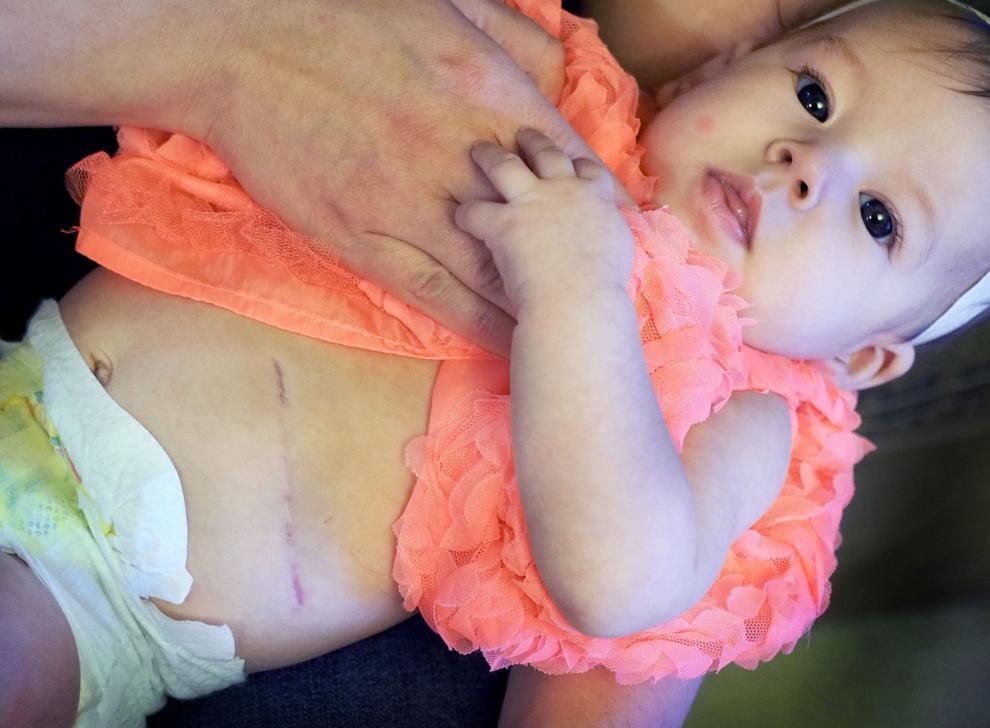 "We want to increase the lung size. We believe that if we close the trachea, we are going to promote the lung growth," Ruano said of the procedure, which can be done in as little as 15 minutes. "That's why we consider this treatment part of regenerative medicine, because we are trying to regenerate the lungs or the lung tissue."
Haley Nolen said she cried "happy tears" in the recovery room upon learning that she was still pregnant with Faith, who continued to face life-threatening obstacles. The Nolens found comfort in the Bible verse 2 Corinthians 5:7, "For we walk by faith, not by sight."
"We just didn't know what to expect. We were just trying to hope and pray for the best outcome," said Haley Nolen, who stayed at the Ronald McDonald House in Rochester with Hope until after she delivered. "I couldn't go very far. I was on modified bed rest. There were a lot of stipulations with it."
A family member had to be with Haley Nolen at all times, in case she would go into labor. Relatives took turns, so Tyler Nolen could continue to work as a radiology technician at UnityPoint Health -- St. Luke's and maintain the couple's Morningside home. When he wasn't working, Tyler Nolen was in Rochester with Hope and Haley.
"I lived here and she lived in Rochester," he said. "It was tough. I would work double (shifts) so I would have a couple days off to go up there."
On May 30, Ruano punctured the balloon and removed it from Faith's trachea. At that point, Haley Nolen said she thought she was going to deliver Faith, as her membranes had ruptured, but she was able to continue the pregnancy, which allowed Faith's lungs to develop longer.
At 2 a.m. on June 22, Haley Nolen's water broke. She called her husband back in Sioux City, who set out on the road for the 4 1/2-hour drive to Rochester.
"I was just tired," Tyler Nolen recalled with a chuckle. "I was excited, but I was also just nervous. What outcome are we going to have? I was trying to prepare myself for the worst-case scenario."
The Nolens got the best-case scenario. Faith came into the world at 2:37 p.m., weighing a healthy 8 pounds, 6 ounces. After birth, she was immediately whisked away to a neighboring room, where she was intubated. Haley Nolen said she was able to hold Faith's hand in the room for a few minutes before staff began preparations to transfer her daughter to Mayo Clinic's neonatal intensive care unit.
"I was able to hold her the next day, which we didn't think was going to happen for a good month," Haley Nolen said. "That was a huge blessing."
Five days after birth, Faith, who has a scar that stretches from the middle of her abdomen over to her left side, underwent surgery to repair the hernia. Tyler Nolen said he and his wife were already thinking about what the next step in her recovery would be.
"It was a quick relief, but what's the next thing?" he said.
On July 23, 1 month and 1 day after her birth, Faith was cleared to go home. The Nolens weren't expecting their daughter to be released from Mayo Clinic for six months to a year.
"It was a shock," said Haley Nolen, who credits the FETO procedure and the power of prayer for her daughter's swift recovery. "They told us that week, just a couple days before we got released, that we were going home. It was exciting news."
The Nolens describe Faith as a talkative, happy baby, who loves to snuggle and is meeting all of her developmental milestones.
On a recent evening, Faith, dressed in a frilly melon-colored dress covered in rosettes, squirmed a bit on her mother's lap, before falling asleep on her shoulder. Faith recently returned to Mayo Clinic for a three-month checkup, which was overwhelmingly positive, according to Haley Nolen.
"They were so impressed with her," she said of the doctors. "They were so glad that she was doing so well."