SIOUX CITY | Ellen Kennedy was living and working in Washington, D.C., when she decided to make a radical career change.
Kennedy already had a political science degree and worked for Sen. Tim Johnson and the Democratic Party in South Dakota, but she returned to the University of South Dakota to pursue a nursing degree with the goal of becoming a sexual assault nurse examiner (SANE). The shortage of nurses trained to conduct forensic medical examinations is an ongoing, nationwide problem.
"I would research about how South Dakota only had three SANE-certified nurses, and they were all mainly located on the east side of the state. I thought I could keep researching this or I could go back to school," recalled Kennedy, who learned during her research that victims of sexual assault residing in Rapid City could opt to be examined by a local health care professional with no forensic training and risk the possibility of improper evidence collection, or drive six hours across the state of South Dakota and be examined by a SANE, thereby delaying evidence collection and their care.
Although the Violence Against Women Act requires that victims of sexual assault have access to a medical forensic exam free of charge, the law doesn't require that those exams be conducted by a SANE or provide funding to help registered nurses become SANE-certified.
Many small, rural hospitals don't have the financial means to cover the cost of training, leaving physicians and nurses who have no experience collecting forensic evidence or working with victims of sexual assault to try to fill the void.
According to Jenny Putz, Iowa Coalition Against Sexual Assault rural sexual assault response team coordinator, 157 nurses have received SANE training in the state, but she said nearly 50 of them are concentrated in Des Moines, Cedar Rapids and Iowa City.
"There are lots of hospitals that have no SANE nurses. And there are counties that have no SANE nurses," she said. "Small hospitals don't have the capacity to send someone away for a week-long training."
Kennedy now coordinates UnityPoint Health-St. Luke's SANE program, which provides services to victims of sexual assault over age 13, 24 hours a day, 365 days a year.
In the coming months, St. Luke's plans to offer SANE training on site in the Frances Kline Safe Room, a secure, private room in the hospital's emergency department specifically designed for forensic medical exams, thanks to a $7,700 donation from the Siouxland Chapter of 100+ Men Who Care. The training will be open to nurses from around the area, including those working in critical access hospitals.
"The reason that the donation is so wonderful is that it actually gives us an opportunity to bring the trainer here. We're able to give specific training to these nurses using our equipment and our room," said Kennedy, who traveled to Iowa City to receive SANE training at the University of Iowa. "We have the money to train nurses, but other critical access hospitals don't."
Painstaking process
Tammi Matt once spent eight hours trying to coax a victim, who was curled up in a ball and crying, out of the corner of the Frances Kline Safe Room.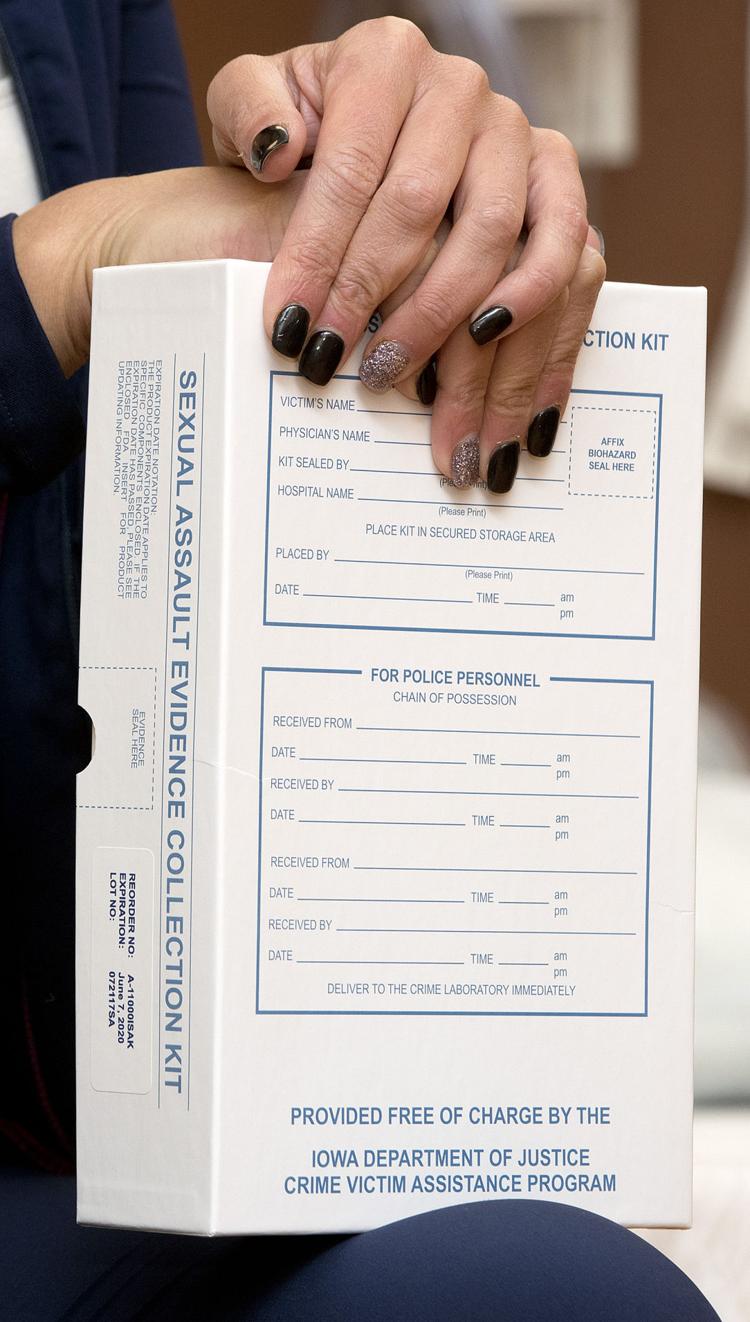 You have free articles remaining.
Other times, Matt, a SANE and registered nurse care coordinator at St. Luke's, had just minutes to collect evidence while a victim with severe injuries was being wheeled off to surgery.
St. Luke's currently employs three active SANE-certified nurses, two of which work full time. They will soon be joined by two more registered nurses who are going through SANE training.
Due to the delicate and sensitive nature of the work, Kennedy said registered nurses have to have the desire to become SANE-certified. The 40-hour training costs around $1,000 per nurse.
"What the victim is going through is trauma and it's devastating. Sadly, that often transfers over to the nurses as well. A lot of our nurses just don't feel like they're the best fit for that," Kennedy said. "I had a trainee who observed 15 minutes of an exam and she had to leave because she just could not take it."
When a victim arrives at the hospital, one of the first things a SANE does is explains the steps of the exam to the victim, who may be accompanied and supported by an advocate. As of November, Kennedy said 32 exams have been conducted at St. Luke's this year.
Matt advises victims to come to the emergency department as soon as possible. She said they should wearing the clothing they were wearing during the assault, if they can. The clothing will be collected and sent to the Iowa state crime lab for testing.
After interviewing the victim about the assault, with the victim's permission, the SANE conducts a physical exam, which includes a pelvic exam for women. The SANE describes and measures bruises, cuts and lacerations in painstaking detail.
"We can do as much of the exam as they'd like to or we can do as little as they'd like to. We can just get their story, or we can physically collect evidence as well. It's up to them," Kennedy said. "Really what this exam is about is giving them control back. "
A sexual assault evidence collection kit, which is packaged in a cardboard box, is provided free of charge by the Iowa Department of Justice Crime Victim Assistance Program. The box contains instructions that guide the SANE through the exam, swabs to collect DNA from the victim's body and packets to place the evidence in once it's collected.
Kennedy said she has worn bags of evidence on her body while responding to an emergency code.
"We literally never turn our backs on our evidence," she said.
Each sexual assault evidence collection kit sent to the state crime lab remains on file for 10 years. Even after the statute of limitations runs out on a case, Matt said the evidence could prove invaluable if the perpetrator committed a series of attacks. DNA evidence from a particular kit may be used to try to connect the case to other cases in hopes of identifying a perpetrator.
"Unfortunately over 80 percent of the cases go unreported, so there are a lot of victims out there who are not aware of our program. We'd like to see those victims come forward so we can stop this kind of thing from happening," Matt said.