OMAHA — Researchers at the University of Nebraska Medical Center were the first to report back in July 2020 that the virus that causes COVID-19 was present in small particles exhaled by infected people.
Initially, the idea that the coronavirus could spread through the air via airborne transmission wasn't widely accepted. The World Health Organization at first concluded that the virus was spread by larger droplets such as those produced when people sneeze or cough.
That since has changed, with both the WHO and the federal Centers for Disease Control and Prevention acknowledging that airborne transmission plays a role in the disease's spread.
And now the researchers' work, which includes finding the potentially infectious virus capable of replicating itself inside tiny particles collected in the rooms of COVID-19 patients, has been published in a peer-reviewed scientific journal that's part of the prestigious Nature family.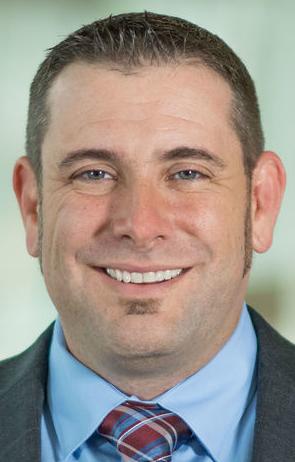 "At this point, it's fairly well accepted that aerosols are a primary part of the transmission of COVID-19," said Joshua Santarpia, an associate professor of pathology and microbiology at UNMC. He is one of three UNMC co-principal investigators involved in the study, with St. Patrick Reid and John Lowe.
Their findings about transmission, and those of others, have implications for the kind of steps people need to take to protect themselves from COVID-19.
Santarpia said he was concerned when the team began gathering data last year that masking with anything less than an N95 respirator would not be very effective.
But his assessment evolved as researchers learned more about how the virus works, what sizes of particles are important, what likely constitutes an infectious dose and how much virus infected people produce.
Scientists, Santarpia said, now know that surgical masks and cloth coverings will limit exposure and reduce the likelihood of contracting the virus in limited interactions with infected people.
"The end take-home message is the more effective mask you can wear, the closer to prevention you can get," said Santarpia, who also is research director for chemical and biological programs with the National Strategic Research Institute. "But anything you can do to help protect your respiratory tract when you're in crowds of people or closely interacting with people you don't know is going to be helpful in limiting your potential exposure to the disease through the aerosol route."
People who want to go to Husker football games or concerts need to weigh their personal risks, including whether they are vaccinated, and take appropriate precautions. Even with the delta variant, Santarpia said, no one is talking about going back to complete shutdowns.
Husker games, for instance, are outdoors, where air movement and sunlight can help degrade the virus, he said. But they also involve being in crowds.
Masks are strongly recommended even outdoors in Memorial Stadium and required in some indoor spaces, such as elevators.
Santarpia said he would try to avoid close contact with people he doesn't know if he attended such events and wear the highest-quality mask he could — a KN95, surgical or quality cloth mask — when he couldn't avoid crowds.
The same goes for traveling by plane, which Santarpia had to do even during the pandemic to support various missions. He and other NSRI researchers co-authored a study in November that concluded there was little risk of passengers infecting one another while flying aboard commercial jets.
Santarpia said he's comfortable in a surgical mask while sitting in his seat during a flight. But commercial flights involve standing in lines in crowded areas. For those, a KN95 probably is more appropriate.
At the start of the pandemic, the possibility of airborne transmission was an urgent question.
The researchers initially collected samples in the isolation rooms at UNMC and the Nebraska Medical Center of patients who had been returned in February 2020 from the stricken Diamond Princess cruise ship.
They found viral particles in the air around those patients. That work, published in an online report, helped inform early discussions on the topic.
But the researchers didn't measure the size of those particles or obtain what scientific reviewers considered to be conclusive evidence that the viral samples replicated when placed in lab dishes.
The researchers collected more samples near patients at the Nebraska Medical Center in March and April last year. They found particles of different sizes and showed that virus particles in the smallest size, the kind that originate in people's lungs and throats, replicated in dishes.
As for what the future holds for the pandemic, Santarpia said the coronavirus has spread far enough that some version of it likely will continue to be part of the human disease lineup.
The virus likely will evolve to the point where it is not as big a threat as it is today, and doctors will have better treatments and preventative measures.
Santarpia said, however, that "I still think we have a long row to hoe before we get there."