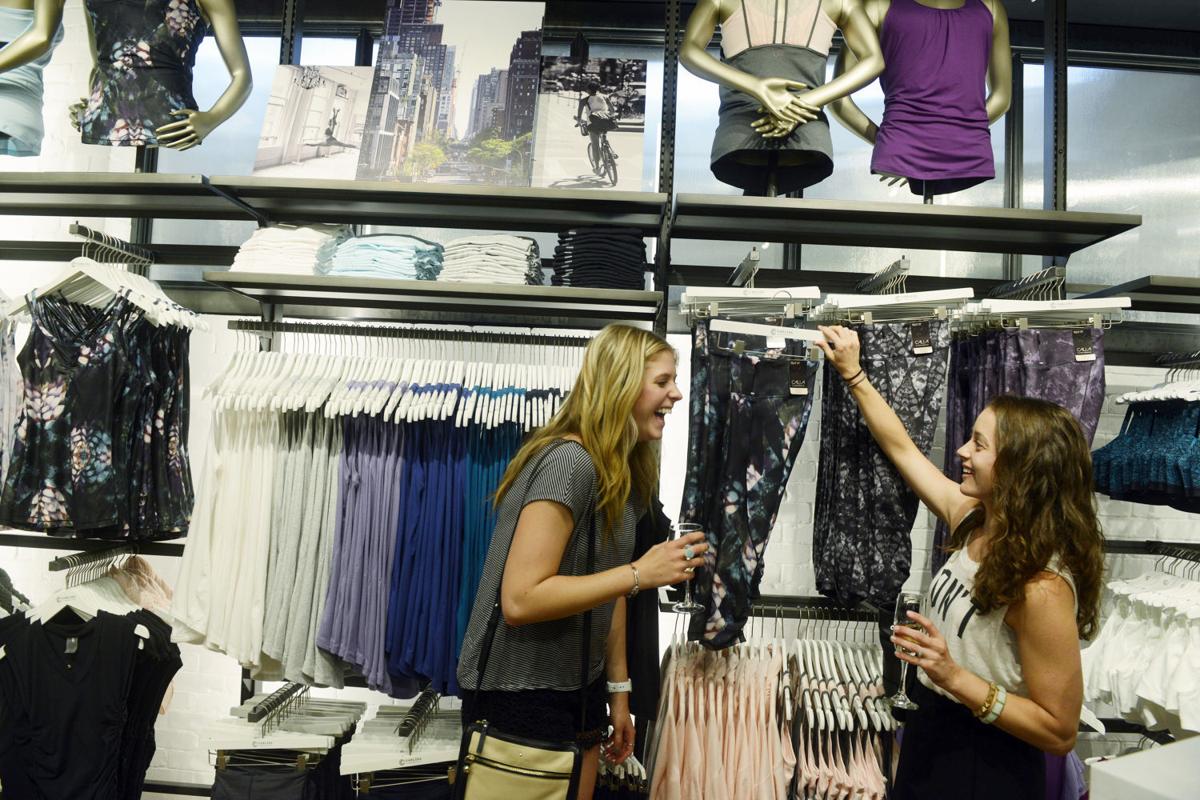 From the runway to retail, fashion-inspired fitness apparel (affectionately known as athleisure wear) has become a trend to be reckoned with.
In just a couple of years, dozens of designers — Stella McCartney, Rebecca Minkoff, Betsey Johnson, Alexander Wang, Vivienne Tam, etc. — have dabbled in it, while several department stores have carved out special sections just for clothes that are suitable for the gym but stylish enough for the street. Also, sneaker and activewear sales were up the first quarter of 2015 compared with the same time last year, according to a recent NPD Group report.
Findlay, Pa.-based Dick's Sporting Goods is among the latest retail chains to cater to the fashion-minded fitness enthusiast (or the woman who just likes to look chic but dress comfortably). In August, it opened the Chelsea Collective, a specialty women's lifestyle and fitness boutique, in northern Virginia.
Local shoppers can find it in a mall on the second level sharing a corridor with Nordstrom and across from Lululemon Athletica and PINK by Victoria's Secret, two stores that also have a stake in the increasingly competitive athleisure arena. So what is it about Chelsea Collective that separates it from its neighbors?
"I think the thing that really stands out is that it's a multibrand experience," says Lauren Hobart, general manager of Chelsea Collective and chief marketing officer for Dick's Sporting Goods. "We've got everything from iconic brands like Nike and CALIA by Carrie Underwood (a collaboration with Dick's), but we also have these trending niche brands" including Spiritual Gangster, Lorna Jane and Alala.
These workout clothes aren't your ordinary solid tanks and tees (although there are plenty of those, too). Many pieces are more fashion-forward and trend-centric, with a mix of bold and feminine prints, jogger pants, graphic tops and stylish outerwear ideal for layering.
You have free articles remaining.
In addition to apparel, Chelsea Collective strives to be a one-stop shop for footwear, sports bras, bags and accessories, including sunglasses, jewelry, headbands and Emi Jay hair ties. There's even a beauty bar stocked with brands such as Philosophy, StriVectin, Bliss and Mario Badescu Skincare to help women pack their gym bags with travel-sized shower gels, dry shampoo, lip gloss, face wipes, and other bath and body essentials.
"You can put a complete head-to-toe look together," Hobart says, adding that new merchandise will be moved onto the floor about every two weeks to keep inventory fresh.
Dick's consulted focus groups made up of fashionable, fitness-oriented women in various age groups to determine everything from brands to store displays.
"We not only want it to be a shopping experience, we want it to be a community experience," says Kate Boyce, vice president of women's athletic apparel for Dick's.
This communal approach encourages customers to converse with sales associates about their fitness and fashion interests and needs. Chelsea Collective offers bra fittings, alterations and gait analyses. There also will be a treadmill and barre on site so shoppers can jog and stretch in shoes and apparel before purchasing them.
What also makes the Chelsea Collective experience unique is the store itself. It takes its name from the Chelsea section of New York City, known for its diversity, style and urban aesthetic. White exposed-brick walls and ceiling beams, ironwork, bright white lights and photographs of Manhattan are all nods to the neighborhood. Near the fitting rooms, there's a living wall lush with greenery that's inspired by the High Line, a public park that runs through the neighborhood on an elevated section of an old rail track that's a popular trail for biking, running and power walking.
As the athleisure lifestyle continues to win over women, Dick's plans to keep on its pulse.
"We want to learn everything we can about this market," Hobart says.