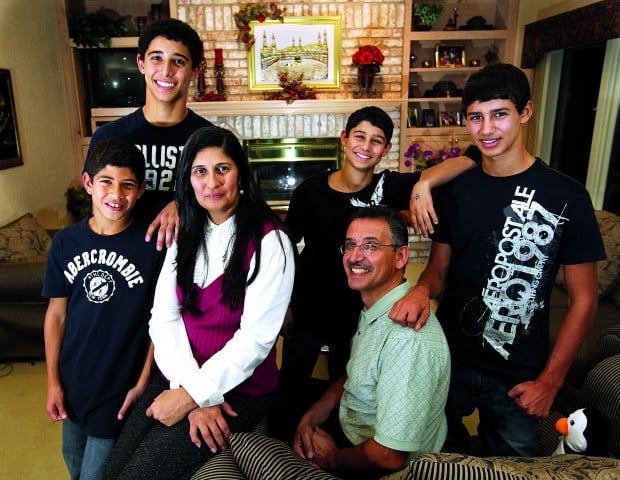 Many of us have undoubtedly heard someone urging folks to tone down the commercialism of the holiday season and "keep Christ in Christmas."
But what if you're not among those who follow Jesus Christ? What if you believe in another god or no god at all?
For non-Christians, Christmas isn't about the birth of a Savior. It can mean many things, but it's not a time for heading to Christmas Eve church services or putting a nativity set in the yard.
But that doesn't mean it isn't a special time of year.
Many non-Christians still observe the holiday, but choose to focus on secular traditions and family.
"The way most of us like to look at it is most of us are so busy 365 days a year. It's that one time of the year we as a world get to set a day aside for our families," said Dana Gray, an atheist and member of Siouxland Atheists, Agnostics and Freethinkers.
While you won't find members of the group attending church services, most of them will take part in the traditions of putting up Christmas trees, hanging lights and exchanging gifts.
"I'm huge on Santa Claus. I've loved Santa Claus since I was little," Gray said. "People ask me how can I celebrate? I say these are all pretty secular traditions."
For those of another faith, Christmas can lead to interesting discussions at home. Dr. Eyad Najdawi, president and imam of the Mosque of Sioux City, said he has had to explain to his children why, as Muslims, they weren't receiving gifts at Christmas when that's all that their classmates could talk about.
"We explain to them why people are different," Najdawi said. "It's not necessarily easy."
It's made easier, he said, by the fact that Muslims celebrate two holidays at other times of the year when they exchange gifts. So his kids will receive gifts at a time when their Christian friends aren't they just have to be patient.
"They know their time is coming," Najdawi said.
In general, Najdawi said most Muslims he knows don't celebrate Christmas by putting up a tree or hanging lights, although he sends out a few cards. Most Muslims view Christmas as a secular holiday, a day off. Najdawi, a pediatric cardiologist, sometimes volunteers to be on call so his Christian colleagues can be assured the day off to celebrate Christmas with their families.
Gray said many of the atheists she knows view Christmas as a day to share with family. Much like those who believe in a god, they'll sit down to a family dinner and enjoy being with each other.
"We all tend to do a lot of the same things with trees and dinners and parties," Gray said.
Only you won't find any religious ornaments on those trees. Her children are aware of the religious aspects of the holiday and she tells them it shows that people can believe in different things.
"We just say, yes, some people believe in a god and these are some of the symbols they use," Gray said. "We respect people's right to believe in anything from a god to pink unicorns to nothing at all."
Najdawi said Muslims share a reverence of Jesus with Christians and they recognize Christmas is a celebration of His birth. But there is no celebration of that birth in Islam.
"Jesus in Islam is a very big figure," Najdawi said, "but we don't celebrate his birth. But we do not celebrate the birth of the prophet Mohammed."
There may be differences in beliefs, but Najdawi said he knows Christmas is an important holiday for Christians, and he'll happily respond to them when they wish him a Merry Christmas.
"It does not bother me personally," he said. "I know their intentions are good."
Be the first to know
Get local news delivered to your inbox!