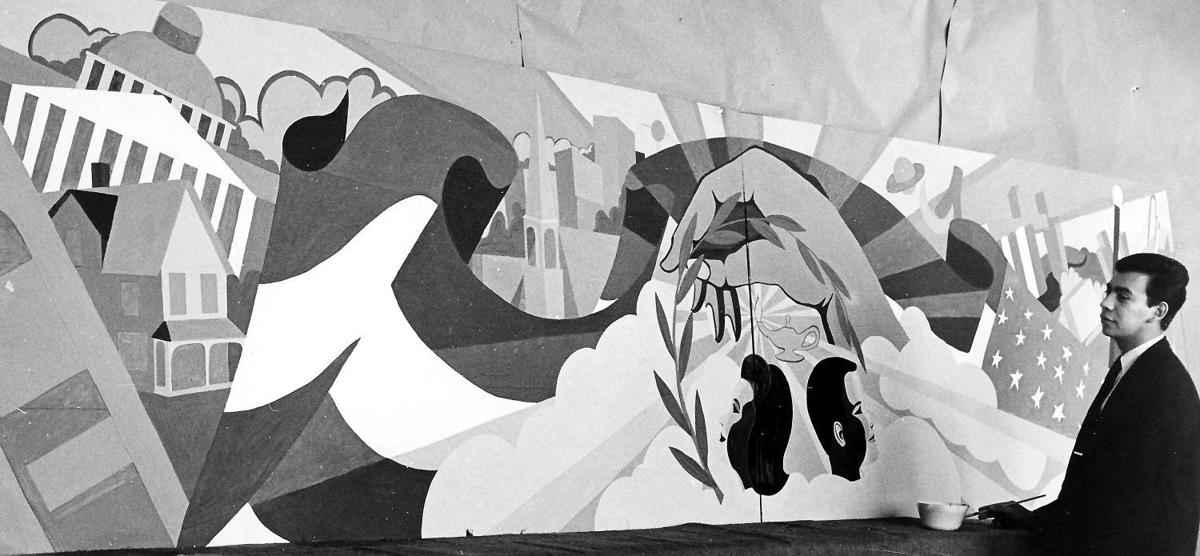 SIOUX CITY | Ten years ago, the Woodrow Wilson Middle School building was torn down. To this day, the fate of a vibrant mural that was displayed in the school remains a mystery.
The building that opened in 1925 was toppled in 2005 to make room for the new Irving Elementary School. The contents were sold at auction.
The notable artwork "Patriotic Mural," by Oglala Lakota artist Arthur Amiotte, was unveiled in the school in February 1966. Amiotte had begun his teaching career at Woodrow Wilson in 1964 and today is regarded as one of the most influential artists portraying Lakota life in the Northern Plains region.
Amiotte's work is displayed in 26 public and more than 200 private collections. The last time he appeared at the Betty Strong Encounter Center in Sioux City, in 2009, Amiotte, who now lives in Custer, S.D., inquired about the mural. An employee of the center, Marcia Poole, said it is too bad the mural has disappeared, since it is a great piece by a major artist who had his formative years in Sioux City.
Sioux City School District spokeswoman Alison Benson said when older schools with notable artworks close down, the goal every time is to move the pieces into a succeeding school. But in this case, "Patriotic Mural" disappeared under unknown circumstances.
Former Woodrow Wilson English and Spanish teacher Margo Chesebro said the mural at one point was taken to the basement area, where bomb shelter water and medicines were stored. She said there was an attempt to place it back in the school some years later, but those looking in the deep recesses discovered it was gone.
"I think somebody has it. Now, where they put it or why, I don't know," Chesebro said.
Paul Lammers, who taught at Woodrow Wilson for 13 years in the 1960s and 1970s, said the mural was on the east wall of the library, then was taken down when the guidance department was moved to that spot.
"We've all looked for it. I am sure it didn't go to the dump. Somebody has got it, somewhere," Lammers said.
Poole, Lammers and Chesebro said losing "Patriotic Mural" is regrettable, because Amiotte encouraged his Sioux City art students to draw from their own cultures just as he drew from his. They hope someone will find it and return it to the public eye
"It depicted the entire neighborhood. It had Irving School, Mary Treglia (Community House), St. Joseph's (Catholic) Church, St. Joseph's School, Polaykoff and Atlas grocery stores, it was the neighborhood. It was very, very colorful. It was wonderful," Chesebro said.
"Kids would say, 'My block is in here.'"
Be the first to know
Get local news delivered to your inbox!