HOLSTEIN, Iowa | More than 100 family members and friends greeted Mary Josephine (Leonard) Conover, of Holstein, in a reception on her 100th birthday, Dec. 17, 2017, at the Battle Creek (Iowa) Fire Station.
She died 30 days later, bringing to a close a remarkable generation of family members who helped chart the course for Holstein, her Ida County hometown.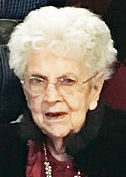 Mary was the last survivor of 10 Leonard children, a tribe that not only endured, but flourished, in the wake of an almost unspeakable chain of events in 1936, the year both of Mary's parents, Hiram and Christina (Schroeder) Leonard, perished.
Christina Leonard, 52, died Jan. 31, 1936, at a Sioux City hospital, succumbing to complications following surgery for a hernia, said family historians Dennis Leonard and Lori S. Leonard Reyman. Daughter Mary was a senior in high school at the time. Her father, Hiram Leonard, was in a Sioux City hospital for his own health issues when Christina died. And, due to his illness, or the fact roads were impassable due to record snow that winter, he could not return to Holstein for his wife's funeral.
Instead, Hiram Leonard wrote a letter to be read to their children at the funeral. "To my Dear Children," it began, "As the guiding hand of our Dear Wife and Mother stilled by death and it has been so spoken that I can not be with you in this trying hour, may the guiding hand though stilled in the physical form ever be with you and over you which I know it will.
"And Her sweet Spirit ever hover over your heads. May the Strong hand of God that has been with me in this trying time be with you and guide you forever more as your dear Mother has always wished. My Spirit is with you at this time."
Hiram Leonard signed it, "Father," and added this postscript, "Please read to my babies."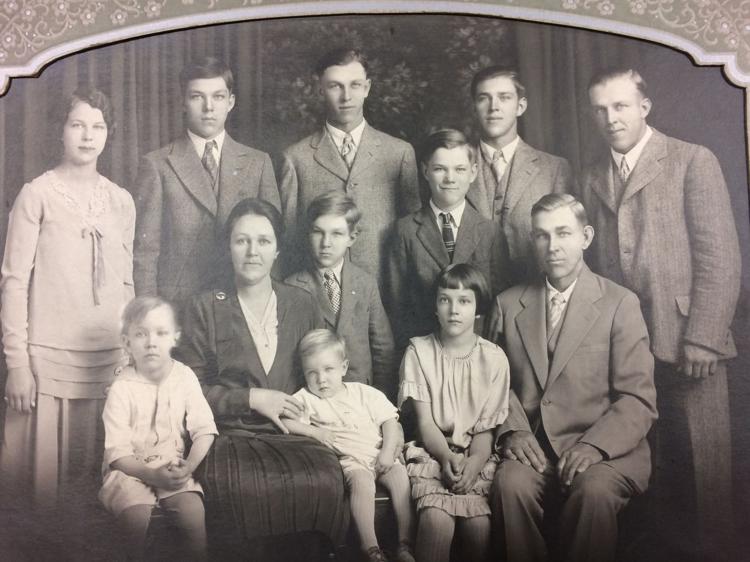 Mary Leonard finished her high school education that spring. A month or so later, in June, her dad was killed in a hay-raking accident, some 11 days after he'd won the Republican nomination to serve in the Iowa House of Representatives.
"The older boys of the family, Ransom and Elvin, were working nearby and noticed their dad's horses had stopped," Dennis Leonard said. "That team of horses was a bit wild, and the story is that Hiram worked with those horses because of that. The tongue on his rake had been reworked."
The tongue, or a piece from it, apparently struck Hiram in the head and killed him instantly.
Mary, 19 at the time, headed off for college, intent on becoming a teacher. Instead, she eventually returned home and worked with older sister, Viola, tending to their younger siblings. She wed Alex Conover, a farmer, on Jan. 13, 1938. They farmed southwest of Holstein and raised their family, which consisted of eight children: Clark Leonard, Constance Lee, Mary Ann, Sandra Kay, Burdette, Barbara Jean, Clifton Earl and Darlene Marie.
By virtue of her siblings and their children, and those on the Conover side, Mary played aunt to dozens of children in Holstein. When she wasn't engaged in raising her children, she could be found helping on the farm, tending to the garden, sewing and directing a 4-H group, among others.
"Thirty or so years ago, we counted and the Leonards outnumbered the Conovers by one in the Holstein phone book," Dennis Leonard said with a laugh.
The Conovers settled in Battle Township in 1879, while the Leonards settled in Griggs Township in 1883.
And in the course of Mary's 100 years, she lived in just four homes, all of them with a Holstein address. And, the final portion of her life on earth was spent at Willow Dale Wellness Village in Battle Creek, Iowa. It's one reason the birthday party was held at the Battle Creek Fire Station last month. Mary was taken in her wheelchair across the street for the festivities. She then stayed around as the Leonard family Christmas took place on the heels of her 100th, the only member of her family to reach this status, that of centenarian.
"She wanted to have champagne on her 100th birthday," said Sandy Getzmier, Mary's daughter, and a resident of nearby Schaller, Iowa.
Thirty days later she was gone, the last of her Leonard siblings.
"They seemed indestructable," Dennis Leonard said, noting how many of Mary's brothers were still putting up fence decades beyond retirement age. And Mary wouldn't be far behind -- or ahead -- her hands occupied with a baking utensil, spade or sewing kit.
"Her hands had to be occupied," Lori S. Leonard Reyman said. "It's hard for me to now think that they're all gone."
The last of her large family left this earth in unique fashion as her children, grandchildren, nieces, nephews and friends gathered last Saturday under sunny skies and temperatures well past 40 degrees. They convened at the Holstein Cemetery for a burial that preceded the celebration of life service at Holstein United Methodist Church.
"Our family had seen two other burials that were held prior to the service and we liked the idea," Getzmier said. "The sunshine was beautiful on her embossed blue casket."
Mary (Leonard) Conover's casket had a blue quilt she had made. Her casket spray consisted of two roses and sections of evergreen.
"She wanted two roses, one for her and one for dad, and the evergreens to represent all the members of her loving family," Getzmier said.
The large throng traveled from the cemetery to Holstein United Methodist Church and then to the Dessel-Schmidt American Legion Post 225 in Holstein, where stories and laughter about Mary (Leonard) Conover followed a final toast, one of lime vodka, her drink of choice.
"We served her favorites, a variety of cream pies, sandwiches and brownies," Getzmier said. "We got to decorate the Legion tables with items she'd quilted or sewed, showing things she'd made. People stayed and visited. And we had a great celebration of her life."
A life -- and a long line -- that certainly made an impact on her dear Holstein.