SIOUX CITY -- When she was pregnant with her son Juddson, Ashley Mondor purchased a stuffed Jellycat octopus, which would be his first toy.
Unbeknownst to Mondor, a family friend was crocheting an octopus for Juddson, which arrived in the mail before his birth on June 25.
In memory of their youngest son, who died of sudden infant death syndrome or SIDS at just 3 months old, Anthony and Ashley Mondor, of Anthon, Iowa, have donated more than 50 stuffed animals to UnityPoint Health -- St. Luke's neonatal intensive care unit to give to families. The NICU holds a special place in their hearts. Their 22-month-old son Tobias, a preemie, spent time there.
While there are no stuffed octopuses among the bunch, friends and family members brought llamas, sloths, puppies, Disney characters, an assortment of teddy bears and elephants, which Ashley Mondor collects, to Juddson's funeral. The Mondors spent hours attaching yellow tags to the stuffed animals printed with the message: "With the sorrow of losing our 3-month-old son Juddson, we want to help you celebrate the birth of your new little. Love the Mondor family."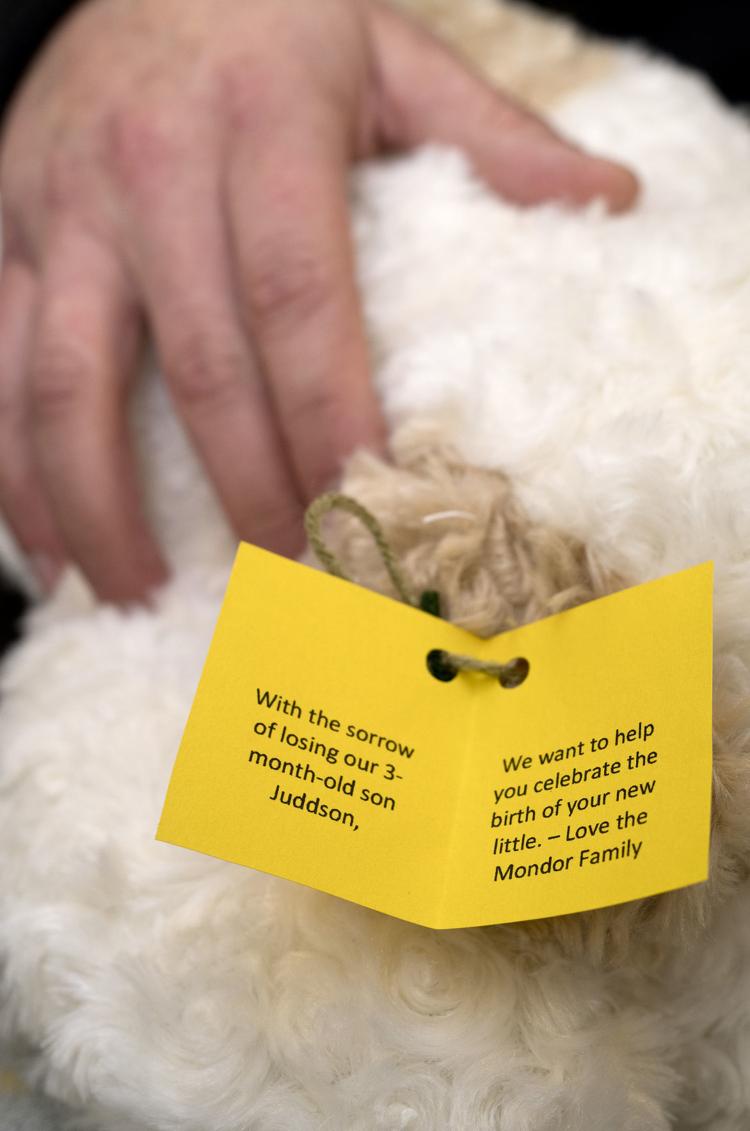 "We just hope that when they get the stuffed animals it will just make them happy and be there for them, just like the octopus was for Judd," Ashley Mondor said while seated at the hospital among some of the donated stuffed animals and framed photos of Juddson. "Especially when you can't hold your baby, you can hold a stuffed animal."
Anthony Mondor added, "You're never prepared in the NICU. Maybe it will help comfort the parents."
The perfect baby
The Mondors describe Juddson as the "perfect baby."
He rarely fussed or cried. He was always "super happy," relaxed, calm and never sick.
A week after Juddson was born, the Mondors took him and Tobias to see a Fourth of July fireworks display. The couple also fondly recalls a trip to Lakeport Commons when Tobias spotted a painted Sioux City rock on the ground, picked it up and gave it to his brother.  
"We were always out doing stuff. We never stayed home," Ashley Mondor said.
On Sept. 28, Juddson was napping on a mattress in a pack n' play at daycare. When he woke up, Anthony Mondor said his son struggled to breathe. An ambulance was called, and Juddson, who had stopped breathing, was given CPR. He died before he could reach Mercy Medical Center.
"They tried to life flight him, but they couldn't stop CPR to transport him into the helicopter. They did CPR for an hour and a half," Ashley Mondor said. "He revived twice, but he just couldn't hold on."
Each year in the state of Iowa, 35 to 40 seemingly healthy infants die on average in their sleep.
Sudden unexplained infant death (SUID) is the death of an infant less than 1 year of age that occurs suddenly and unexpectedly, and whose cause of death is not immediately obvious prior to investigation. About half of sudden unexplained infant deaths are due to sudden infant death syndrome or SIDS, according to the Centers for Disease Control and Prevention. SIDS is defined as the sudden death of an apparently healthy infant less than 1 year of age that remains unexplained after a thorough investigation.
Researchers believe SIDS deaths could be connected to a serotonin deficiency. Serotonin is a chemical in the brain that conveys messages between cells and plays an important role in regulating breathing, heart rate and sleep.
A study published in the New England Journal of Medicine in 2009 found that infants who died of SIDS had 26 percent less serotonin and 22 percent less tryptophan hydroxylase, an enzyme involved in the synthesis of serotonin.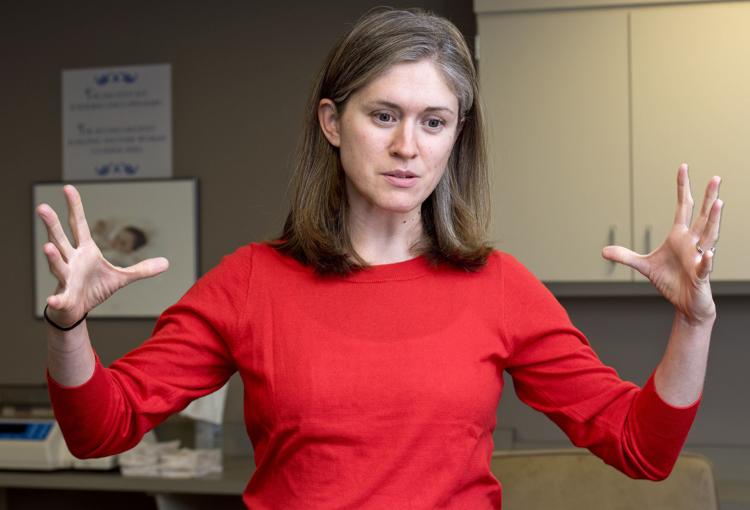 "There are some babies that will die of SIDS regardless, but curating that safe sleep environment, reducing tobacco exposure, even sucking on a pacifier when they go to bed are things that have been shown to kind of reduce the rate of SIDS," said Dr. Sandra Granger, a pediatrician at UnityPoint Health – St. Luke's.
No explanation
Before Juddson's death, the Mondors said they were aware of SIDS. They adhered to safe sleep practices at home, placing Juddson in his own crib on his back in their room. He usually didn't use a blanket, but when he did, Ashley Mondor said he was swaddled with it.
Risk factors for SIDS include placing soft bedding in the crib, exposing the child to nicotine from cigarette smoking, and co-sleeping or sharing a sleep surface with the child -- a trend popular with attachment parenting advocates. 
Unfortunately, there is no surefire way to prevent SIDS. Even babies who sleep flat on their backs and have no risk factors associated with SIDS still die of SIDS.
"For those babies with SIDS, they may have a certain genetic makeup that the way their body processes things, it just puts them at higher risk for things like smoking in the environment, as well as that prone positioning and all the safe sleep environment factors," Granger said. "Those kinds of things just push them over the edge and make a SIDS event happen."
Anthony Mondor said it has been difficult for the couple to cope with Juddson's death. They have pictures of him scattered throughout their home. They bought a baby boy doll for Tobias, who frequently asks about his younger brother. Tobias places the doll in Juddson's baby swing and covers it with a blanket.
"It's not easy to cope with something like this. They brought him back twice. He started breathing again. His airways weren't obstructed. He was perfectly healthy. He wasn't sick," Anthony Mondor said of Juddson. "I'm just glad I have faith in God, because there's just no explanation for this."