ANTHON, Iowa | The Woodbury County Freedom Rock, in Anthon, contains pieces of a B-17 bomber that crashed three miles southwest of town on May 26, 1944, killing all 10 men aboard.
It was the most significant event at Anthon during World War II. It's now an important piece of the Freedom Rock created by artist Ray "Bubba" Sorensen II.
"To have pieces of the bomber included in the painting of the bomber makes it more special, connecting the rock to local history," said Sorensen, who began his Freedom Rock career 19 years ago by painting the first boulder north of his home at Greenfield, Iowa. Sorensen has since repainted that original Freedom Rock each May. Four years ago he branched out and took on the challenge of painting one Freedom Rock in each of Iowa's 99 counties. The Woodbury County Freedom Rock at Anthon is his 61st in Iowa.
Sorensen has also painted two Freedom Rocks in Missouri and one in Wisconsin as he embarks on a 50-state Freedom Rock Tour. He heads to Seattle, Washington, to paint a Freedom Rock there next summer.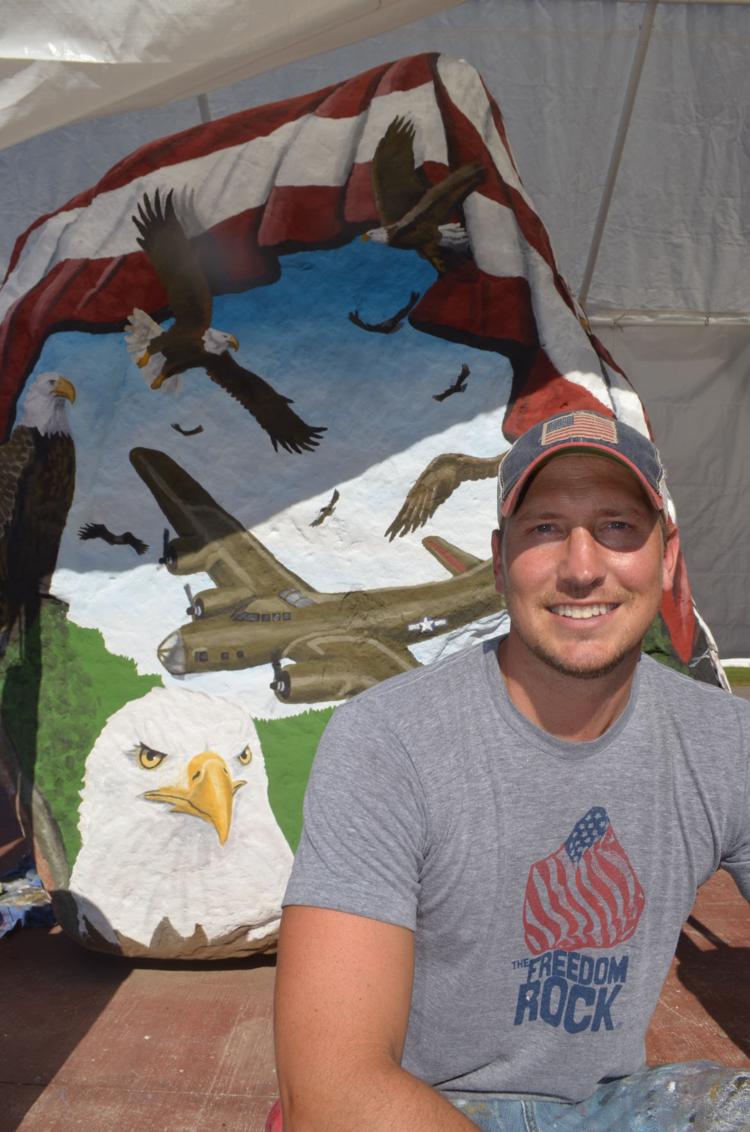 Sorensen's work in Anthon is highlighted by pieces from the B-17 wreckage that were picked up at the crash site 25 years ago by Rick Bohle, a Kingsley, Iowa, resident who was doing terrace work southwest of town.
"I think my dad (the late Dean Bohle) was 4 years old when his grandpa showed him the crash site," Rick Bohle said. "And when I was in that area doing terrace work, my dad was with me and he showed me where the plane crashed."
It was in the spring of the year and the ground hadn't been worked by a local farmer. Rick Bohle picked up pieces of metal, studied each piece, and stored them away in a desk drawer.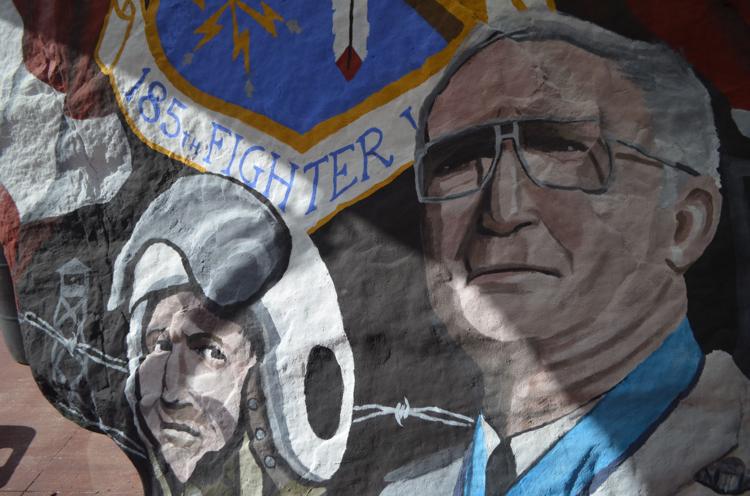 Last Sunday, Bohle, the mayor of Kingsley, met Sorensen as he finished work on the Plymouth County Freedom Rock in Kingsley, which was dedicated on Saturday. Bohle told Sorensen about the pieces he had from the old B-17. Sorensen, who had yet to create the Woodbury County Freedom Rock, decided to paint the B-17 on the rock, his way of attaching a local event to the rock in Anthon.
Sorensen asked Bohle if he'd be able to use a grinder to crush the pieces into what amounted to a metal dust for inclusion in the paint. Bohle did that and had his wife, Karla Bohle, deliver the "dust" to Sorensen at Anthon on Wednesday.
"I'll put the date of the crash, May 26, 1944, here near the B-17," said Sorensen.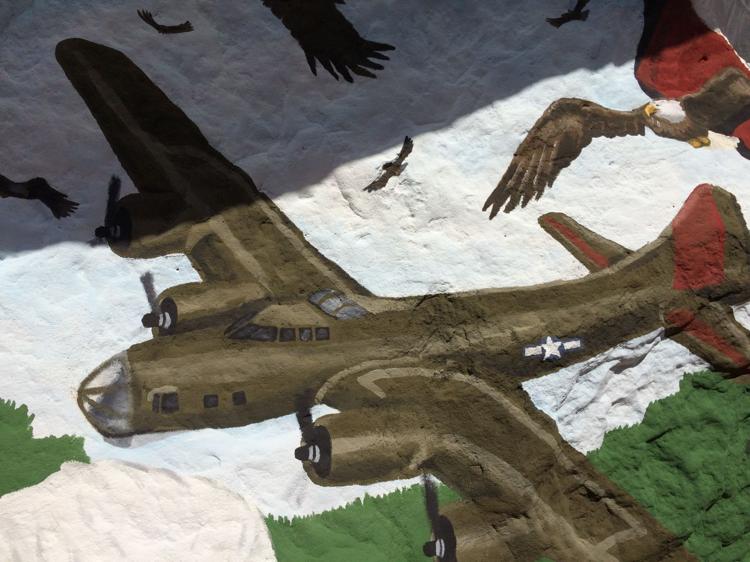 The depiction of the bomber is surrounded by 10 bald eagles to represent the 10 airmen killed when the bomber crashed on its last training run from the Sioux City Army Air Base. Crew members included: 1st Lt. Roger G. Jay, 23, instructor pilot, Los Angeles; Flight Officer John B. Smith, 21, pilot, Mooresville, North Carolina; Flight Officer Lyland R. Petersen, 26, pilot, Madison, Wisconsin; 2nd Lt. Hubert B. Godbee, 23, bombardier, Edgefield, South Carolina; Cpl. James A. Williams, 19, engineer/gunner, Providence, Kentucky; Pvt. Fred T. Littlewolf, 26, radio operator/gunner, Bagley, Minnesota; Cpl. James O. Hawkins, 21, gunner, Swartz Creek, Michigan; Pfc. Ray E. Snider, 22, gunner, Shreveport, Louisiana; Pvt. Joseph A. Calvello, 32, gunner, Brooklyn, New York; and Pfc. Norman Lindjord, 23, gunner, Seattle, Washington.
Jay, Godbee and Snider were married. The others were single, according to a Journal story written by Judy Hayworth, an Anthon native. Their remains were returned to their families, who were told little about the crash. Officials at the time could not determine a cause for the crash, which shattered an otherwise picture-perfect late-May morning in Woodbury County. The plane was said to be carrying 1,475 gallons of fuel, 20 practice bombs and hundreds of rounds of ammunition.
Tony Mireless, of Calumet City, Illinois, noted in a study that some 6,350 U.S. Army Air Corps airplane crashes took place in the U.S. during World War II, resulting in 15,531 fatalities.
The event, which was memorialized on June 24, 2006, will now have another memorial site, so to speak, in the Freedom Rock that stands near the Anthon Community Center on the east side of town.
Sorensen also included images of Sgt. Charles Floyd on this Freedom Rock, as well as two depictions of the most decorated veterans in U.S. history, Col. Bud Day, a Sioux City native.
Floyd was the only member of the Corps of Discovery to die on the Lewis & Clark Expedition, having succumbed to what many believe was peritonitis on Aug. 20, 1804.
Day, who died in July 2013, was shot down over North Vietnam 50 years ago this summer. He was taken prisoner, beaten and hung upside down by his captors before escaping and fleeing to South Vietnam. Before reaching a U.S. Marine Corps outpost, Day was shot twice by Communist patrols and taken prisoner again, this time for more than five years.
Day survived repeated torture and once stood to sing "The Star Spangled Banner" as his North Vietnamese captors, who had interrupted a forbidden worship service, shoved the muzzle of a gun in Day's face.
President Gerald Ford presented Day with the Medal of Honor in 1976.
"You can't have the Freedom Rock without Bud Day," Sorensen said.
Following his completion of the Woodbury County Freedom Rock at Anthon, Sorensen moves on to the Ida County Freedom Rock in Holstein, a project he aims to complete by July 4. After that, he said, he'll start work on the Cherokee County Freedom Rock, which stands outside the Cherokee County Courthouse in Cherokee.
Sorensen said there are only three counties he has yet to book on his 99-county Freedom Rock project in Iowa.