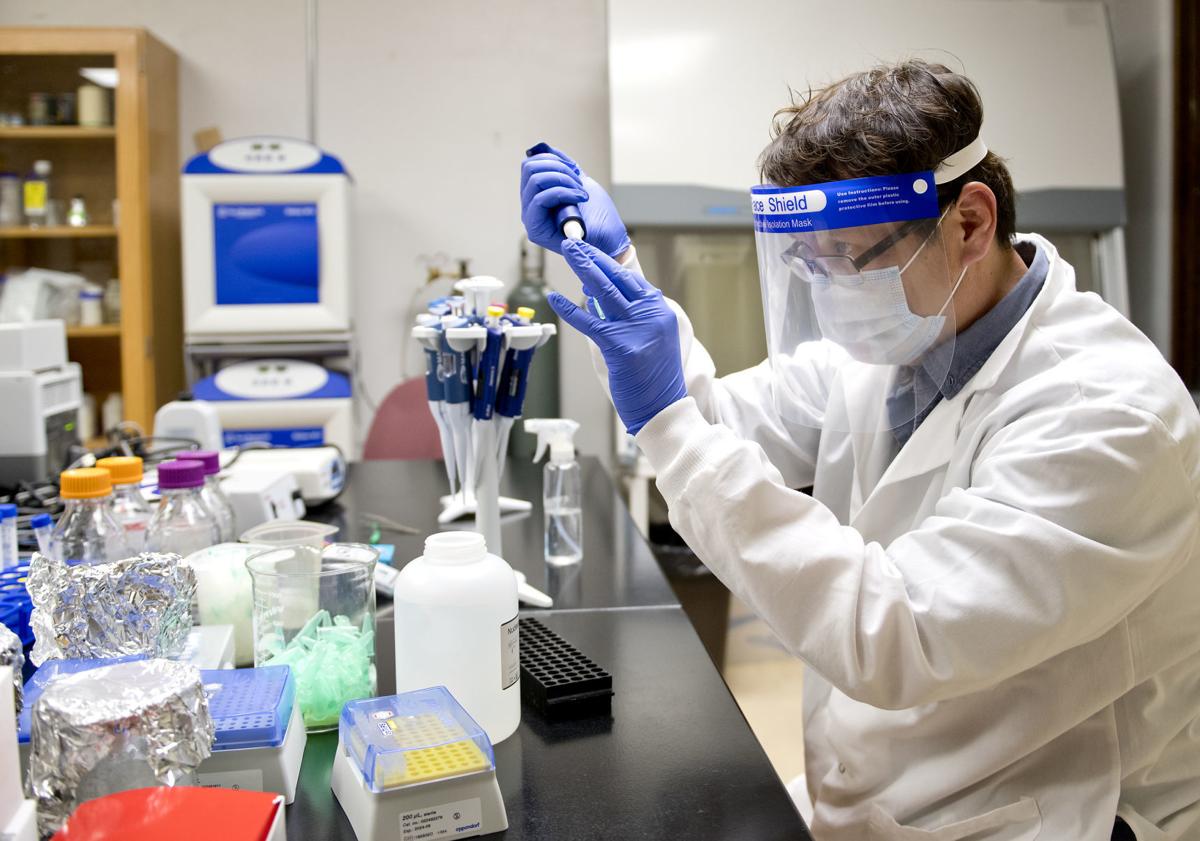 SIOUX CITY -- Dr. Daniel Jung wears a surgical mask when he goes to the grocery store and disinfects his shopping bags with 70 percent rubbing alcohol. 
Jung, an assistant biology professor at Briar Cliff University, said covering the "dangerous T-zone, " which includes your eyes, nose and mouth, as well as keeping hands clean, is key in protecting yourself from the novel coronavirus, which can linger in the air for as long as three hours and cling to certain surfaces for days. 
"The most important thing is to not be exposed to the virus at all," Jung said. "You have to cover your eyes and, especially, your nose and mouth." 
Jung spoke to the Journal Tuesday in an effort to dispel rumors about COVID-19, explain why people are dying from it and offer tips on how members of the public can better protect themselves.
Jung has been interested in macrophages for some time. A macrophage is a type of white blood cell that is part of the immune system. At the University of South Carolina School of Medicine, Jung studied Mycobacterium tuberculosis, which is the causative agent of tuberculosis, an infectious disease that attacks the lungs.
"I've been a macrophage guy for a very long time; and I worked with a lung pathogen," he said. "When I came to Briar Cliff, we really didn't have the means to study the infections that deeply, so I just changed my gear. But still, I'm doing the research related with infection-causing bacteria." 
When a person who is infected with COVID-19 coughs or sneezes, the virus is released into the area as an aerosol. Jung said the virus then enters an uninfected person's body through the nasal cavity and travels down the airways.
In some cases, the virus infects the alveoli, tiny air sacs located at the end of bronchial tubes that are responsible for exchanging oxygen and carbon dioxide. But, Jung said accomplishing this feat isn't that easy for viruses, especially if a person has a strong immune system. Jung said a person's mucus production, nasal secretions and even nose hairs play a role in providing immunity.
"(Viruses) have a lot to get through. First, there's the nose hair and those secretions on the nose," Jung explained. "Somehow, you have to penetrate this mucus with ciliated cells. If you have just the right amount of (mucus) and this virus comes down to it, they are going to be hurt with the mucus and this cilia on the ciliated epithelial cells will whip it out of the system."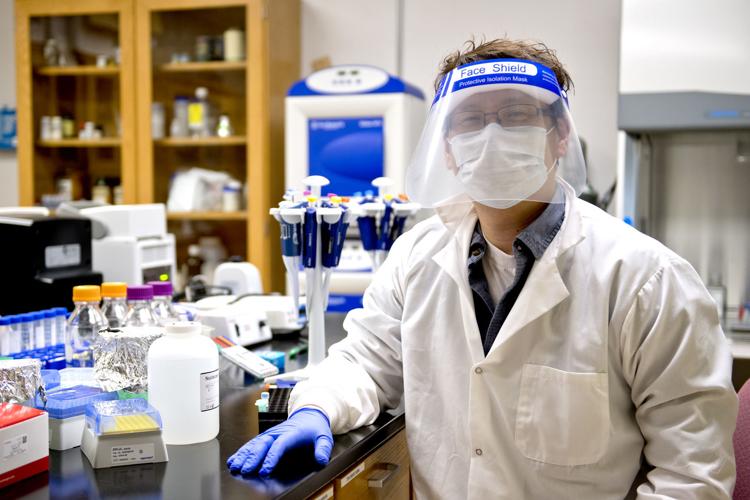 If this process plays out as Jung stated, he said there won't be much of the virus remaining in a person's body. In fact, he said the individual may not even feel like he or she is infected. Jung said cold, dry weather, as well as smoking and exposure to heavy pollution can damage cilia. 
"This is a great opportunity for the virus to start infecting these epithelial cells, unfortunately," he said. "All the cells in that area basically have limitations. They have life expectancies. If it is not replenishing in a way, that virus can infect and come out of it." 
In some patients, COVID-19 has triggered a cytokine storm, an immune system response in which the body attacks its own cells. Jung painted a picture of a boxing match in which "fighter" immune cells are being called upon to battle the virus. This battle generates lots of fluid, waste and pus, making it difficult for the alveoli to pick up the oxygen a person breathes in, leading to multi-organ failure. 
"These immune cells, neutrophils and other fighter immune cells, are like that. They don't care if it's a virus or our own cells. If you're infected, they're all enemies," Jung said. "So what they're going to do is they're going to start to kill everybody, basically."
Why exactly some people's immune systems go into overdrive, Jung said, is unknown, but he said it can happen to anybody.
"If we are up to the level where we can fight well without going into a coma or anything, then 14 days later, our body can provide an antibody," Jung said. "An antibody will neutralize this virus very quietly." 
Strengthening the immune system
Eating certain foods can help keep your immune cells strong. Jung said vegetables, for example, stimulate the circulation of blood cells from bone marrow. 
"Those bioactive reagents can support our immune systems by sending them the appropriate amount of stem cells, just in case some tissue cells are damaged and we need to replenish them. For example, if your lung cell has been damaged and they need to be replaced, that could be done by the stem cell that has been moved from the bone marrow and located around the lung area," said Jung, who encourages eating a variety of different colored vegetables.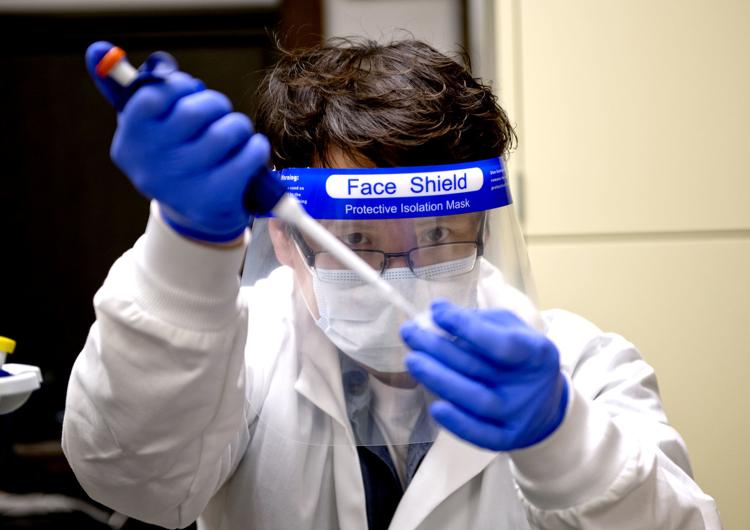 Consuming protein, Jung said, is also important. Protein, which is composed of amino acids, is essential in building and repairing body tissue and fighting infection.
"Anything the cell does to function is all protein. It is very essential that we eat a variety of and many different amino acids. That's very important," he said.
Jung also recommends drinking at least 1.5 liters of water a day and getting adequate amounts of vitamin D.
"The most natural way to get vitamin D is, if it's sunny out there, you go outside," he said.
Jung said exercising, getting adequate sleep and avoiding stress are also key for optimal immune system functioning. 
"If you can get into REM sleep in less than five hours, that's awesome," he said. "People always say the quality is more important than quantity. I definitely agree with that. If you can get into that sleep very fast, it doesn't matter how long you sleep." 
Jung said the virus can cling to plastics for 72 hours, so you'll want to wipe down plastic items after purchasing them. He also advises taking precautions when handling cardboard boxes that have been shipped to your home.
"If you order something from Amazon, the first thing that you have to do is using some sanitizer or chemicals to wipe them off, because (the virus) can stay there for 24 hours," he said of cardboard.
What about just leaving the box on your doorstep for 24 hours?
Jung said there's a slight chance the virus could survive beyond a day. 
"You don't want that. I would still use chemicals -- 70 percent rubbing alcohol. That's what I would use to spray them with and make sure you're wiping them off," he said.
Concerned about COVID-19?
Sign up now to get the most recent coronavirus headlines and other important local and national news sent to your email inbox daily.