OKOBOJI, Iowa -- When Kate Bradley is asked where she and her husband, Shawn Bradley, reside, she pauses and offers a brief laugh.
"Where do we live? We reside nowhere, actually," she says.
Nowhere and everywhere might be one and the same for the Bradleys, a young couple who lived and worked in Virginia until a couple of years ago, when they quit their jobs, sold their possessions and embarked on a two-year adventure that covered 33 countries.
"We started out thinking it would be one year, but it expanded," says the former Kate Derner, a native of Milford, Iowa, and a 2001 graduate of Okoboji High School.
All this globetrotting maybe makes sense for Kate Bradley, a graduate of Augustana College in Rock Island, Illinois. Her majors: Geography and environmental science. Following her graduation from college, she taught for a year in China and went back to visit as part of this latest adventure.
Shawn Bradley, a native of Pennsylvania, is a U.S. Navy veteran. He worked in informational technology for a financial institution most recently, while Kate worked from 2006 to 2016 for the National Ocean Service, a part of the National Oceanic and Atmospheric Administration based in Virginia Beach.
In September 2016 the couple, avid hikers and adventure seekers, headed to India to begin their somewhat nomadic existence. The spent a month there traveling through Rajasthan and seeing the Taj Mahal, among other sites. They ventured off the beaten path and made their way through Goa in southwest India.
"And then we went to Nepal to do trekking in the mountains for two and a half months," she says. "We did the Annapurna Circuit in the Himalayas, which took 19 days. We did a trek called Everest 3 Passes, which goes over three high passes in the Everest region. We were really in love with the mountains."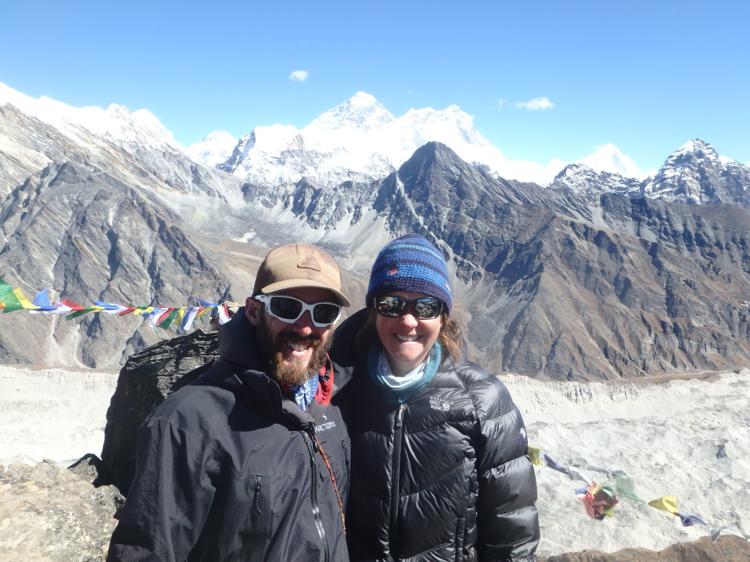 Bradley notes the couple didn't spend a ton of money on this part of their trip, nor others. In Nepal, for example, they had no guides. They relied on maps, guide books, and the friendship of other travelers and locals. They often stayed in rudimentary lodges with a pair of single beds. "You stay for free in places like that, the caveat being that you eat dinner and breakfast, as they make their money on food," she says.
The couple then darted off to Bangladesh, the least "touristy" countries of those visited. People in this largely Muslim country would address Shawn far more than Kate, they observed.
"And then we went back into the eastern side of India to what used to be Calcutta as we have a friend who lives and works there," she recalls. "Our friend works for a bakery whose mission is to hire people who are working as prostitutes and then try to change their lives. The bakeries -- there are two of them -- are funded through a couple in the U.S. They're making a dent in these peoples' lives, a small dent, but a dent nonetheless."
From India, the Bradleys flew to Australia and spent five weeks traveling via rented vehicles and public transportation. The Bradleys stayed for a time with a man they'd met while hiking in Nepal. The couple took diving classes and embarked on an activity that would become a trip highlight later on. They also visited Tasmania and caught a cheap flight for a five-week stay in New Zealand.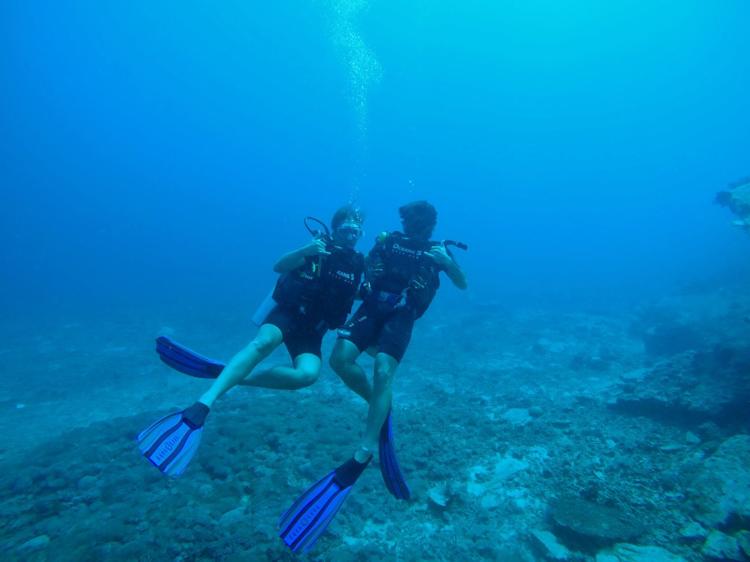 "From New Zealand, we went to Thailand and that's where we earned our diving certification," she says. "To dive, they take you to a place where whale sharks are located, it's called Koh Pha-ngan in the Gulf of Thailand. We were still doing part of our coursework when two whale sharks appeared. I thought I'd be scared, but they're so gentle. They weren't alarmed at all."
Whale sharks, she discloses, are filter eaters, not posing a threat to humans.
The Bradleys then headed to Myanmar, which many still know as Burma. They took a hot air balloon ride to see the temples at sunrise. They also did a three-day hike to Inle Lake, hearing as they went about tribal feuds in the north. The country, she notes, has strict rules about places tourists may visit.
"We went to Cambodia next and spent a week there," Kate says. "We went to the capital, where they have a couple of different sites where you can see some of what was happening during the Pol Pot regime, the Khmer Rouge. It's very somber."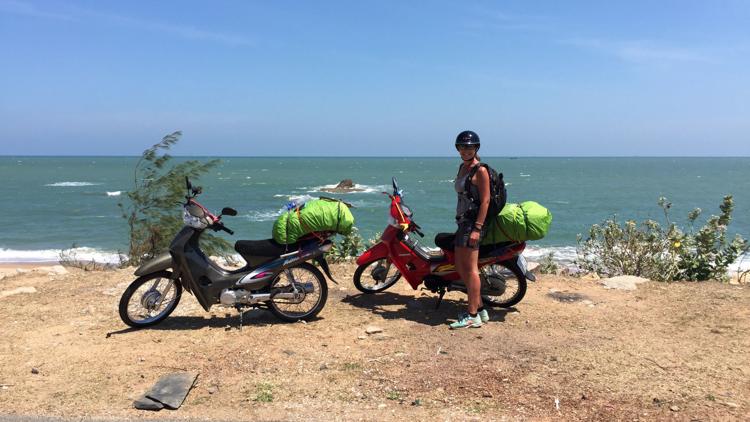 The Bradleys would venture then to Vietnam, a country in which they traveled from Ho Chi Minh City in the south to Hanoi in the north. The three-week travel span was done on Honda Waves, small motorbikes they purchased for $250 apiece at the start of this portion of their journey. They sold the Waves for $250 apiece when they ended their ride in Hanoi.
"They have millions of people on bikes like these in Ho Chi Minh City," Kate says with a laugh. "I'd never ridden one before, so I was learning in this giant city."
The people of Vietnam, she remarks, were incredibly kind, as were people throughout their journey. The best food was found in Vietnam.
From the Vietnam, the Bradleys headed to Indonesia, then to the Gili Islands and Singapore.
"Mostly, we stayed in hostels, places in southeast Asia that we'd pay for $10 per night for a bed, often sleeping in a dorm room that had anywhere from four to 20 beds," she says. There were a few bouts with food poisoning, which was to be expected.
Following visits to Malaysia, Brunei and Borneo, the couple traveled to Seoul, South Korea, and visited the Demilitarized Zone between South Korea and North Korea, officially stepping foot into North Korea while inside a conference center, of sorts.
"Technically, you can stand in North Korea," she says. "You can feel the tension on both sides from the military presence there. There's a Freedom Park and a train station they one day hope to use when the country is unified."
The Bradleys then headed to Japan for a two-week stay, enjoying the affordability and ease of travel with what Kate Bradley maintains is the best public transportation system in the world. "They measure total average delays in a year by seconds," she says. "The rail pass allowed us to travel anywhere we wanted."
The couple climbed Mount Fuji and witnessed a sumo wrestling match that lasted a day. They hiked and visited the Sapporo Beer Factory.
From Japan, the couple headed to Hong Kong and then to Wuhan, China, to revisit people and places Kate had seen as an English teacher more than a decade ago. From there, they took a train into Mongolia and rode for 10 days through the Gobi Desert in old Russian vans criss-crossing the countryside on dirt roads.
"Eighty percent of the dinosaur bones that have been discovered have been found in Mongolia," says Kate, who notes how scenic the land is there.
The couple headed then to Russia and hiked for two days near the world's deepest lake. After leaving Russia, the couple went to Vienna, Austria, to see a friend, stopping for lunch in Slovakia and then dining in the Czech Republic, one of the most memorable days of their trek, one in which they hit four nations in a day.
"After spending time in the Czech Republic, we flew to Africa and spent time in seven countries there, doing a Mount Kilimanjaro climb in Tanzania and a five-day safari."
They rafted on the Nile River, and visited Kenya, Uganda and Rwanda. They spent time in Zambia and South Africa before flying to Egypt and wrapping up this portion of their adventure in Paris.
Wanting to see more, and having the ability to do so, the couple visited family in Pennsylvania and Iowa before heading west in a Jeep. Their destination: The start of the Pacific Crest Trail, a 2,650-mile hike that runs from Campo, California, on the Mexican border to Manning Park, in Canada.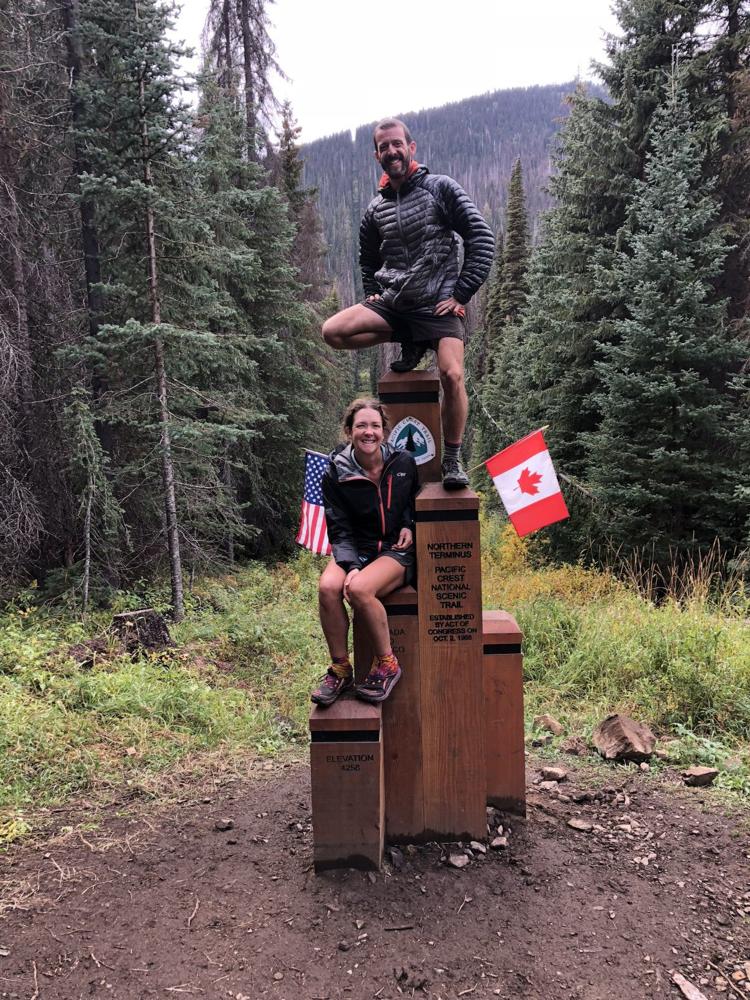 "We started on April 18 and finished on Sept. 10," Kate says. "We met a friend from Vancouver who we'd met while hiking Kilimanjaro," she says.
And, now? Kate Bradley says she and Shawn are ready to return to jobs and "the real world." Following a short stay with her family in Okoboji, the Bradleys will reenter the workforce in Colorado this fall.
"Both of us had successful careers when we left, we just really wanted to do these travels and we knew we had the resources now to do it," she says. "We didn't want to wait until retirement. We figured it might get harder the longer we waited."
Are they ready to head back? Oh, yes.
"We are reinvigorated for work," Kate says, "ready to re-enter the workforce. I think we'll be somewhere between Denver and Fort Collins, depending on finding jobs we like."