SIOUX CITY -- As a Western Iowa Tech Community College culinary arts instructor, Brett McCarthy expects his first-year students to do more than just boil water.
This is why they were eager to take a college student food staple -- packaged ramen -- and turn it into something spectacular.
However, McCarthy's pupils weren't using your typical ramen soup mix. Instead, they were cooking Samyang, a South Korean-based ramen that is reportedly the spiciest soup in the world.
Specifically, they were fixing Samyang's Cheesy Hot Chicken Flavored Ramen -- which features a cartoon bird eating a hunk of cheese -- as well as Samyang's 2X Spicy Hot Chicken Ramen -- which features the same bird with a lit bomb in his hands.
"Wow, you can actually smell the spiciness," McCarthy said, sneezing while pouring the fire engine red-colored soup base on some soaked noodles. "You don't even need to taste it to tell how spicy the ramen will be."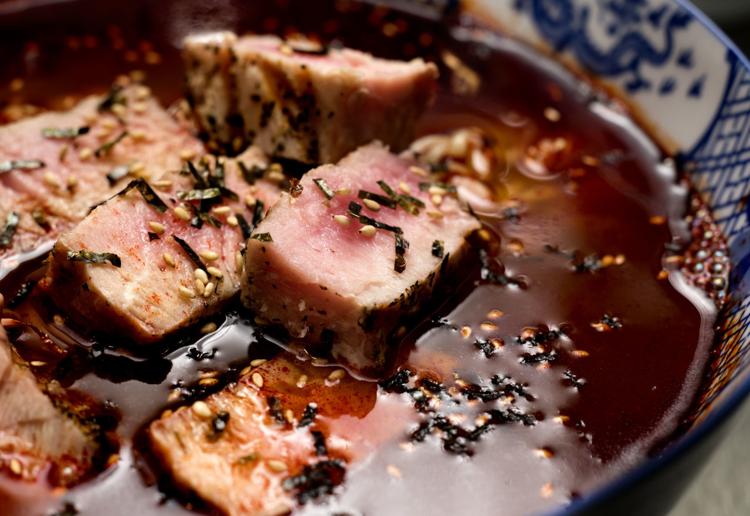 To the spicy ramen, McCarthy added shiitake mushrooms, seared tuna and a lightly poached egg.
"The nice thing about packaged ramen is it lends itself to embellishment," he said. "You can add meat, veggies, whatever you want."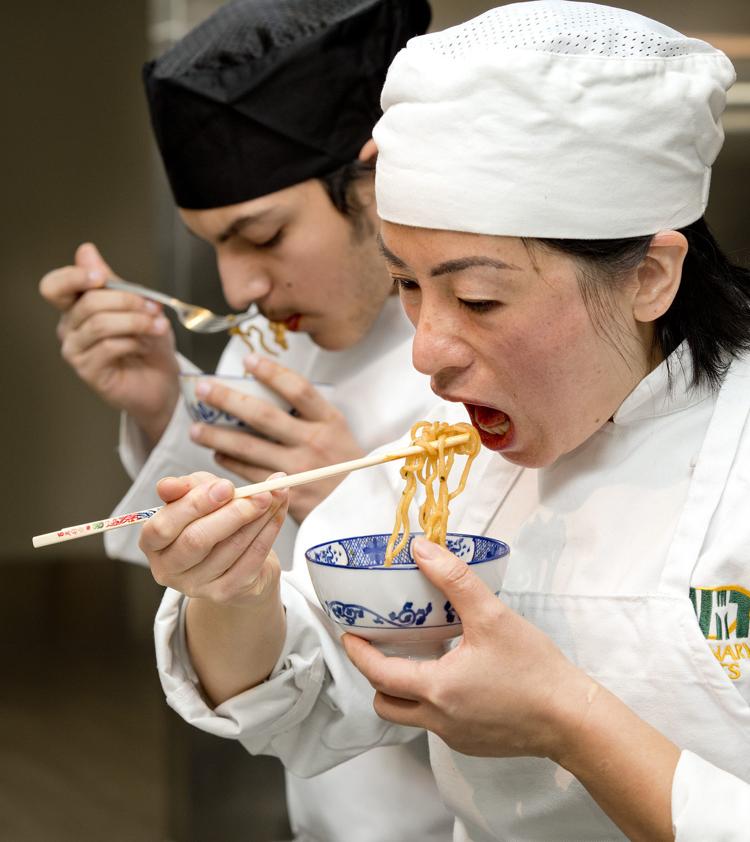 That's exactly what culinary arts student Anthony Mario Guerrero does when he makes store-bought ramen at home.
"I usually add a squeeze of lemon or lime to Top Ramen," he said. "It brightens the flavor."
For Guerrero, flavor is everything.
"I like big flavors and I don't mind the spice," he said. "My family's from Mexico, so I'm used to chili peppers."
Which is more than can be said of Wendy Huang, a culinary arts student who is originally from China.
"There are some parts of China that are known for spicy foods," she said. "Overall, Chinese food shouldn't be too spicy."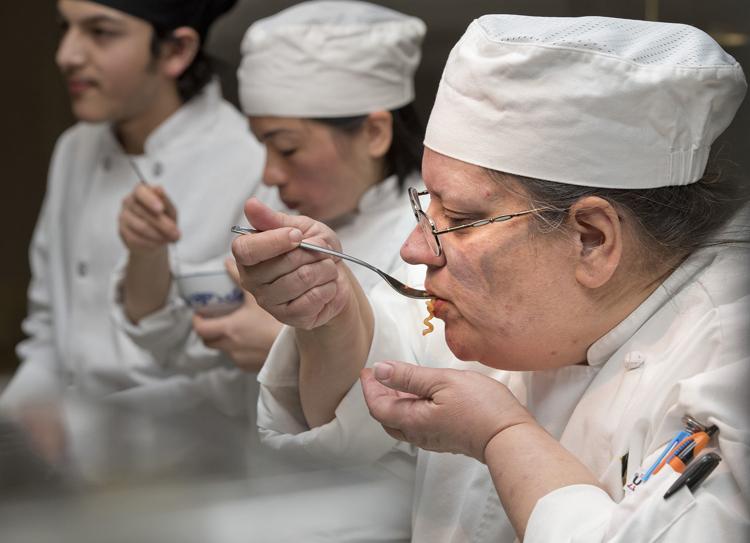 That may explain Huang's initial reaction after tasting a spoonful of the spicy ramen.
"Whoa, this is really hot," she said, with tears in her eyes. "It tastes good but the ramen is way too spicy for me."
Guerrero's instant reaction was very different.
"While it was spicy for ramen, it still tasted good," he said. "The spiciness enhanced the flavor,"
You have free articles remaining.
Culinary arts student Christy Clark could barely eat a spoonful of the broth.
"Wow, they weren't kidding about the spice," Clark, who is a regular ramen eater, said with a laugh. "I'd never be able to finish a bowl."
Well, it the two-times-as-spicy ramen was too much for most of McCarthy's kids to handle, maybe the spicy, cheesy ramen would be up their alley.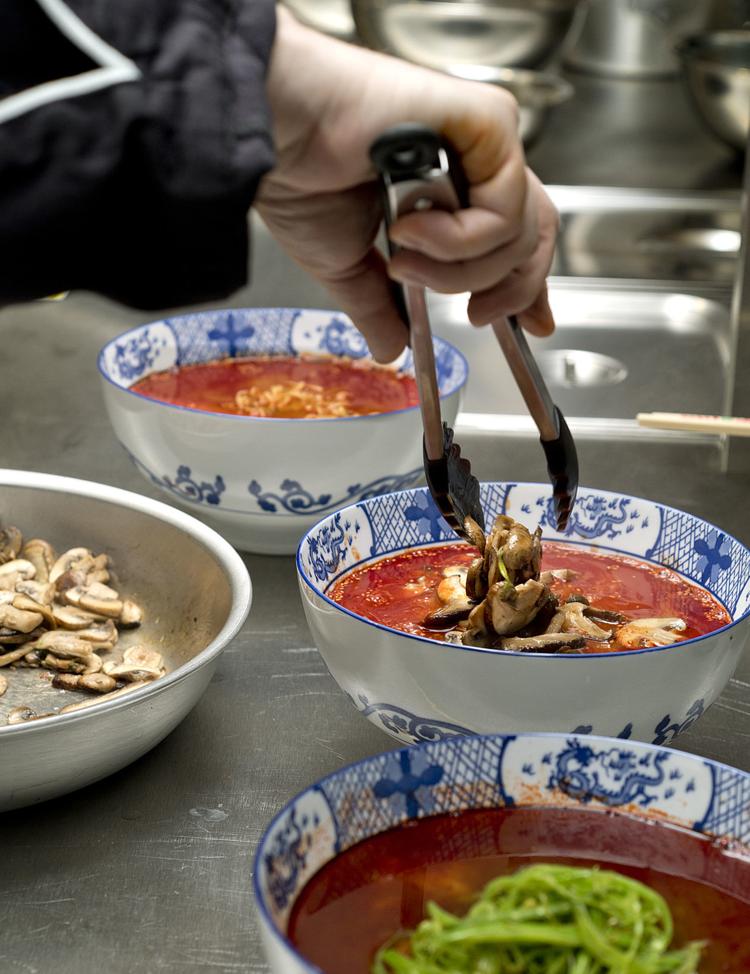 The students added shrimp and fresh broccolini to the orange-colored soup.
"Chances are this one won't be quite so spicy," McCarthy said. "At least it's not making sneeze."
Indeed, both Clark and Huang immediately expressed a preference for the the spicy-yet-cheesy ramen.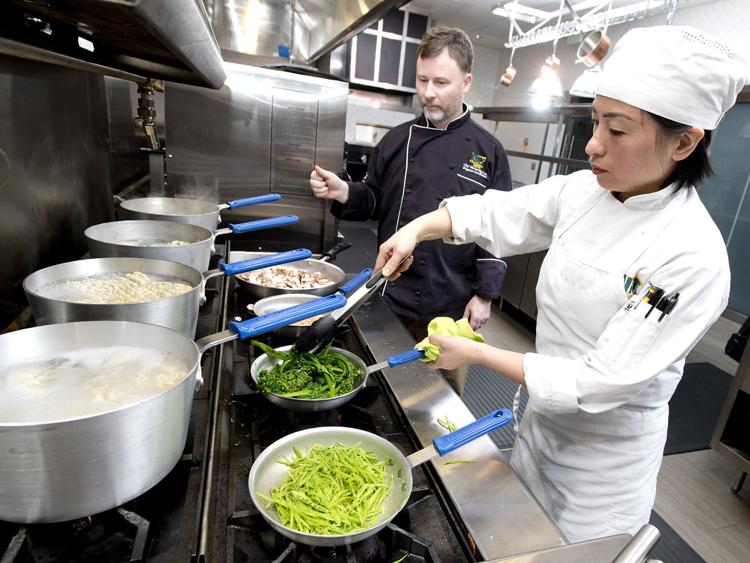 "There's actually a little sweetness to this soup," Huang said. "It is very nice."
Clark, who wants to become a caterer, said she'd like to give her own spin on traditional comfort food.
"This is why she wanted to know how to elevate a simple food like ramen.
"It looks fancy," Clark said. "Ramen doesn't normally look fancy when I make it."
Even though Huang didn't like the super spicy ramen, she can appreciate people who do. 
"I'd like to work in a restaurant kitchen," she said. "I like to see how certain flavors go together."
Despite his Hispanic heritage, Guerrero would like to open his own Italian restaurant in the future.
"That can change, of course," he said. "I enjoy all types of food."
McCarthy enjoys listening to the future aspiration of his culinary students.
"It will be fun to see where their futures lie," he said. 
While working with packaged South Korean ramen probably isn't stretching the envelope when it comes to culinary creations, McCarthy said such exercises allow budding young chefs to look outside of the box.
"It's turning a food that is ordinary and turning it into something that is extraordinary," McCarthy said. "All you need is a few extra ingredients plus a lot of imagination."