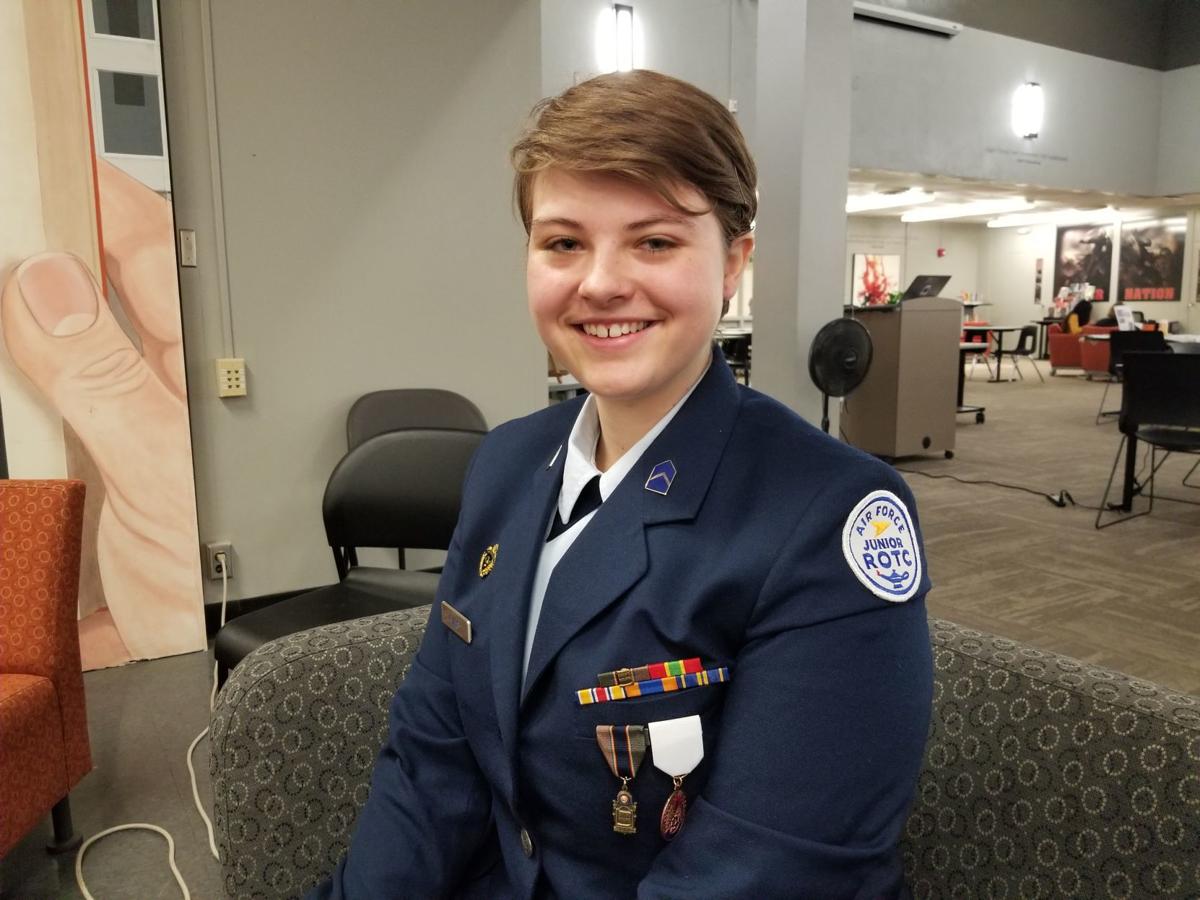 SIOUX CITY -- As part of an East Middle School sixth-grade English assignment, Brooke Evans had to write a letter to her future self.
In this letter, the 12-year-old wrote about her likes and dislikes, as well as the things that she aspired to do in school and beyond.
Now, a few weeks before she is set to graduate from East High School, the 18-year-old Evans is amazed at how much she has changed.
"I no longer consider seeing 'Alvin & the Chipmunks: Chipwrecked' to be one of my favorite memories in the sixth grade," Evans said, laughing as she re-read the letter. "I think my taste in movies improved over the years."
Skimming through the letter, Evans checked off her list of accomplishments.
"I wrote that I wanted to get back on the swim team, as well as taekwondo," she remembered. "I gave up swimming right away but kept up with taekwondo and, subsequently, earned a second-degree black belt."
Did Evans ever take a high school-level physics class, one of her goals?
"Yes, I did and I knew instantly it was the right class for me," she said, smiling. "Physics just sounds impressive when you're a kid." 
Looking at her letter, Evans stopped when she got to the part in which she predicted a goal of becoming a published author.
"I've started more stories than I care to remember," she said. "I'm good at starting stories and ending the stories. But the middle of stories always trip me up."
This hasn't stopped her from becoming an avid reader. 
You have free articles remaining.
"I have a goal of reading everything that Agatha Christie ever wrote," she said. "I've read 15 - 20 of (Christie's) books plus one of her plays. I think I have a ways to go."
Indeed, that's one of the biggest differences Evans sees between her 12-year-old self and the way she is today.
"The sixth-grade me was so serious," she said. "If I had to give advice to the younger me it would be to chill. Everything will work out in the end."
That certainly has been the case for Evans, who credited becoming involved in the U.S. Air Force Junior ROTC program and East High School's EHTV broadcasting class for giving her discipline.
"When you're 18, people still think of you as a kid," she said. "I now give the impression that I'm an adult."
Evans will need that, this fall, when she begins classes as a missionary student at Heartland Baptist Bible College in Oklahoma City.
"This will be the first time I've lived away from home," she said. "On the one hand, it's a bit intimidating. But on the other hand, I want to travel."
Would Evans like to travel to Hollywood? After all, her sixth-grade self wanted to become a famous movie director.
"This is still something I'd like to pursue," she said. "Since I'm a Christian, I'd like to be the first filmmaker to make a Christian movie that people will actually find entertaining." 
The letter concluded with a wish: "When tomorrow comes, today is gone forever, leaving in its place something we have traded. Make sure it is a gain and not a loss, good and not evil, success and not failure.
"Why not be extraordinary?" the sixth-grade Evans asked her future self.
As she begins the next chapter, Evans said she will likely compose another letter with new goals, aspirations and dreams.
"It's fun remembering how you thought life would turn out and the ways things actually occurred," she said. "I can't wait to see what comes next."