CHEROKEE, Iowa | As Ray "Bubba" Sorensen finished his 64th Iowa Freedom Rock at the Cherokee County Courthouse in late July, he offered a glimpse into the future.
There were Iowa county Freedom Rocks to paint in Winterset (Madison County), Rockford (Floyd County), Stratford (Hamilton), Murray (Clarke), Cresco (Howard) and Grandview (Louisa). With mild fall weather, Sorensen, the Freedom Rock founder, managed to get to all of them.
"I also did a Freedom Rock at St. Robert, Missouri, near Fort Leonard Wood," Sorensen said. "St. Robert kind of developed as the fort grew during and after World War II. They wanted a rock for their town for tourism."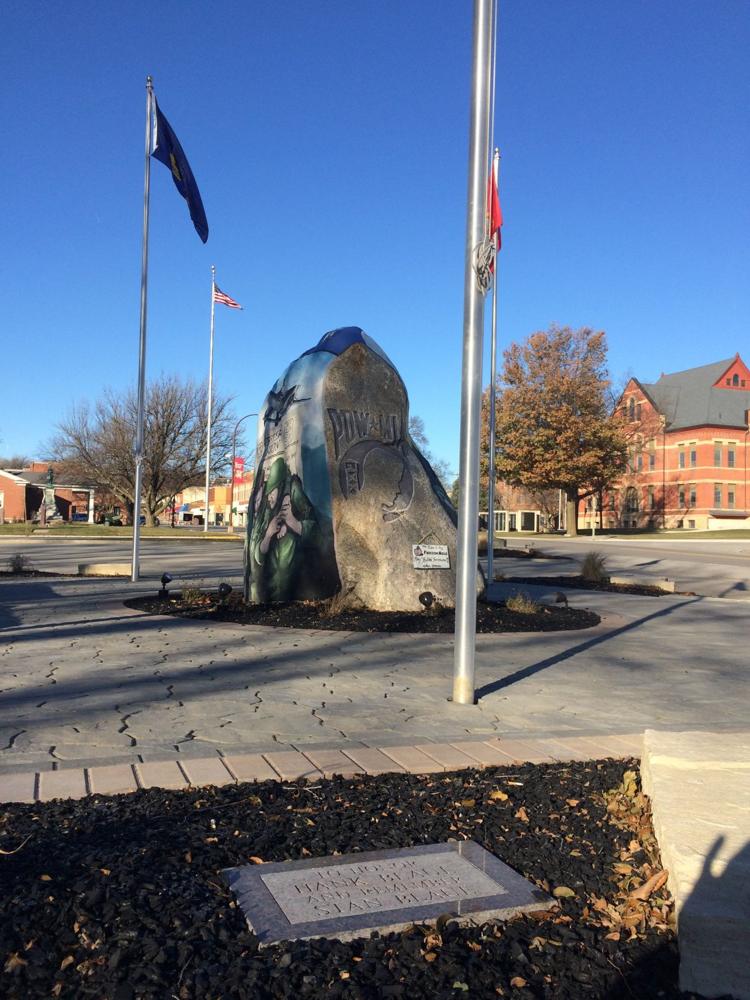 Sorensen said his Freedom Rock complemented a similar rock veterans have painted and repainted for years. "Some of their efforts have been really good," he said. "And then they'll paint over them as new groups arrive and graduate."
As he does in Iowa, Sorensen used local historic ties in his Freedom Rock at that location, the Pulaski County seat, a community that recently bought a World War II P-51 fighter, naming it "The Spirit of Pulaski County."
After that 10-day effort, Sorensen painted a four-wall mural in the bedroom of a home owned by a Vietnam War veteran. The home, located in south-central Iowa, will be used as a guest bedroom for a cattle feeder who often hosts cattle sales at his farmstead.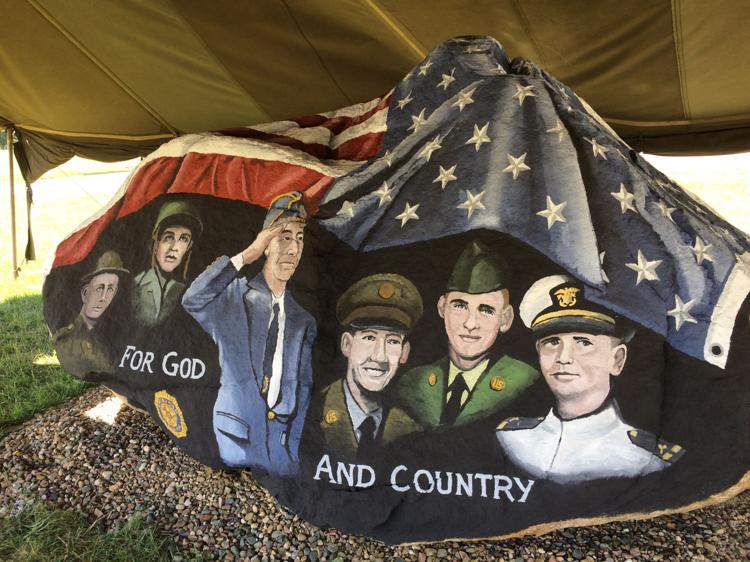 "He was a Loach helicopter pilot," said Sorensen, who explained that the Loach aircraft often would fly low in an attempt to draw out North Vietnamese troops in battle. Pilots flying the Apache helicopters would then come in on the heels of the Loach, delivering a 1-2 punch to the enemy.
"I painted a scene in the room where this is a Loach and then an Apache," said Sorensen. "I did an American flag where the headrest on the bed will be."
That effort, the work near Fort Leonard Wood in Missouri and the six autumn Freedom Rocks in Iowa capped a busy year for the artist, who, for the first time, painted Freedom Rocks in each of the 12 months during 2017.
"I painted a smaller Freedom Rock in December at the VA Hospital in Des Moines," said Sorensen, who noted the mild weather last month allowed him to work inside a tent equipped with a portable heater.
"Usually I say no to people in December or January, but last January a guy basically built a house around a (Freedom) rock, so I painted there," Sorensen said.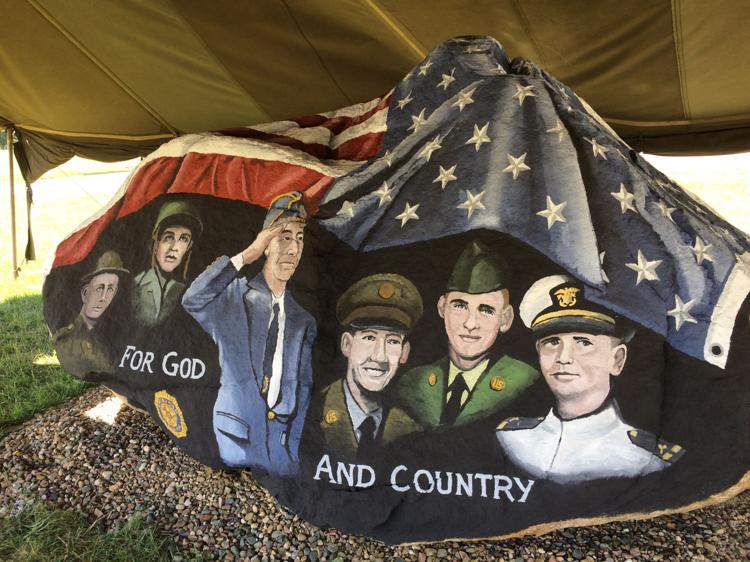 Sorensen heads this month to Lake Mills High School in Lake Mills, Iowa, to paint a mural in the school commons. The artwork, he said, will be based largely on a Freedom Rock project that Lake Mills High School students noticed and sought to have Sorensen sketch.
"Student have raised the money for the project and have worked with the local American Legion on it," he said. "Students will be able to watch me as I work in the school."
He said this is the second such project he's tackled inside a community school district. The first occurred at his alma mater, Nodaway Valley High School in Greenfield, Iowa, where Sorensen sketched a mural and allowed students to largely fill in the colors before he finished it with his detail work.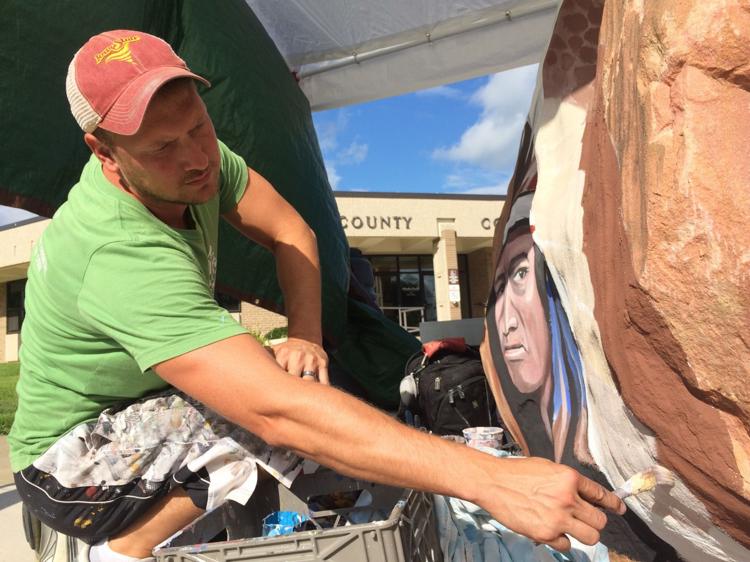 Sorensen is also heading west to a community outside Seattle, Washington, in 2018 to embark on his first Freedom Rock in the Evergreen State.
"My initial goal was to do one Freedom Rock in each state," he said, adding that he's engaged in talks with leaders in Minnesota and Nebraska as well.
Sorensen, 38, said he'll not limit his Freedom Rock work to one per state. "Some of these are pretty big states," he said. "I think there could be one Freedom Rock per state, or several."
In Iowa, after all, the artist has completed 69 Freedom Rocks for various counties and has commitments for a Freedom Rock in 98 counties. The lone holdout, thus far, is Henry County in southeast Iowa.
Sorensen plans to paint two county-level Freedom Rocks in March, two in April and then commence work on the 20th anniversary edition of his original Freedom Rock, the behemoth boulder one mile south of Interstate 80 (exit 86) on Highway 25. The site attracts tens of thousands of visitors each year.
"For the 2018 home (Freedom Rock) project, I'm going to focus entirely on those killed in action," he said. "It's going to look very different from what it has in the past. I generally block off four weeks to get the big Freedom Rock done before Memorial Day weekend."
If Mother Nature interrupts with rain this May, Sorensen said, he'll have to come up with a plan -- a shelter -- to keep working.