NORTH SIOUX CITY -- Despite rigorous taste-testing of refried beans, Susan Hudson still isn't satisfied with a recipe for seven-layer dip.
"We're getting closer," she said, "but we're not quite there yet."
As food service director for the Dakota Valley School District, Hudson must make sure that every lunch and breakfast that leaves her kitchen meets the nutritional needs, dietary restrictions and taste expectations of some very picky eaters: students.
This is why Hudson works closely with Becky Easton, a culinary research and development manager with Lunchtime Solutions, a Dakota Dunes-based school lunch provider for multiple school lunch districts in South Dakota, Iowa, Nebraska, Minnesota, Missouri and Colorado.
"Our customers happen to be kids," Easton said. "We're always asking questions and getting feedback from them."  
A food scientist with nearly 20 years of corporate experience, Easton is as far from the stereotypical "lunch lady" as you can get.
SIOUX CITY -- Riley Bibler, 12, was enjoying a pleasant lunch in the shade with her friend Zsuzsana Bourassa, 12.
"In the business world, it takes time to see if consumers like what you were providing," she said. "Producing food for school districts, we are being graded on a daily basis."
Students are either giving a thumb's up or a thumb's down in real time whenever they eat a school lunch or whenever they give it a pass.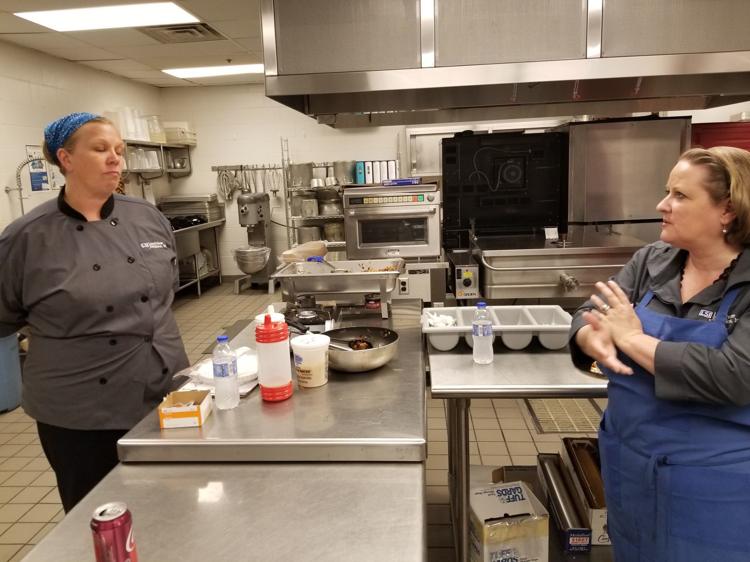 So, what do kids want from their school lunches? Paige Nagel said they're looking at fresh ingredients with an international flair.
"They couldn't get enough of our Chicken Lo Mein," she said. "That's for sure."
A demonstration chef for Lunchtime Solutions, Nagel was enlisted to make the Asian-inspired dish at a special Culinary Camp, sponsored by Western Iowa Tech Community College and held at Dakota Valley Middle School on Tuesday.
"Instructing children on healthy food and lifestyle is a priority at Lunchtime Solutions," said Deni Winter, the company's director of business development and public relations.
Easton said encouraging kids to consider the career opportunities in the food industry is also important.
You have free articles remaining.
Luckily, she won't have to twist the arm of Kate Thelander, a Lawton-Bronson Elementary School fifth grader who was participating in the Culinary Camp.
"I love to help out my family in the kitchen," said Kate, whose plans include working in a restaurant and becoming a contestant on the Food Network's "Kids Baking Championships."
"Children have a natural curiosity when it comes to food," Kassi Schwier, Lunchtime Solutions' food service director, said. "You'd be surprised to see how many kids go on YouTube or Pinterest to learn recipes."
LE MARS, Iowa -- Having three square meals a day is essential for families, especially since the school year has begun.
Easton admitted kids aren't the only ones scouring the Internet for inspiration. She will sometimes look to fast-casual restaurants for ideas.
"When Burger King came up with their chicken fries, I thought, 'hey, we could do a variation of that,'" she said.
However, Easton is quick to point out that she tailors menus to reflect specific school districts.
"Since Lunchtime Solutions serves different types of school districts, we're always adapting food items to what students prefer," she said.
For instance, what is popular at Dakota Valley may not be popular at Bishop Heelan Catholic School which may not be popular at Hinton Community Schools.  
Having said that, fish tacos are a hit everywhere. So are barbecue hot dogs. As is the Poutine Burrito.
Um ... what was that last one again?
"Our Poutine Burrito takes the Canadian food of meat, French fries and cheese while putting it into a burrito," Easton explained.
Hmm, we don't remember that as being an option when we were kids.
Which is something that Hudson readily admits.
"School lunches aren't the same as when we were kids," she said. "They're more nutritious and we offer more variety."
So, will Hudson and her crew have their new recipe for seven-layer dip perfected by the start of the school year?
"Sure, we'll have the recipe by then," she said with confidence.