SIOUX CITY -- Puppets with masks covering their faces and carvings of ships filled with spear-toting men hearken back to the Colonial Period in Northeast Brazil, although these artworks, which are now on display at the Sioux City Public Museum, were created in the modern day.
During the Colonial Period, some 5 million slaves were imported from Africa to Brazil to work in the sugar fields. Today, Brazil's Northeast has the largest concentration of people of African descent outside of Africa.
"It's very much like a folk art form where these traditions have been handed down from previous generations," said Matt Anderson, curator of history for the museum. "They are kind of preserved in a way that they aren't in other parts of the world."
"Bandits & Heroes, Poets & Saints: Popular Art of the Northeast of Brazil" explores the resilience and vitality of modern-day descendants of Africa through photographs, sculptures, paintings, religious objects and more. At more than 2,000 square feet, Anderson said the exhibit is among the largest of its kind to be displayed at the museum.
"A lot of the animal figures, although they may not be that old in terms of how long ago they were made, they look like something that could have been made hundreds of years ago," he said.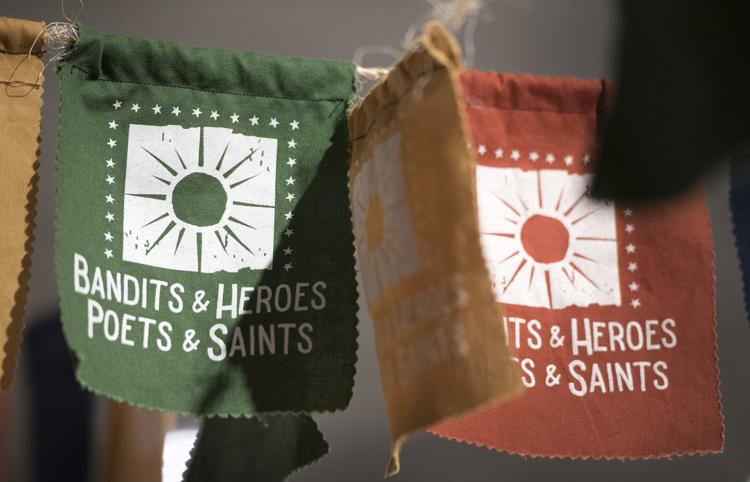 You have free articles remaining.
Underneath colorful strings of flags, handmade wooden eating utensils, toy vehicles and tin lamps are displayed in a glass case alongside a video of a bustling street market. Physical isolation and poverty led locals to tap into their creativity and sell the items that they made. Their wood carvings were also on display outside of churches.
The exhibit features wooden arms and legs suspended in air in front of an image of the Church of the Bonfim, a Catholic church in Salvador, Brazil. Visitors are encouraged to write their thoughts or prayers of thanks on small slips of white paper and tie them to a black iron fence with colored ribbons.
"It's a very old tradition that if you have a loved one who's having trouble with their leg or their arm, they'll hang these little votive figures at the church to ask for healing," Anderson said. "That's probably an older tradition that pre-dates their Christianization."
Much like the American Wild West, Brazil had its own band of outlaws terrorizing the Northeast backlands in the 1920s and '30s. The likeness of Lampião, a famous bandit leader of the Cangaço, is depicted in a statue included in the exhibit.
"They even have some footage of his men," said Anderson, pointing to a monitor playing video. "Even though they were outlaws, they were popular heroes as well, because they were always able to defy the authorities."
Although Anderson said he isn't aware of a local connection between Sioux City and Brazil, he encourages Siouxlanders to visit the exhibit to get a sense of Brazil beyond Rio de Janeiro and São Paulo.
"This is more of what Brazil really is like culturally. There's lots to learn," he said.