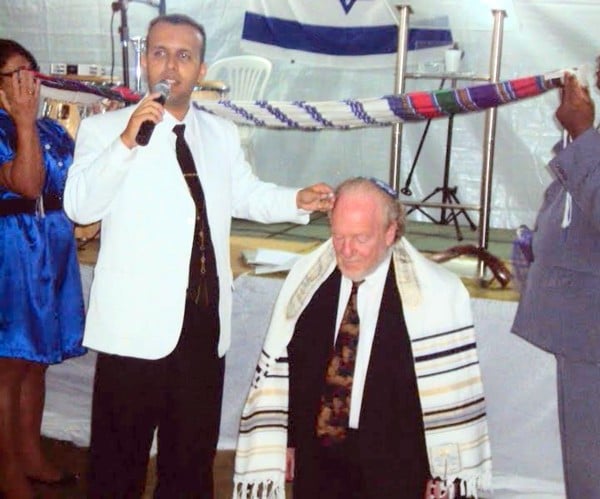 Myron Slobin's faith walk from being the son of two Jewish parents to a belief in Jesus as the Savior of the world led to his co-founding the Siouxland International Messianic Fellowship in 2001. The other co-founder was Keith Miller, former chairman of the Board of Elders of the Morningside Church of Christ.
"I thought of myself as Christian but I identified so much more with my Jewish heritage that I was more like a first-century believer in Y'shua who was not Christian, but was regarded as part of a sect of Judaism," he said. "Christianity came later."
The Siouxland International Messianic Fellowship recently hosted a free, public bagels and lox banquet at Green Gables Restaurant, to celebrate National Bagels and Lox Day. It was the first outreach event for the fellowship.
"Since starting the fellowship 12 years ago, this was the first time we have 'gone public' and moved toward the active fulfillment of our original purpose," Slobin said. "We are glad to have been a resource for information regarding the Jewishness of Jesus for many years and have helped people come to a deeper understanding of their Messiah; however, it took us 12 years to take a more vocal and visual stance and to more formally introduce ourselves to the Siouxland community."
The fellowship is a nonprofit organization for people who are interested in learning about the Jewishness of Jesus. It meets at 7 p.m. every Friday at the Glendale Baptist Church, 1600 Glendale Blvd.
"The main purpose is just to introduce our fellowship to the community and to provide a resource for anyone who has questions about Y'Shua (Jesus)," said Slobin, who serves as the group's spiritual leader. Other board members are Hans Katzenmeier, Claudette Katzenmeier and Curt Fiechtner.
Slobin's own faith journey to Christ led him to Sioux City in the 1970s when he said he was reticent to speak to Christians about the Messiah because he felt that some had an agenda and wanted him to be a notch on their gun as just another convert.
"I wasn't really interested in opening myself up that way, and I couldn't talk to any Jewish people that I knew because, from their point of view, it's a betrayal," he said. "So then I finally came to faith in California through Jews for Jesus."
When Slobin returned to Sioux City, he worked as a volunteer for Jews for Jesus and ran into Miller, who was chairman of the board of elders of the Church of God in Morningside who asked Slobin if he would like to start an outreach to the Jewish people.
In addition to the bagels and lox event, the group is assisting Iglesia Ciudad Cristiana in the restoration of Shaare Zion Synagogue, 1522 Douglas St.