SIOUX CITY -- You can learn by the beats of a drum.
That was what Sioux City Community School District Paul Gausman was teaching Hunt A+ Art Elementary School students Thursday morning.
"Listen to the beat, one, two, three," Gausman said, pounding on a drum with the palm of his hand. "Wait for a space, then, one and two."
"This is how you know that three plus two equals five," he said as kids counted the beats while pounding on their own drums. "That's how you can apply math to music."
Gausman, a former high school band director, was just one of the local experts participating in Community Arts Day at Hunt, which is a specialty school that emphasizes a music, dance, acting and visual arts curriculum.
"Hunt has an annual special community arts day which our students look forward to every year," Principal Cami Barker explained. "The kids get to interact with people who have chosen to pursue art in real life."
"This gives kids a chance to see if art is the right course for them as they move towards the future," she added.   
Plus it gave students a chance to see a different side of people that they know.
That included Gausman, who told kids he wanted to play drums ever since he saw a well-known Muppet pick up some sticks. 
You have free articles remaining.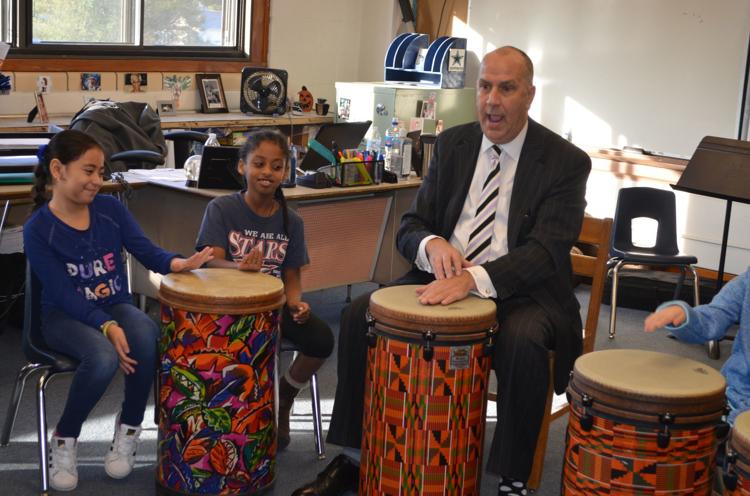 "When I was really small, 'Sesame Street' was a brand-new TV show," Gausman explained. "My favorite characters from the show were Ernie and Bert."
"It was after the episode in which Ernie started playing drums that I decided to start playing drums," he added before giving kids a tutorial on both the happy and sad sounds a drum could make. "I've been playing the drums ever since."
A different style of music was being featured in a class taught by The Arena Sports Academy dance coach Kayla Kellen.
She was teaching Hunt students how to stick out their chests, wave their arms and jump to the beat of hip-hop artist Lil Nas X's song "Panini."
"That's right," Kellen said as the kids mastered a bit of hip-hop choreography. "Everybody's doing a great job!"
Principal Barker can't help but smile as students get impromptu lessons in acting, playing in a string quartet and even making works of art using paints, mod podge and recycled materials like cardboard, paper sacks and old pieces of wallpaper.
"The kids regard Community Arts Day as something they'll always remember," she said.
After all, how many opportunities to be in a drum circle with a school superintendent, learn a hop-hop routine and create an artistic masterpiece with recycled material all in the same day?