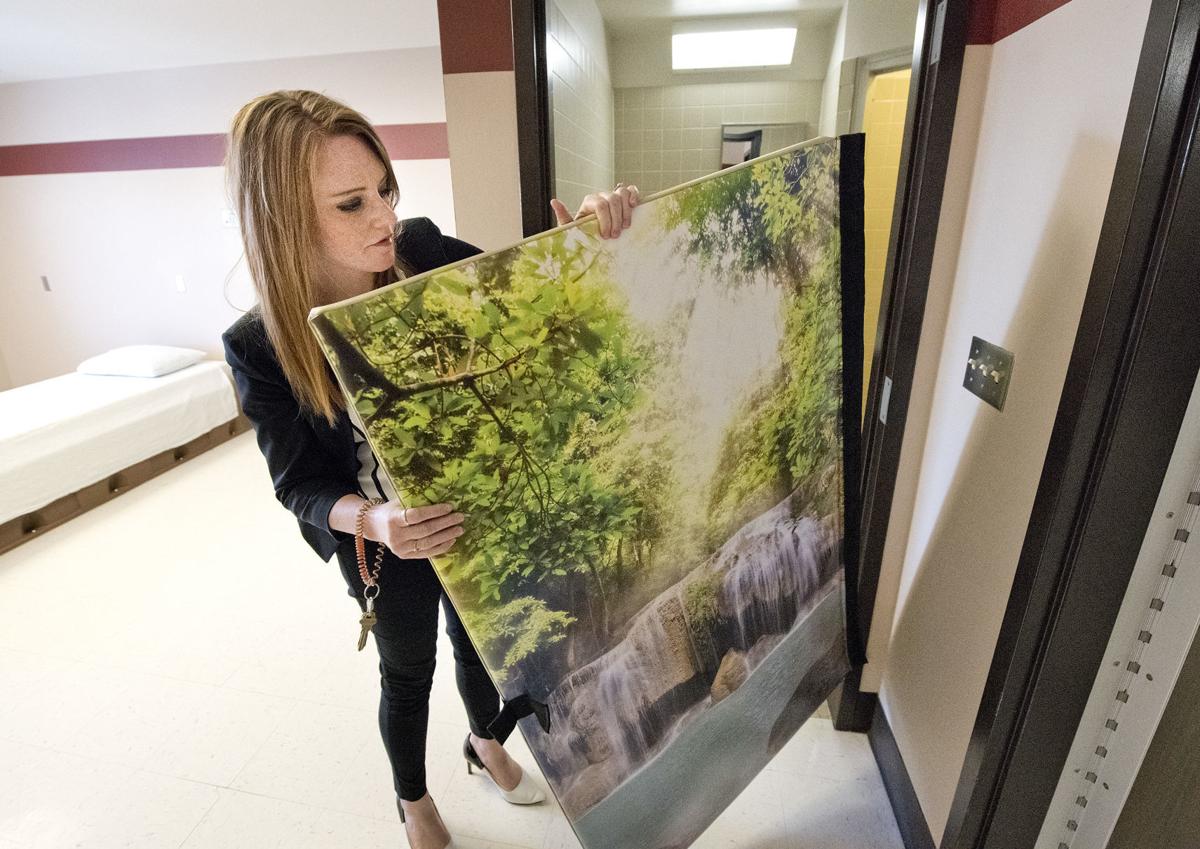 SIOUX CITY -- Katie Thompson describes living with bipolar disorder as "the worst of two evils."
Some days, the 34-year-old Sioux City woman struggles to get out of bed, open the window shades and walk out her front door. Other days, her mind races and she has difficulty staying on task.
Thompson, who says she has also been diagnosed with anxiety disorders and borderline personality disorder, went four years without being hospitalized. Then, in January, Thompson was staying awake for 35 hours straight, hardly eating and having thoughts of harming others for the first time in her life. 
"I asked for help. I recognized my symptoms," says Thompson, who was admitted to UnityPoint Health -- St. Luke's behavioral health unit, where she spent 16 days. "Instead of just being mad at people, the fact that I actually wanted to hurt somebody, that scared me."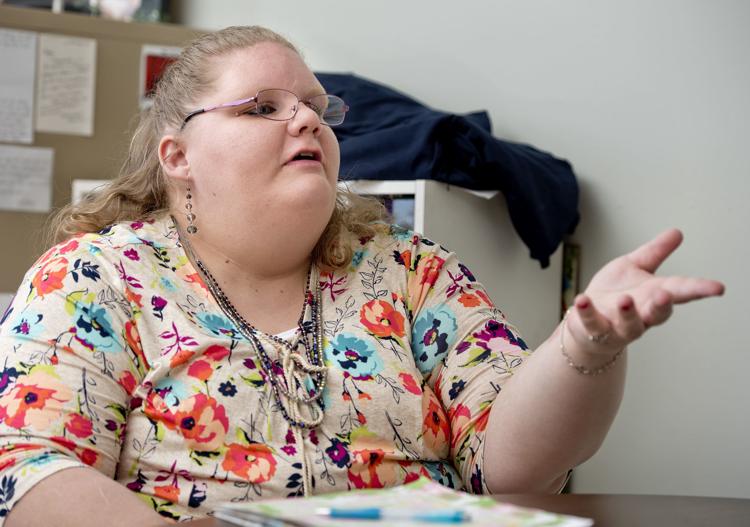 St. Luke's temporarily closed its behavioral health unit from Nov. 19 to Dec. 5 to make it ligature "free" or "resistant." Bathrooms were renovated, ceilings were replaced, and the unit's community room was relocated closer to the nurses station. The Sioux City hospital's unit also now boasts a small library, and staff have plans to create an exercise room where patients can burn off energy.
"If there's something that we can do to make it less stigmatizing, I think we're trying to do that," says Tammie Peterson, behavioral health manager at St. Luke's. "Yes, we have to follow the rules, but we're not a prison. We're here to help. We're here to keep you safe." 
Thompson was pleasantly surprised by the changes, especially the addition of chalkboard walls in the patient rooms, which she calls "totally awesome." She drew a personal mural with colored chalk, with blades of grass depicting her racing thoughts. The drawing also included a house, tree, birds, flowers, clouds and butterflies. Thompson says she would've drawn the sun too, if she could've reached high enough. 
"I'm very creative and I do lots of arts and crafts at home, so when I came and I saw the new remodel, it was very, very exciting to me," she says. "I loved it."
You have free articles remaining.
Safety first
After the Centers for Medicare & Medicaid Services (CMS) issued guidelines in December 2017 to promote a ligature "free" environment in psychiatric hospitals and acute-care hospitals' psychiatric units, St. Luke's set out to upgrade its behavioral health unit to improve safety for both patients and staff. 
"Most facilities are not able to classify their facility in that way, so we immediately started discussions on what it would take make our program ligature-free," says Megan Simpson, director of behavioral health services for St. Luke's. "That was going to take some massive renovations and some reprogramming."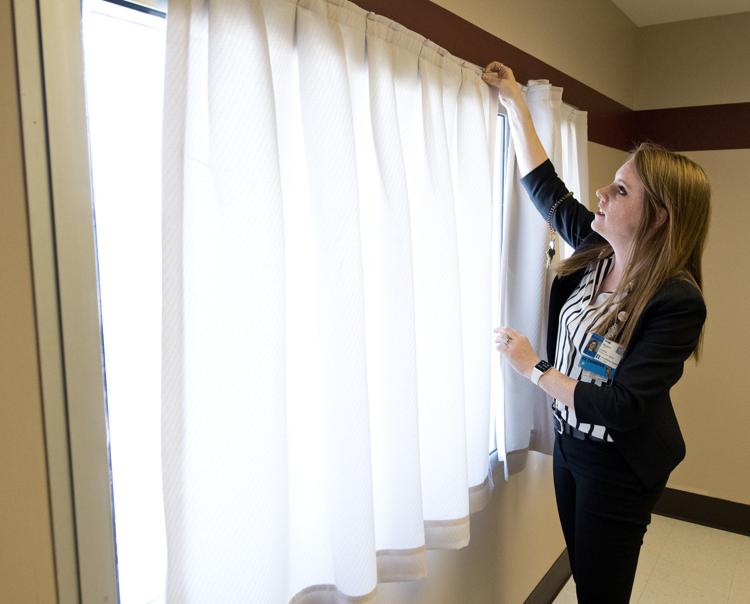 Simpson says bathrooms are among the most dangerous places in psychiatric units. The patient rooms at St. Luke's now have removable padded bathroom doors with forest and beach scenes, that Simpson says some patients are using as yoga mats. The nature prints provide color in an otherwise stark setting.
"We can see above and below, which is a major safety feature. We can see feet and we can see heads if we need to," Simpson says. "If we have to abruptly get in, we just move the door. You're not banging on (doors) and scaring people further."
Grab bars, towel dispensers and toilet paper holders are flush-mounted to walls. Faucets are also ligature-resistant, while shower curtains are held up with Velcro. New furnishings, including beds, chairs and desks, are bolted to the floors so they can't be used as a barricade or a weapon. In total, Simpson said there are 3,000-some tamper-proof screws on the unit.
In the spacious community room, which was formerly used as a patient room, behavioral health-certified tables are filled with 100 pounds of sand and durable, one-piece chairs, which can be rearranged and easily wiped down. A flat-screen TV mounted on the wall is encased in a special enclosure that is ligature-resistant and shatterproof. 
Today, Thompson said she is "doing better." She attends St. Luke's New Beginnings Outpatient Behavioral Health Program three days a week, where she says she feels "comfortable" and "welcome." 
"I still have a night every now and then where I don't sleep very much, but with medicine changes and coming to outpatient and talking to the people here, I'm able to deal with it better," she says. "Don't be scared of coming to a hospital."
Copyright 2019 The Sioux City Journal. All rights reserved. This material may not be published, broadcast, rewritten or redistributed.