SOUTH SIOUX CITY -- Looking at the completely revamped bar, lounge and dining room, Chad Schoenfelder said the 12 weeks spent remodeling Kahill's Chophouse was time well spent.
"How often can you take a place and completely reimagine it?" the food and beverage director said, while showing off the just-completed fine dining establishment. "It was gorgeous before and, now, it is even more inviting."
Long considered a destination restaurant for residents and an upscale amenity for travelers, Kahill's is located in the Delta Hotels by Marriott, formerly known as The Marina Inn.
Sitting on the banks of the South Sioux City side of the Missouri River, the hotel boasts more than 45,000 square feet of meeting and exhibit space plus nearly 200 hotel rooms.
In response to its outstanding service and property enhancements, the hotel will soon undergo another name change to Riverfront Marriott, becoming the first Marriott in the metro area.
The nearest Marriotts are in Omaha and Des Moines.
According to Schoenfelder, renovating Kahill's was something that was always in the cards.
"The designers were somewhat limited because we're in an older building and the basic footprint of the restaurant couldn't be changed," he allowed. "But everything that could be changed has been changed."
This included the restaurant's color scheme which is now wood, white and blue.
"The white and the blue give out a relaxed elegance while the wood accents bring out warmth," Schoenfelder said.
In addition, banquette seating and soft, club-style sofas provide intimacy while see-through fireplaces add to the overall airiness.
"That's the one thing which impresses everyone," Schoenfelder said of the dining room which reopened in late September. "Everywhere you look, there is an open sight line. Somehow, it is open and intimate at the same time.
It can also be quite dramatic as mood lighting changes the atmosphere throughout the course of the day.
"A guest will get an entirely different vibe at noon than he would at 6 p.m. or later in the evening," Schoenfelder said. "It is amazing how lights can impact mood."
You have free articles remaining.
Yet, at a restaurant, it is all about the food.
Over time, Kahill's has acquired a reputation for classic American entrees prepared with the freshest of ingredients.
Executive chef Andrew Burger said he plans on continuing to offer a wide variety of steaks, chops and seafood.
"Being out of the restaurant when it was being renovated gave me a chance to sample food elsewhere in the area," he said.
While he acknowledged Sioux City's food scene has expanded considerably, a lot of places are focusing on similar cuisine.
"Now, I like the craft food scene just as well as anyone," Burger said. "But that isn't the type of cuisine people expect from Kahill's."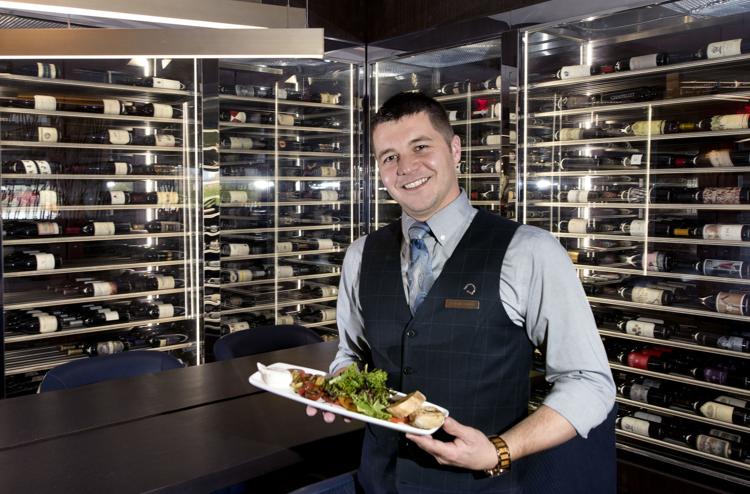 Instead, Kahill's offers sumptuous ribeye steaks, porterhouse pork chops and eight-ounce lobster tail. Small plate items can include anything from Salt & Vinegar Calamari; Cajun Beef Poutine; and Black and Blue Nachos (fried wonton chips, braised beef, smoked blue cheese crumbles, jalapenos and a tomato salsa).
For a lighter option, Burger suggested a Caprese Salad, which is made with Burrata cheese, heirloom tomatoes, walnut pesto and a balsamic vinaigrette as well as crusty bread.
However, Schoenfelder is a fan of Burger's Seared Ahi Tuna, which is made with sushi-quality tuna, crudite veggies, a teriyaki and wasabi glaze, along with basmati rice that's been given a sesame seed shower.
Wait, does that basmati rice look, um, a bit blue to you? 
"Oh, the rice is supposed to be that color," Schoenfelder explained. "Andrew uses a liqueur that is colored blue to make a rice pop off the plate."
"It's all in how you're presenting food," Burger interjected. "Food should look as good as it tastes."
And, now, Burger's food has an elegant, updated home.
"When I saw what the designers did with Kahill's, I couldn't believe my eyes," he said. "They didn't just freshen things up. They've made it modern and comfortable at the same time."
Schoenfelder nodded his head in agreement.
"We wanted the redesign to reflect the character of the restaurant," he said. "Judging by the reaction we've gotten from guests, we're still the Kahill's that they love. We've just had an elegant makeover."