ARNOLDS PARK, Iowa | Dave Vant Hul, operator of Berghorst & Son, Inc., the movers from Hull, Iowa, took a trip down memory lane in recent days while moving giant rides from Boji Bay to their new home at Historic Arnolds Park.
"I remember this stuff as a kid," said Vant Hul, who used to play in Arnolds Park as a boy while staying at his parents' place on East Lake Okoboji, a residence the family has maintained since the late 1970s. "You never, ever left the Fun House without a bruise on your head, a bump on your elbow, or maybe a sprained ankle."
Vant Hul laughed while recalling his days of yore hopping from ride to ride on the shores of West Lake Okoboji. Little did he know he'd have the opportunity to get those items, the Slide, the Sugar Bowl and the Barrel back "home."
As early as this summer, folks at Arnolds Park will be able to go through the Iowa Great Lakes Maritime Museum, which is being expanded, and walk to the second level before swooshing down the wooden slide that's been a staple of fun in the Iowa Great Lakes for generations.
"I used to slide down that slide," noted Orville Vant Hul, Dave's father and the second generation of movers for the company founded in the mid-1950s by Orville's father-in-law, Ed Berghorst.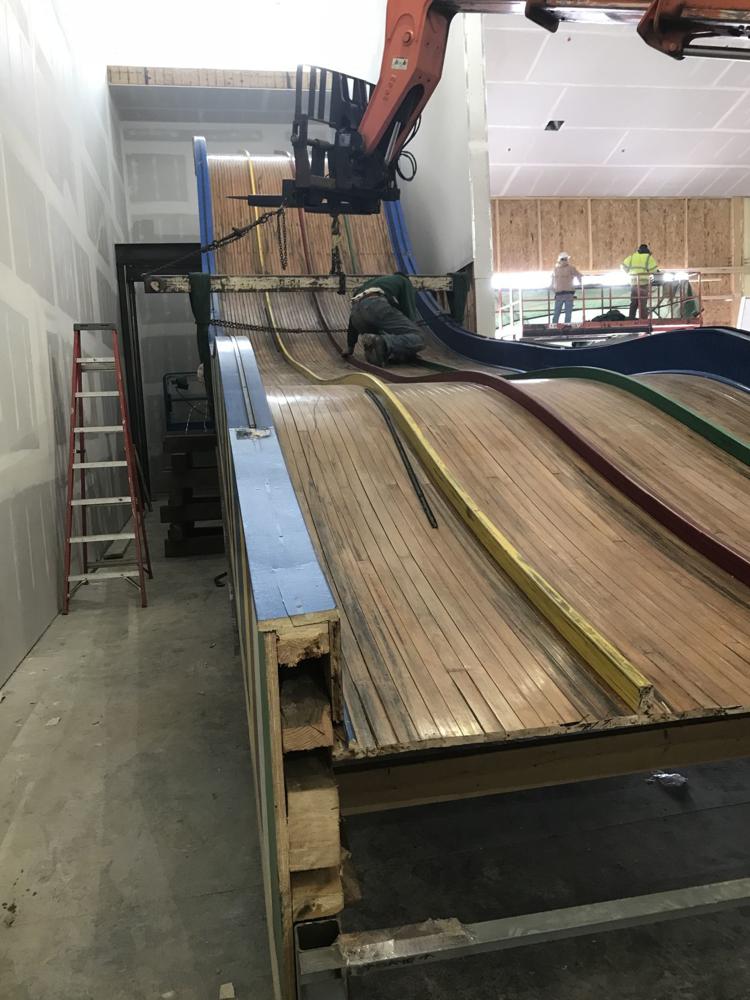 The slide, which measures 8 feet in width by 100 feet in length, was split into two pieces before Berghorst & Son movers transported it slowly from Boji Bay in Milford to Arnolds Park, which is in the midst of a $12 million renovation and expansion. The slide, which was moved Tuesday and Wednesday, wasn't heavy, according to Dave Vant Hul, who estimated it amounted to somewhere between 15,000 and 18,000 pounds.
"We've moved transformers that weighed 750,000 pounds," he said.
A trickier project involved the Sugar Bowl ride as it measured 25 feet across. Vant Hul's crew delayed moving it on Thursday due to temperatures that struggled to climb into the single digits. Moving the unit, he noted, required the removal of a couple of walls at the old Boji Bay site, so he put it off until Friday.
The Sugar Bowl's weight, he estimated, comes to 8,000 to 9,000 pounds.
The items were donated by Grape Tree Medical after the firm purchased the old Boji Bay site at Milford. And while the Slide will be used, the other two items will be display items only, according to Paul Plumb, marketing manager at Arnolds Park Amusement Park. The Sugar Bowl and Barrel can't be operated due to insurance purposes.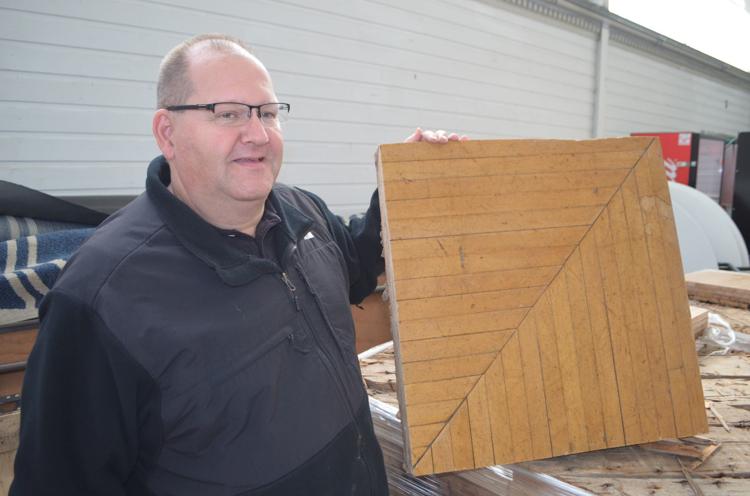 "The two pieces of the Slide have been put together now and are in place as part of the Maritime Museum expansion," Plumb said on Thursday. "The next step for that project involves installing steps to it."
The Sugar Bowl and Barrel will be placed in the Museum, with the Barrel the last to make its move to its new home.
"As you get older, you realize how important history is, especially when it's your history," Dave Vant Hul said. "This project for us isn't a huge money-maker, but it's one that's important to us because we remember playing in the Fun House years ago. This is part of my history and it's become important to get these things back to where they belong."
A portion of Vant Hul's eight-person staff assisted with the move, including the fourth generation of family movers, his sons Ben Vant Hul, 25, and Zach Vant Hul, 22.
Arnolds Park Amusement Park, Dave Vant Hul said, has touched his family for several generations, just as it has for thousands of families across Siouxland. He's happy to hear it will continue to bring enjoyment to others, young and old.
These efforts are but a small part of the effort to upgrade and expand amenities at Arnolds Park, including the Majestic Pavilion, the Roof Garden, the Iowa Great Lakes Maritime Museum and the Iowa Rock-n-Roll Museum.
"We continue to raise money for the project," Plumb said. "We have funding for Phase II that we're in right now."
Ticket sales, he added, were brisk throughout December as many families ordered packages for Christmas gifts.
"We're a few days behind on both (construction) projects, but we have float days built in," Plumb said, "Both the Majestic Pavilion facility and the Maritime Museum are enclosed now and work continues inside. We're excited about the upcoming season. We think it'll be a banner year."