SIOUX CITY | Nick Nelson rushed to see Wally Kuntz at Clark, Kuntz & Associates on a June day seven years ago.
Nelson needed a new prosthetic leg.
"I was kayaking with friends down the Floyd River, we capsized and I lost my leg," said Nelson, who was 22 at the time.
Yes, he lost his leg. As in it, his prosthetic limb, sank to the bottom of the Floyd River.
It generally takes Kuntz, a prosthetist since 1993, some 7-10 days to make a new leg. That wouldn't do in this case, as Nelson, an employee with Wells Enterprises, of Le Mars, Iowa, was moving the following day to St. George, Utah, to work in the company's plant there.
"We made his new leg in one day," Kuntz said.
That one-day turnaround yielded fantastic results for Nelson, who stopped in last week to pick up his new prosthetic, a leg that replaces his 2010 model, now retired with an estimated 12,775 miles of wear and tender-loving tear on it. Call it the "Ironman" of prosthetic legs for Nelson.
"The old one is all beat up," Kuntz said while examining it with a smile that bore more than a hint of satisfaction. "If this leg were a car, it'd have something like 2 million miles on it. I think it's earned its place in the prosthetic hall of fame."
There are nicks and scrapes, a bit of a dent and lots of tape. The prosthetic, Nelson's sixth, lasted seven years and accompanied this outdoor enthusiast to 22 states and three countries.
"It's been with me to the Atlantic Ocean, the Pacific Ocean," Nelson said. "It's gone with me hiking, fishing, skiing and jumping off cliffs."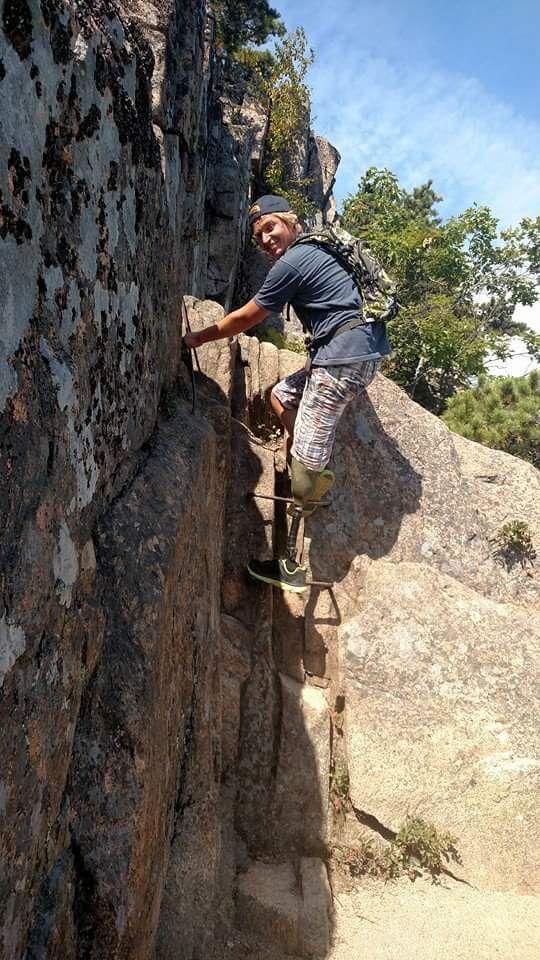 "Yeah, I've jumped off cliffs into the water," Nelson said. "Probably 40-foot jumps."
Nelson, 29, paused and added, "I try not to let it slow me down."
Nick Nelson was 12 years old in August 2000 when he lost the lower portion of his left leg, just below the knee, in a train accident in Le Mars, his hometown.
"I got run over by a train," he said in a manner-of-fact fashion. "I was with some buddies by the Plymouth County Fairgrounds. We were going to fish, but on the way, we decided to jump on a train and joy-ride."
He shook his head while telling the story, saying he remembers most of it and regrets making a horrible, life-threatening mistake. The engineer had no clue a group of boys was trying to hop on the train well behind the engine.
Nelson fell and was dragged by the train an estimated 100 yards. The lower part of this body and back took splinters from railroad ties as his body moved with the train. Nelson also lost part of his left pinky when he grabbed his leg to attempt to free it from being pinned.
"I remember seeing part of the muscle of my left leg hanging out," he said. "And then I went into shock."
A buddy ran to a nearby house and called 911. Paramedics arrived and quickly transported Nelson to Mercy Medical Center in Sioux City. He recalled waking in a hospital room and immediately asking his mother, Loriann Nelson, a question.
"Do I still have a (left) leg?"
He did, but only a portion of it. The leg was severed seven inches below the knee. It wasn't the answer a 12-year-old boy, in the mold of Huck Finn, wanted to hear.
Kuntz reported to the hospital and quickly encountered a circle of friends that had descended on Nelson's room. Four to five weeks later, Kuntz watched as his young patient took his first steps on a new prosthetic leg.
"The goal was to get him to school on time that year," said Kuntz, who remembered that Nelson was entering seventh grade at Le Mars Middle School. "Nick hit the ground running, really. He had incredible support all around."
Nelson adjusted to his new leg, fashioned after a cast was made of his limb and then tested through socket fittings. Nelson took to it and kept fishing. He hiked. Kuntz stopped by Le Mars to visit his young patient, and found him on the trampoline out back.
"He'd put the trampoline under a tree and he'd climb the tree then jump from a limb onto the trampoline and do a flip," Kuntz said.
As Nelson's body grew to fill out a 6-foot, 3-inch frame, Kuntz worked to fit him with new legs. He decorated several with decals ranging from SpongeBob SquarePants to various bugs to Minnesota Vikings stickers to those representing the Kansas City Chiefs.
His sixth leg lasted the longest as Nelson finally quit growing. He didn't quit going, though. Hardly.
"I wear a pedometer and it shows I average 5.5 miles on my feet every day," said Nelson, who returned to Le Mars in 2012 and continued his work with Wells Enterprises as a high-rise tech in the freezer department. "I put foam and insulation around the metal pipe because working in the freezer at 20 degrees below zero can extend the cold to the bottom of my leg."
The carbon model, fitted by Kuntz, weighs 2.5 to 3 pounds. Nelson removes it when he finally puts his head on the pillow each night. Of course, that might not happen until he has hiked 12 miles through Utah's Zion National Park, or climbed through Acadia National Park in Maine, or made tracks through Yosemite National Park in California, all places he's explored.
Thinking back to his accident 17 years ago, Nelson pondered if things would be any different. He said he's thankful for the work Kuntz and his staff has done, professionals who've worked with him every step of the way.
"I think about the accident and what happened and I just don't think my life would be any different at all," Nelson concluded.
"You try to build a prosthetic limb that matches their lifestyle and, in his case, we hope the durability of his new one matches the record of this one," Kuntz said.
Nick Nelson, the modern-day Huck Finn, smiled and said, "There will be more adventures."