SIOUX CITY -- If Jason Visvikis had his way, he'd be able to dress in a costume 364 days out of the year.
"I've dressed up as Uncle Sam on the Fourth of July, I've been a human whoopee cushion, and I've been a cowboy with a huge mustache," he said, showing off a series of selfies to prove his point.
So, what is Visvikis going to be wearing on Oct. 31? You know, the one day of the year in which funny costumes will be the norm.
"I really don't wear costumes on Halloween," he said, shaking his head. "If everyone else is doing it, it's no fun for me."
That's a pretty bold statement for Visvikis, the owner of Almost Antiques & Costume Shop, to make, but we'll concede it's hard to stand out on All Hallows' Eve.
With a main store at 124 Main St. in Merrill, Iowa, and a second location at 409 Floyd Blvd., Visvikis' shop has thousands of costume options for people wanting to make a freaky fashion statement.
A courier for UnityPoint Health -- St. Luke's by day, he got into the costuming business in a roundabout way.
He and his brother John purchased inventory from Dowry Costumes & More when that business closed after 36 years. Then, they snatched up stock from Creative Entertainment when that business stopped selling costumes.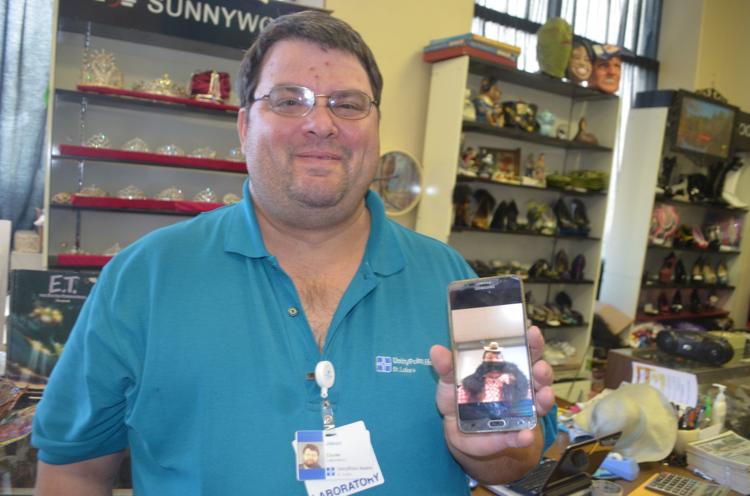 That was when Visvikis discovered they could make a (non-Freddy Krueger) killing, selling fiendish frocks that can be both fetching and frightening.
"Over the years, we've established contact with suppliers who provide us with product that even the big stores don't have," he said.
Specifically, the Costume Shop has customizable get-ups for both the young and the young-at-heart.
"When I was a kid, Halloween was a kids' holiday," Visvikis said. "Now, it's the grown-ups who are taking over the day."
In addition to the typically sexy nurse/wench/pirate options, adults can go out on an unexpected route.
For instance, fans of "Wheel of Fortune" might find favor by going as the TV show's iconic wheel. Are you a closet Drew Carey fanatic? You can go as a "Price Is Right" contestant in a costume that comes complete with an adjustable podium accessory and an attached microphone.
"There are always costumes that come back year after year," Visvikis said. "For both kids and adults, comic book superheroes and especially movie superheroes will be big sellers."
Given that Halloween is but a few days before the midterm elections, will political masks be popular? Visvikis thinks so, if the supplies come in time.
"We are getting new costumes all the time," he noted. "A lot of times, we'll get something everybody wants and sell out immediately."
Still, Visvikis said because Almost Antiques & Costume Shop is open year-round, customers know that they're dealing with people who'll be around long after the jack o'lantern turns to mush.
"We had plenty of people requesting medieval clothing during Riverssance and we'll have plenty of people requesting Santa suits when Christmas rolls around," he said. "This is a busy time for us, before and after Halloween."
Over the years, Visvikis has become expert at handling costuming challenges. 
"We had a man and a woman wanting to dress up as salt and pepper shakers but we only had a salt costume in stock," he recalled. "Instead, I discovered we had a tequila bottle costume. So, the couple went as a margarita."
Problem solved. OK, what's the weirdest couple's costume request that Visvikis experienced?
"Once we had a man who wanted a Fred Flintstone costume and a woman wanted a Betty Rubble costume," he said, scratching his head. "Was Fred cheating on Wilma and was Betty cheating on Barney? I don't even want to think about it."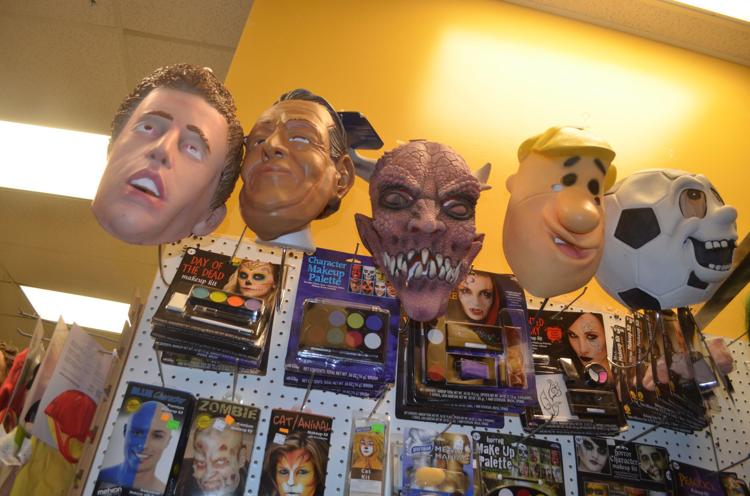 Walking past aisle after aisle featuring crazy wigs and scary monster masks will give anyone the willies. We imagine Visvikis is a big fan of horror movies, right?
"To be honest, I've never really liked scary movies," he said with a shrug.
Huh, Visvikis doesn't dress up on Halloween nor does he need an annual Jason Voorhees fix. Now, that's terrifying.